It has come to light that the outgoing governor of Zamfara State, Bello Mohammed Matawalle, approved funds from the state treasury for various projects across the state, many of which have been left abandoned. Investigations reveal that most of the contractors awarded these projects have direct or indirect connections to the governor. These contractors were given multiple contracts, ranging from road construction to building Governor's lodges across local government areas of the state. Despite consuming billions of naira, many of these projects remain unfinished.
The mismanagement of state funds has been exposed by an investigation into these projects. Bulk payments have been made to contractors for works that have yet to be completed or even started. For instance, the government approved the sum of N593,535,254.00 for the construction of a road that links Kaiwa to Lamba to Gidan Goga ward on the Kauran Namoda/Shinkafi Federal Highway. However, the contractor, MotherCat Nigeria Limited, has already received the total sum of N525,510,516.77, despite no work having commenced on the site.
Similarly, the contractor Nael Bin Harmal Hydro Export (NBHH) Nigeria Limited was paid N1,567,566,531.65 out of N1.8 billion approved for the construction of Danmarke to Kanoma Road in the Maru Local Government Area of the state, but the project is yet to commence.
Other contractors like Syndicate Construction and Commercial Company Limited and M. Sulaiman Enterprises Limited have been paid billions of naira for road construction, but no work has commenced on these sites. Even the reconstruction and completion of the General Hospital in the Shinkafi local council area, which received over 80% of the approved sum of N2,429,301,036.61, has nothing to show for it.
These revelations further confirm the need for transparency and accountability in the management of public funds. It is important that those responsible for the mismanagement of funds are held accountable to prevent such occurrences in the future.
Source: Sahara Reporters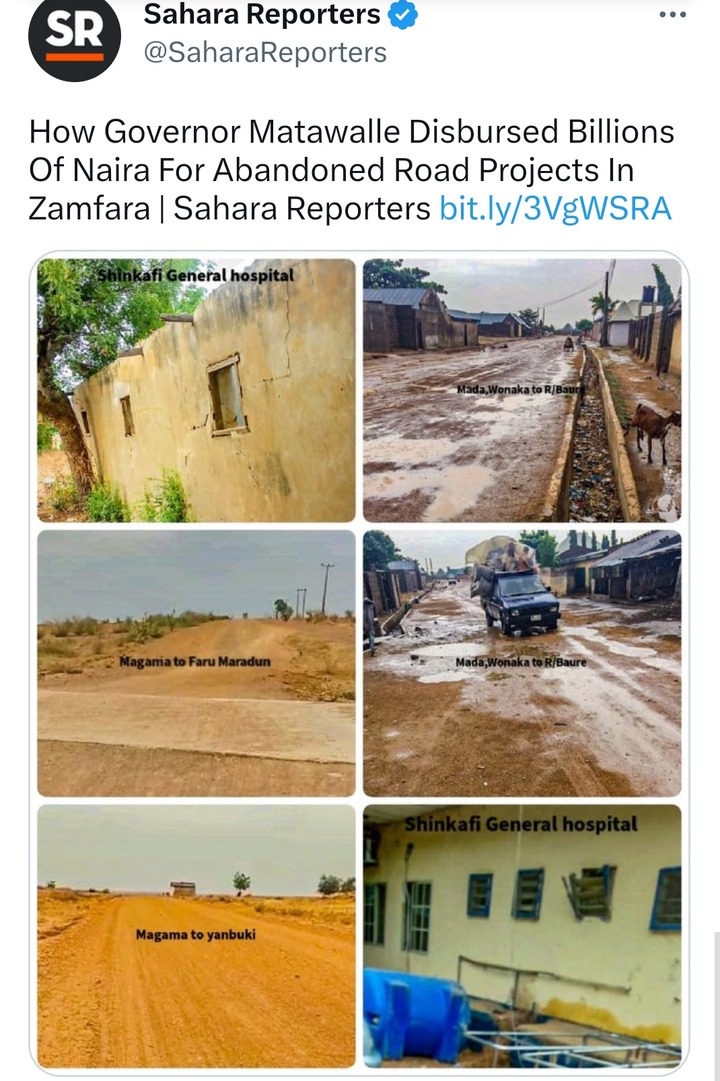 Victormiles2005 (
)