It takes someone who is stylish, vogue, influential, and relevant to be on the cover of magazines, especially international ones
Nigerian Superstar Davido definitely ticks all those boxes as we look into the insightful and exciting times he made it as a cover boy, revealing to the world a piece of his vulnerability 
Nigerian global icon Davido made it back into the scene after a brief hiatus caused by the death of his son, Ifeanyi Adeleke.
The singer has since made various notable appearances amid the release of his fourth studio album, Timeless.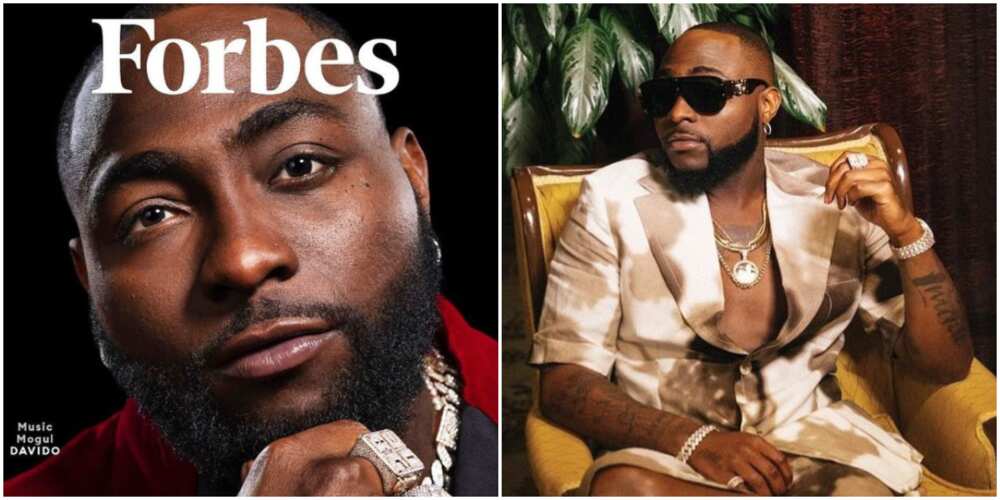 On April 22, 2023, the Stand Strong crooner graced the front page of the prestigious American business magazine Forbes, where he spoke extensively on expanding his creative music industry and learning more entrepreneurial skills from his father's business.
Here is a list of some exciting times the Afrobeats star made it to the front covers of notable magazines.
Billboard Magazine
Davido broke the internet in May 2020 when he made it to the front cover of Billboard Magazine alongside his colleagues Tiwa Savage and Mr Eazi.
Davido spoke on the issue of COVID-19 and quarantine, and Davido mentioned his then-fiancée Chioma recovering from the virus.
Flaunt Magazine
In July 2021, Davido made it to the front page of an American fashion and culture magazine, Flaunt Magazine, in an Afrocentric style.
For the cover, Davido was adorned in a Gucci sweatshirt, kaftan, shoes, Etro pants, and vintage Versace sunglasses.
In the interview following the cover shoot, the "Fall" singer spoke on the meaning of his third studio album "A Better Time ", Afrobeats taking over globally, fatherhood, and "Fem' being the song of the #EndSARS protest.
 He said: "I remember, in 2015, when I first signed my deal, African music wasn't accepted. I remember being in the room and telling them, 'Yo, this genre will be hot! It's the next thing coming.' They looked at me like I was crazy. Five years later, it's one of the biggest genres in the world."
L'Officiel Magazine
In September 2021, Davido made it on the front page of L'Officiel Australia Magazine, where he spoke about being involved in the End Sars protest and his love for music.
When asked about his involvement in the End Sars Movement, he revealed that that was probably the first time in his life and generation to have seen people come out and really protest like that. "I wasn't there as a leader of any movement; I was there as a citizen that was also worried about what was going on," he said.
Wave Magazine
In April 2022, Davido was on the cover of an urban Nepali youth magazine, Wave Magazine. Glammed in a Star rocks a graphic print sweater by Who Decides War, featuring ripped jeans and diamond jewellery.
The singer discussed generosity, providing opportunities for upcoming Nigerian artists through his record company, and the necessity of boosting Afrobeats' international recognition.
Forbes Magzine
The recent one that took his fans and netizens by storm was Davido's appearance on the front page of the highly respected magazine Forbes.
The Timeless Crooner took to social media to cause a stir during his appreciation post to the foreign magazine when he hailed himself as the Godfather.
Speaking with Steven Bertoni of the prestigious American magazine Forbes, Davido stated his plans to expand from music production to filmmaking, where he would launch a media company to back stories from Nigerian writers and directors.
Source: Hotnewsdrop.com