Today is the day Chioma Rowland, wife of Nigerian Afrobeat artist, Davido, turned a new year older and many in the online community have been going wild as they celebrate her
One of those to celebrate Chioma is Davido's cousin Clarks Adeleke who described her as priceless, a strong woman who is built never to give up
Clark, also called Chef Chi, his sister who he gives thanks to God every day for making her a part of his life
Social media is about to enter a proper meltdown mode after Davido's cousin, Clarks Adeleke, went online to celebrate Chioma Rowland as she turns 28 years old today, April 30, 2023.
In his celebratory post, Clarks described Chef Chi as his sister and best friend, who he values as priceless.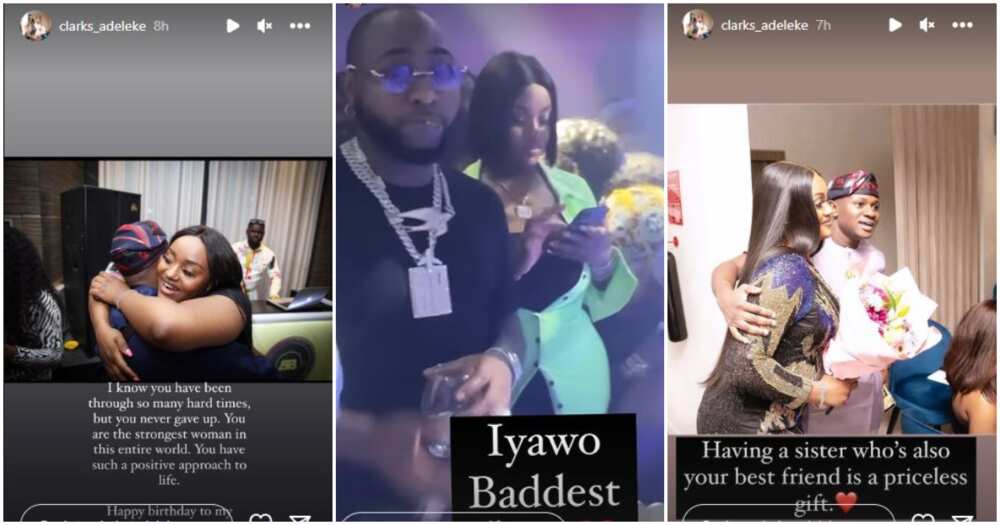 He also hailed her for her strength to always pull through no matter what challenges are thrown her way.
Davido's cousin also acknowledged that he knows that Chioma has been through many difficult times, but she is the strongest woman in the whole world who just never gives up.
Though at the time of publishing this article, Davido was yet to acknowledge nor celebrate Chioma on her birthday.
See Clarks Adeleke's post celebrating Chioma on her birthday:
See how netizens reacted as Davido's cousin celebrated Chef Chi on her birthday:
@adegokelawal2:
"But chef chi might have helped him out with some personal things, dis doesn't necessarily mean it was because of Davido betrayal. She might handle the situation of der lost son well, we never can tell; calling her a strong woman doesn't means it was because of Davido wahala."
@man_like_unclefab:
"E be like a woman like Chioma go turn all man prayer point oo ❤️❤️ All this generation girls way dey always feel gender equality. Abeg make them no ever separate."
@nabila_muk:
"The meaning of a strong woman to a nigeria man simply means .. you tolerate his cheating, physical abusive, emotional abuse, supported him when he was poor, you happily accepted the kids he has from other women he cheated on you with… you forgive him for sleeping with your sister, or your friend or your friend daughter or your daughter friend or your neighbor daughter."
@pretty_gonny:
"The message is sweet … u people should rest strong woman doesn't always mean suffer head, it takes strength to be a woman the man may not mean it in a suffer head way, negative people."
@tejuuu____________:
"In Nigeria….the word strong woman means a woman who can tolerate sh*ts, pains and insults."
@esteshia:
"Strong woman. May God keep giving you strength, Nne."
@its__khadeejah:
"Sophia is also part of your life too, whether you like it or not.. na she first born una grand pikin."
@___hanuolwapo:
"When a Nigerian man calls you strong woman, it gets me worried, tbh, Happy birthday Mrs A."
@_lifeofufuoma_:
"You see this strong woman thing stoppppppp itttttttttt…"
@pri.ncesstally:
"Omo i always feel sorry for this girl cos she deserves way better cos if a Nigerian man calls u a strong woman it means u dey endure many mumu things."
@jessicaogoba:
"Happy Birthday beautiful chefchi, the strongest woman I know, may God grant you all your heart desire.'
Chioma trends online over rumours that Davido is expecting another child with one of his baby mamas
Meanwhile, Hotnewsdrop.com recalls reporting that popular Nigerian celebrity couple, Davido and Chioma are now trending on social media after rumours that the music star was expecting another child after cheating.
It all started when the popular, controversial anonymous blog, Gistlover, shared posts, dropping hints about a particular celebrity who was expecting another child from his baby mama.
According to the report, the matter was so messy that the singer's father was very annoyed at his son for doing something like that. It was disclosed that the unnamed singer's wife also moved out of the house but later returned after many pleas from both families.
Source: Hotnewsdrop.com