The vice president-elect, Kashim Shettima has revealed what president-elect, Bola Tinubu will do after taking over power from President Muhammadu Buhari
Shettima said the incoming administration that will be spearheaded by Tinubu will not abuse the rule of law
At an event in Abuja Shettima revealed Tinubu is a respecter of law and if given power, he will not misuse it, considering his achievements in governance as a former governor of Lagos
The incoming administration of the All Progressives Congress (APC) under the leadership of Asiwaju Bola Ahmed Tinubu will not trample on the rule of law, vice president-elect Senator Kashim Shettima disclosed.
Shettima, who spoke at an event in Abuja, on Saturday, April 29, assured that the incoming administration of Tinubu will be a gender-friendly administration, The Nigerian Guardian newspaper reported.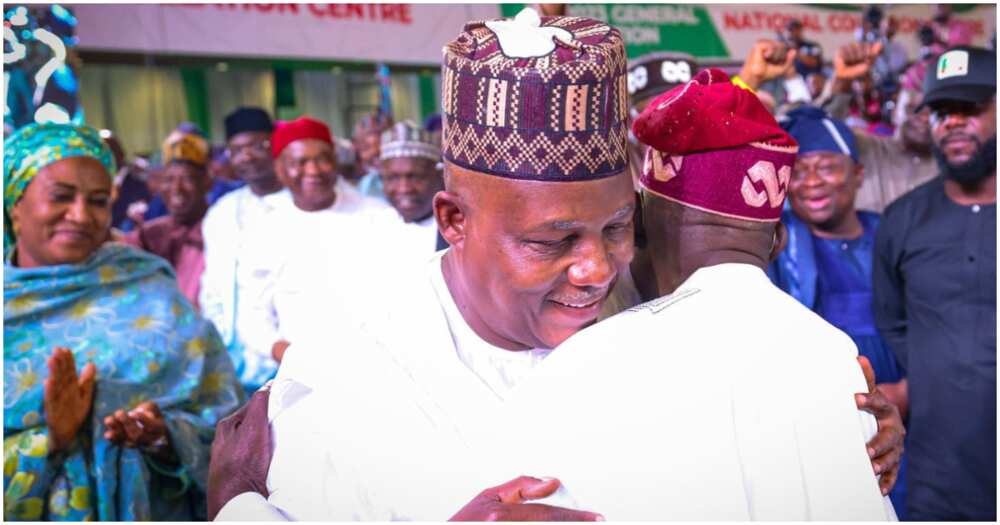 "Tinubu won't trample on rule of law", Shettima
He was speaking against the backdrop of a poser from the audience by one Muhammed Abubakar Husseini on why President Muhammadu Buhari failed to act during the face-off between Hajia Bala Usman and the former minister, Rotimi Amaechi.
Husseini was of the opinion that the rule of law was obviously trampled upon when the minister suspended Usman and yet Buhari carried on as if all was well.
Shettima pointed out that Tinubu was the first person to appoint a lady as a deputy governor in Nigeria, and the first person to appoint a lady as chief judge of a state.
"In the North, I was the first person to appoint five women to the state Executive Council and then Nasir Ahmed El-Rufai followed suit", Shettima stated.
Buhari opens up on why Tinubu defeated Atiku, Obi, others
President Muhammadu Buhari has given a reason why the opposition parties lost the 2023 presidential election to the All Progressives Congress (APC).
Buhari, in a veiled message, described Atiku Abubakar and Peter Obi, the candidates of the Peoples Democratic Party (PDP) and the Labour Party, who are major oppositions, as victims of over-confidence.
The president said during the electioneering, the APC was working hard to retain power, and the opposition parties were shrouding themselves in overconfidence.
"Tinubu's inauguration cannot be suspended" – Nigerian lawyer says, gives reason
A fresh motion on notice seeking to stop the president-Elect, Asiwaju Bola Ahmed Tinubu from being inaugurated as Nigeria's new President on Monday, May 29, 2023, has been instituted at the Court of Appeal in Abuja.
Ambrose Owuru predicated his grouse against the inauguration of Tinubu on the ground that he is the constitutionally adjudged winner of the 2019 election and has not spent his tenure as required by law.
Reacting to this development, a top Nigerian lawyer, Barrister Oluwole Olukunle Moses disclosed that Tinubu's inauguration is imminent and cannot be suspended constitutionally.
Source: Hotnewsdrop.com