Why we can't arrest, prosecute Tinubu, says NDLEA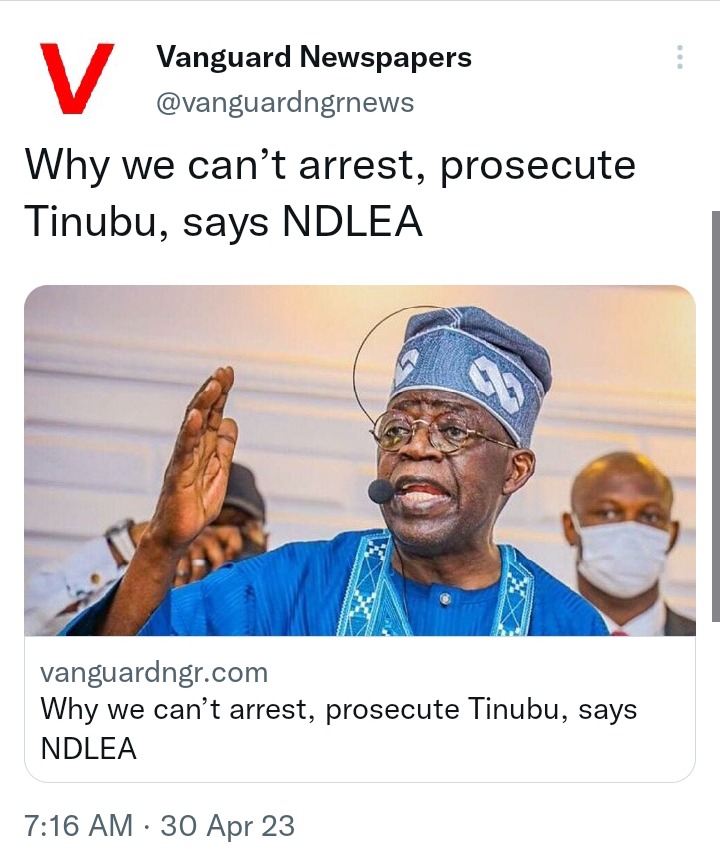 Photo Credit: Vanguard
The National Drug Law Enforcement Agency, NDLEA, has filed a preliminary objection to a suit instituted by the Peoples Democratic Party, PDP, and a chieftain of the opposition party, Senator Dino Melaye, seeking an order of mandamus to compel the anti-narcotics agency to arrest and prosecute the president-elect, Asiwaju Bola Ahmed Tinubu, over alleged forfeiture of some funds in his bank accounts over two decades ago in the United States.
In its notice of preliminary objection signed and filed at the Federal High Court in Abuja on Wednesday by its Director of Prosecution and Legal Services, Joseph Nbona Sunday, NDLEA submitted that the application by the PDP, which is the 1st applicant, with Melaye as 2nd, is incompetent, adding that the court lacks the jurisdiction to entertain it and, as such, should be struck out.
Listing its grounds for the objection, the NDLEA said both PDP and Dino Melaye "do not have a locus standi, they do not possess an interest peculiar to them and above the interests of all other Nigerians, adding that the investigation and prosecution of Tinubu were targeted at removing him as a bona-fide candidate in the February 25, 2023, presidential election.
Biden shades Trump, Fox , other media outlets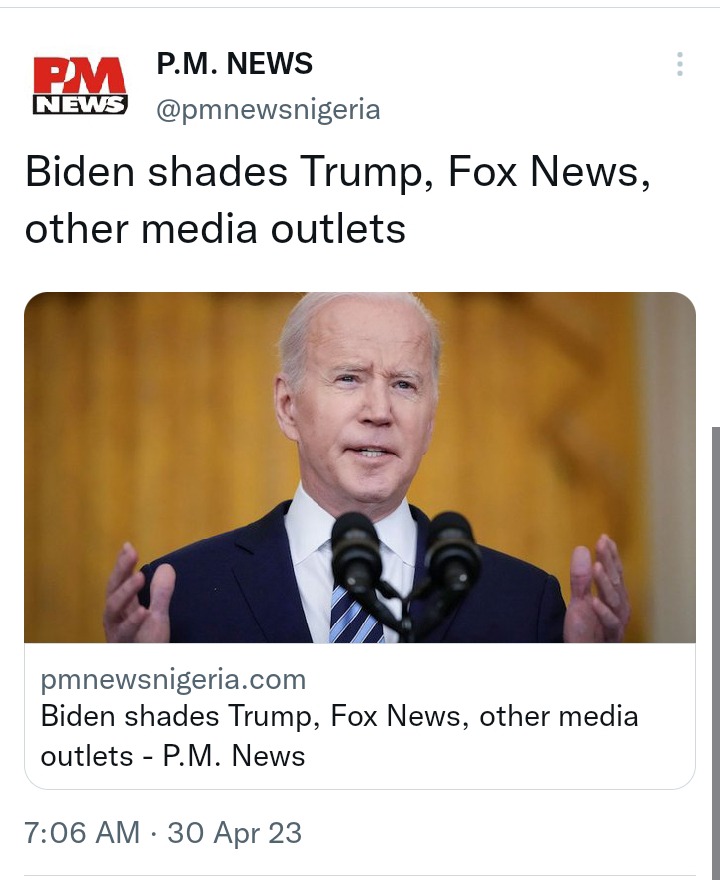 Photo Credit: p.m.news
U.S President Joe Biden slammed news outlets for using "lies told for profit and power" to incite hatred, while making pointed jokes about Fox .
He also subtly shaded former President, Donald Trump, referring to his ongoing court cases.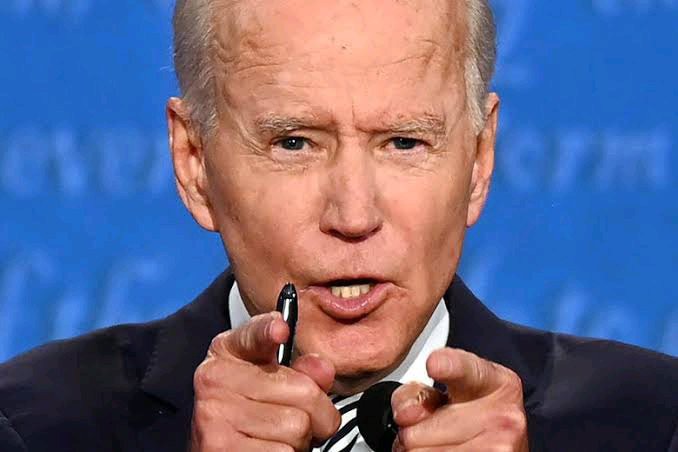 Photo Credit: Google
Speaking at the annual White House Correspondents' Association dinner on Saturday night, Biden referenced "truth buried by lies," an apparent reference to false conspiracy theories that his 2020 election victory was the result of massive voter fraud.
"Lies told for profit and power. Lies of conspiracy and malice repeated over and over again designed to generate a cycle of anger and hate and even violence," Biden said.
That cycle, Biden added, has emboldened local jurisdictions to ban books, and "the rule of law and our rights and freedoms to be stripped away."
Tinubu battles intrigue as Masari, El-Rufai, Bagudu jostle for SGF slot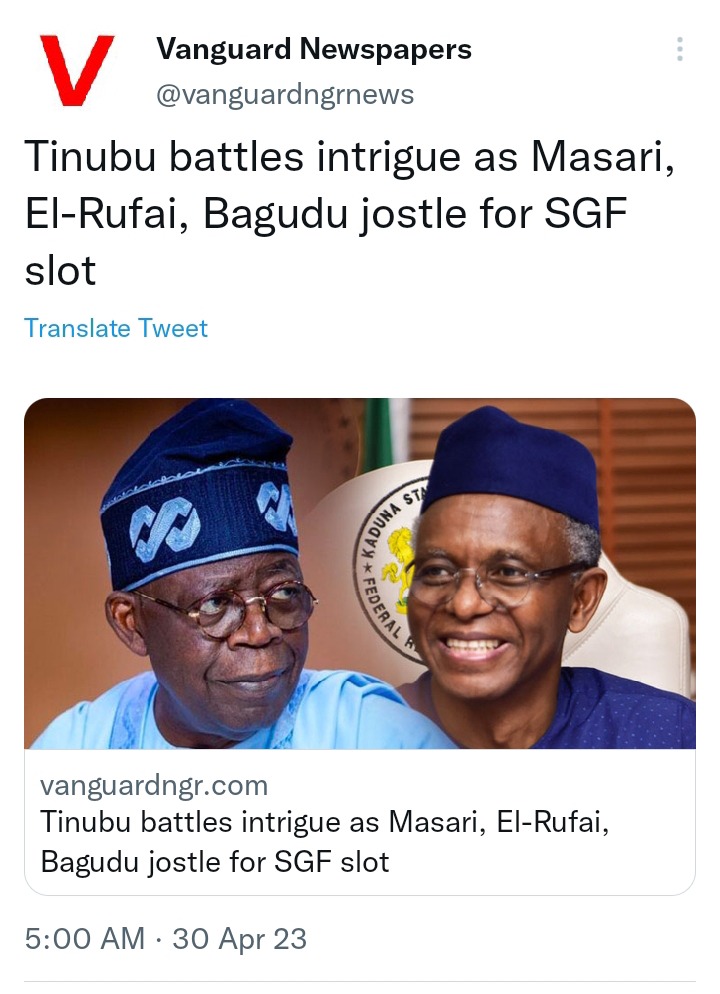 Photo Credit: Vanguard
This expose on the powers and influence of the Office of the Secretary to the Government of the Federation, OSGF will show that the office is very powerful, and President-elect Bola Ahmed Tinubu must get it right by appointing an unblemished individual and one that can be trusted.
In the opaque world of Nigeria's politics, the undercurrents in the ensuing contestation for the job are already setting a tone for the type of power play that may herald the Tinubu administration.
Yet, as the president-elect grapples with the contemporary realities of the larger Nigerian space – different from tiny Lagos – there are indications that he will make a choice that will serve the ethos of decency, service and clear-headedness.
Oba Elegushi sets to establish research, history centre At LASU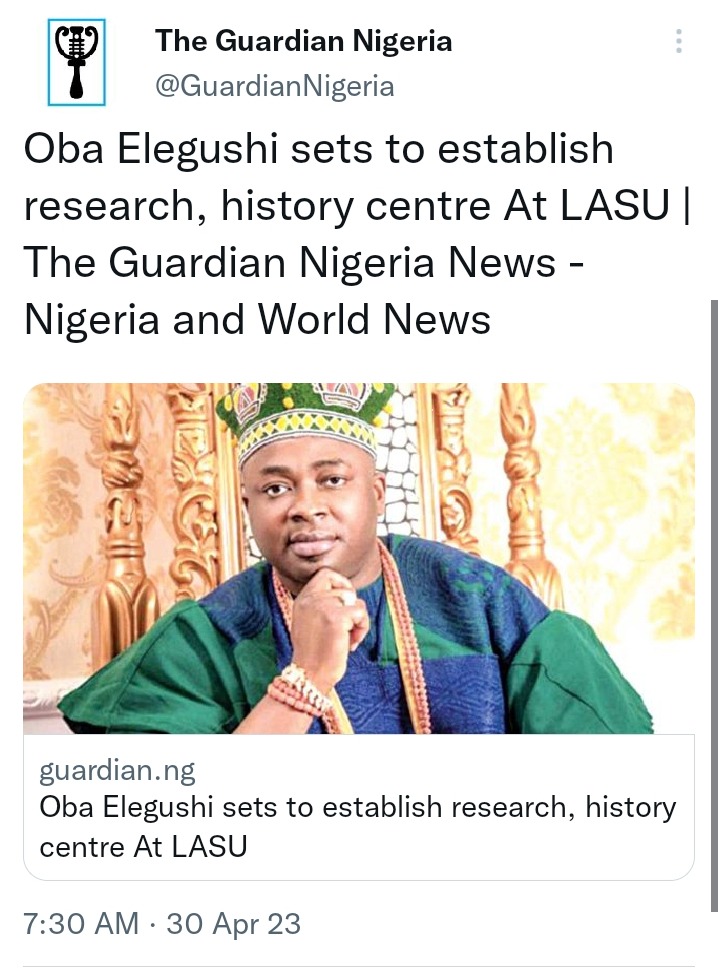 Photo Credit: The Guardian Nigeria
As part of efforts aimed at bridging misinformation gap about Lagos history, Oba Saheed Ademola Elegushi (Kusenla III) of Ikate-Elegushi Kingdom has decided to establish Centre for Lagos Studies at Lagos State University (LASU).
Speaking during a media parley in commemoration of the 13th year coronation and public presentation of the establishment of a research and history centre at LASU, the Aroba of Ikate Kingdom, Chief Olalekan Bakare, disclosed that the purpose-built centre was borne out of the need to have an institutional body that would serve as a research and reference centre for Lagos studies.
He noted it has been observed that the migrants and settlers have no adequate knowledge of historical evolution, as well as the transformational history of the major groups in Lagos despite the plethora of literature.
Nasu001 (
)