Former federal lawmaker representing Kaduna Central senatorial district at the National Assembly, Senator Shehu Sani has decried the kind of power state governors have over traditional rulers in their respective states.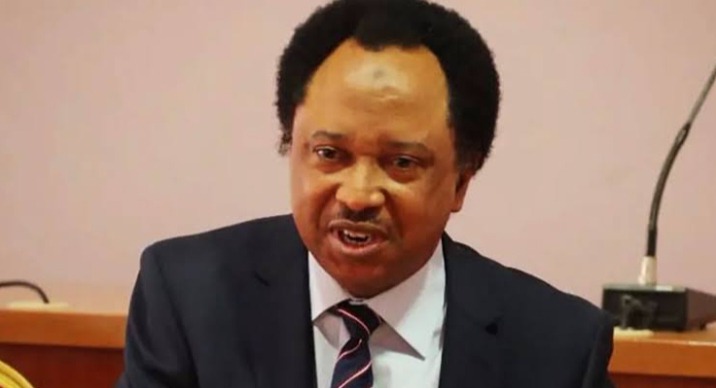 It is no longer news that a lot of traditional rulers including some powerful ones have been under the mercy of state governors over the years. One of such cases is that of the dethroned Emir of Kano, Sanusi.
Recall that on March 2020, Alhaji Lamido Sanusi who was Emir of Kano was removed by the outgoing governor of the state, Umar Ganduje.
While explaining the reason why Sanusi was dethroned, the Kano state government in a letter released on 9 March 2020 according to Daily Trust, said it was because, Sanusi refused to attend official meetings and programmes organized by the state government without any lawful justification. So, he had to be removed to safeguard the sanctity, culture, and religion of the Kano Emirate built over a thousand years.
However, Shehu Sani in his Twitter handle, claimed that until traditional rulers are protected like the way Judges are constitutionally protected, they would continue to be at the mercy and pleasure of state governors.
"Until traditional rulers are constitutionally protected like Judges,they will continue to live at the mercy and pleasure of state Governors." He wrote.
Below is a screen capture of his post.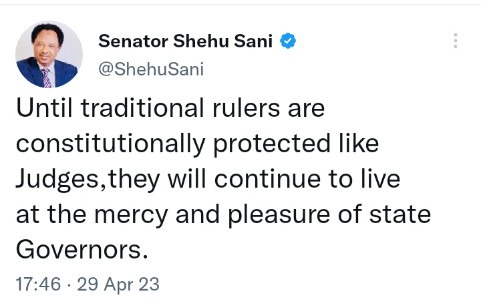 Credit: Senator Shehu Sani |Twitter|
GiftedWritez (
)