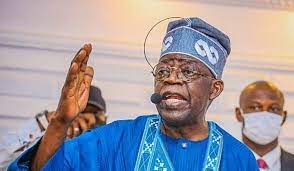 According to Vanguard
NDLEA responds to PDP and Dino.
The Peoples Democratic Party, PDP, and a leader of the opposition party, Senator Dino Melaye, filed a lawsuit seeking an order of mandamus compelling the anti-narcotics agency to arrest and prosecute the president-elect, Asiwaju Bola Ahmed Tinubu, over the alleged forfeiture of some funds in his bank accounts over 20 years ago in the United States. The National Drug Law Enforcement Agency (NDLEA) has objected to the lawsuit in a preliminary manner.
The NDLEA claimed in its notice of preliminary objection signed and submitted at the Federal High Court in Abuja on Wednesday that the PDP's application, which is the first applicant and Melaye is the second, is incompetent and that the court lacks the authority to consider it as such and should be dismissed.
The NDLEA stated that the PDP and Dino Melaye "do not have a locus stand; they do not possess an interest peculiar to them and above the interests of all other Nigerians," and that Tinubu's investigation and prosecution were intended to disqualify him from running as a legitimate candidate in the February 25, 2023, presidential election.
The agency stated that an order of mandamus should only be requested in good faith and shouldn't have any unintended consequences. This Honorable Court is prohibited from looking into issues with a political slant or issues intended to achieve direct or indirect political objectives by the doctrine of judicial self-restraint.
Although the US District Court for the Northern District of Illinois Eastern Division's proceeding served as the basis for the PDP application, it was noted that the judgment in that proceeding was given with prejudice, adding that "the said proceedings and judgment have no judicial value" and that, as a result, "the supposed cause of action of this suit as constituted is baseless and legally unsustainable."
Chia Cosmas Depunn, a litigation officer attached to the NDLEA's Directorate of Prosecution and Legal Services, stated in a sworn affidavit in support of the NDLEA's preliminary objection that as an independent government agency tasked with the investigation, arrest, and prosecution of individuals involved in drug trafficking and other related offenses in Nigeria, the agency has a positive relationship with the government of the United States, mentioning the name of Tinubu.
Ochiboylatestnews (
)