Wrestling legend Dwayne 'The Rock' Johnson appreciated pilots who saved a lone truck driver after his vehicle got stranded in the middle of a raging river at Galana-Kulalu
Two pilots from Sheldrick Wildlife Trust used their expertise and skills and managed to hover their helicopter over the truck and airlifted the driver to safety
The rescue mission was dangerous, and the daring and skilled pilots risked their lives to save the man
Former WWE star Dwayne Johnson alias The Rock has honoured brave pilots of the Sheldrick Wildlife Trust who rescued a man trapped in floods in Kenya.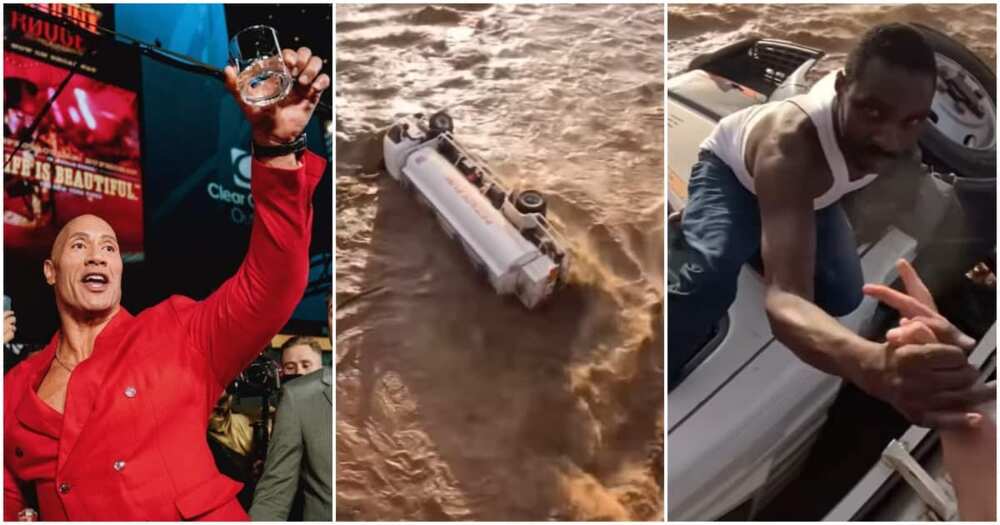 Hero pilots
The Hollywood star praised Taru Carr-Hartley, who flew the SWT helicopter to the scene, and Roan Carr-Hartley, for their bravery and selflessness in the extremely dangerous rescue operation.
In a video shared on Twitter, he thanked them for their heroism and for their dedication to saving lives.
"I was so impressed and so moved and so inspired by your act of courage and valour and heroism as you saved that man whose truck was tipped over… You guys are the real deal."
He added:
"Sending you so much love, so much respect, I'm giving you guys your flowers and keep up the incredible work I was so moved."
See the video below:
Netizens reacted to the post and below are some of their comments:
@Huebeunsky wrote:
"This is great, big up to the @SheldrickTrust pilots for the guy whose truck was tipped over by the ragging floods and the good work in Kenya. Massive support."
@murrayk1 wrote:
"While our @NPSOfficial_KE, @kdfinfo, @KenyaKwskenya and @KenyaPower pilots are busy lifting politicians, leaders and wannabes to wherever wasting taxpayer's monies, time and resources."
@SMclanhan wrote:
"Where are the @KenyaKwskenya and @StateHouseKenya on this issue? Is anyone going to recognize the boys who risked their lives to save a fellow Kenyan?"
Lady shares how Lagos Tout came to her rescue
A Nigerian lady with the Twitter handle @Snowflake_tul kicked against the stereotype about Lagos 'Agberos' touts.
She narrated her experience and talked about the kindness of these Agberos on the streets.
According to her, there was heavy rain that triggered a flood. It was already night, and commercial transport drivers hiked the transport fare.
Source: TUKO.co.ke