Popular Nigerian singer Peter PSquare Okoye has now broken his silence after being called out for kissing a female fan
Recall that a video had made the rounds online of the music star leaving the stage at his show to kiss a female fan on the mouth
In reaction to being called out for it, Peter noted that he was just doing his job and advised others not to be jealous
Top Nigerian singer Peter PSquare Okoye has now replied to detractors after he was dragged on social media for kissing a female fan.
Hotnewsdrop.com had earlier reported on how the PSquare brother trended online after he jumped off the stage in Amsterdam to kiss a female fan on the mouth.
Peter was heavily dragged after the video went viral and he has finally taken to his Twitter page to address the situation.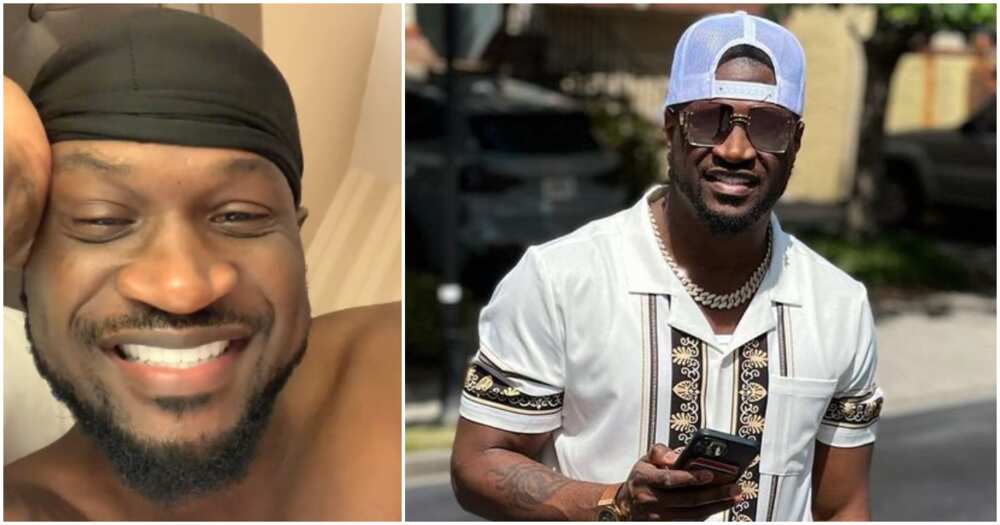 According to the top singer, he was only doing his job. Not stopping there, he added that a lot of ladies at the event actually got kissed as he advised others not to be jealous.
In his words:
"But a lot of my female fans collect correct kisses last night for AmsterdamPls dont be jealous! #JustDoingMyJob "
See his tweet below:
Netizens react as Peter PSquare addresses video of him kissing female fan at his show
The PSquare star's reaction to the issue also got people talking online. Some of them noted that his actions were not professional.
Read some of their comments below:
db_jewelry_hubandbags:
"I don't think this is professional,you ain't doing your job sir ,this was something else "
adeoluolatomide:
"Your wife must be very proud of you! "
rosythrone:
"It's how a married man comfortably kissing random pple. Wow!"
godson_allsom:
"But Having free access to a lot of girls is not something you should be proud of ✍️"
sir_eltee:
"Is it that he doesn't know Kissing random people can expose him to various infectious diseases ‍♂️"
feyi.mac:
"Just continue. Until you get sued for sexual harassment."
sir_eltee:
"He should think twice before kissing random people before he contacts the 'unmentionable' and give it to his wife ‍♂️"
hon._frank_de_nero_:
"Why Single that Particular girl out for a Kiss ? Just pray she very Comfortable and not a looking for a big pay day in court. If she Change am for eeh ! And for you to have the Nerve to Do that Aboard."
vee_ivory:
"Even if you must kiss your fans. What happened to her forehead."
charitythelifefixer:
"This your job get as e be sir."
Peter PSquare shares how he was a footballer before music career
Peter Okoye has said he was destined to be a professional footballer, but fate drove him towards music.
In a late-night Friday tweet on May 5, 2023, Mr. P expressed his gratitude for having had a great career as a musician.
The musician admitted he wished he was still playing football, though.
Source: Hotnewsdrop.com