Chris Brown and Usher performed at Lovers & Friends Festival after his alleged public brawl with the singer
A video of Chris Brown sharing the stage with rapper Tyga at the festival trended on social media
Many people were left confused because they believed Chris Brown and Usher were beefing after their rumoured fight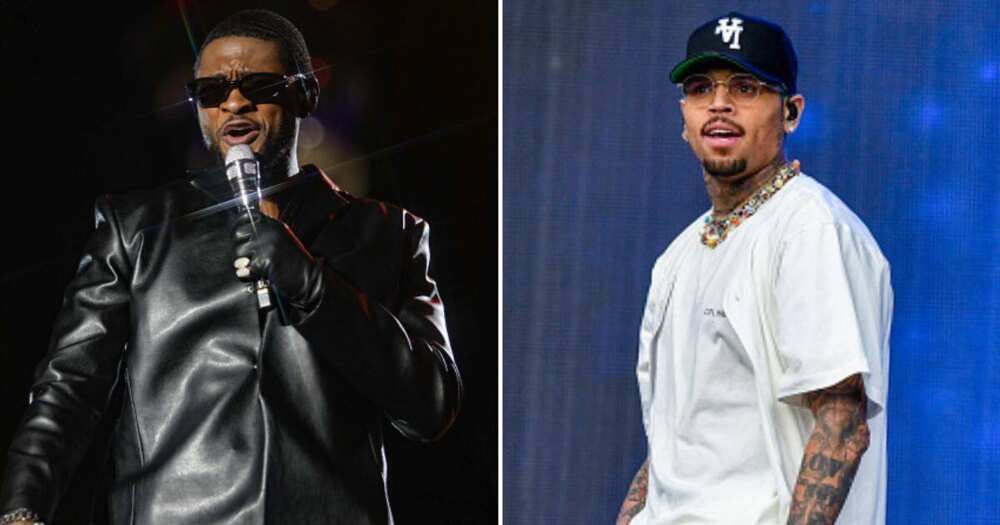 Chris Brown and Usher performed at Lovers & Friends Festival after their public altercation.
According to TMZ, during his performance, Chris did not address the viral conflict that occurred at the Roller Pink Party.
Twitter user @NigelDPresents also shared a video of Chris performing, and he appeared to be having a good time while rocking the stage with Tyga to their popular song Loyal.
Netizens confused after Chris Brown and Usher performed at the Lovers & Friends Festival after allegedly fighting
@notsheikhofchic said:
"Why is he performing after he broke Usher's nose? No consequences. Just as I thought."
@a_real_life_GOD shared:
"Like I said earlier, stop believing everything you read."
@Chan_Channnnn posted:
"So, somebody lied?"
@eeneryaj replied:
"The thing is, these people have known each other for years. They are brothers, and they have probably forgiven each other."
@taytayaog commented:
"Duh, it's called business, and he would be sued if he didn't show up."
@DacksFiness also said:
"To think that people were ready to cut Chris off is crazy. Let him live his life."
@NewFly_G added:
"I don't think they are beefing."
Why did Chris Brown and Usher fight?
According to TMZ, the altercation began when Chris approached Usher about his cancelled American Music Awards (AMA) tribute to Michael Jackson. The Don't Judge Me hitmaker suspected Teyana Taylor was behind the abrupt decision.
Chris confronted Teyana during his 34th birthday party, which Usher and the Wake Up Love hitmaker attended. The news outlet added that the argument became heated, and Usher was involved.
"As for Usher, we're told his nose was bleeding after the fight, but there was no apparent evidence of injuries on either one during the Festival."
Davido brags after a song he co-wrote for Chris Brown in 2019 breaks world record
Meanwhile, legit.ng recalls reporting that Nigerian music superstar, Davido, gushed over his latest achievement as one of his old works got international recognition.
The Stand Strong crooner took to his Instagram story to share a screenshot of a song he co-wrote for American superstar Chris Brown in 2019, Under the Influence.
The song has gone on to become the most Shazamed song on the planet, and Davido is proud of the latest achievement.
Source: Briefly.co.za