Dr. Livy Uzoukwu, SAN, a Senior Advocate of Nigeria, SAN, assumed leadership as the lead attorney for the Labour Party and its candidate today as the hearing for the presidential election complaints advanced in Abuja. Uzoukwu informed Haruna Tsammani, the presiding justice, that Uzoukwu and the other attorneys were prepared and willing to help in any way necessary to ensure a quick and easy proceeding.
All the lawyers had already received a warning from Tsammani to cooperate and refrain from wasting time with pointless objections. This admonition was heeded by Uzoukwu, who acknowledged that petitions significantly affect the public interest.
He confidently predicted that the petitions will continue to have an effect on Nigeria's legal and frameworks for future constitutional amendments.
It is admirable that Uzoukwu is so adamant about seeing justice done fairly and promptly. His efforts and knowledge benefit his clients while also boosting Nigerians' confidence in their judicial system.
Whatever the petitions' final results, it is certain that Uzoukwu and his team have raised the bar for legal research and professionalism. His commitment to his career and his country is an example to us all.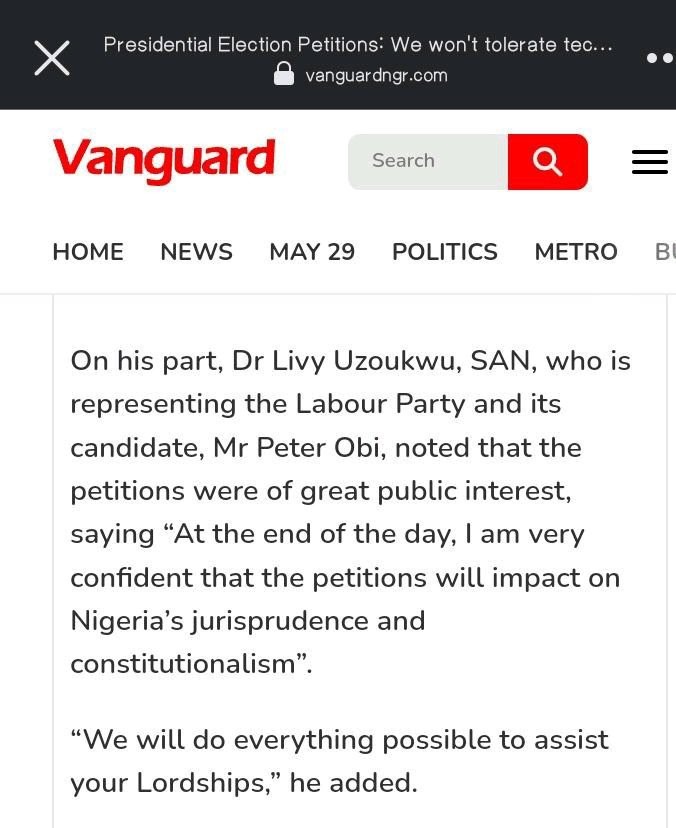 Jamila123 (
)