Controversial Nigerian singer Portable has once again made headlines over his interaction with Nollywood actress, Foluke Daramola
The celebs were recently guests at Fuji crooner Malaika's birthday party when Foluke tried to take photos of herself with Portable
The Zazu crooner indulged her at first but was later heard complaining that she is also a celebrity but she wants to kill him with pictures
Popular Nigerian singer Portable, has now amused many netizens over his recent interraction with Nollywood actress, Foluke Daramola.
A video made the rounds on social media of the Zazu Zeh crooner complaining about how they wanted to kill him with pictures.
In the viral video, Portable as well as Foluke Daramola were guests at Fuji star, Alao Malaika's 50th birthday party.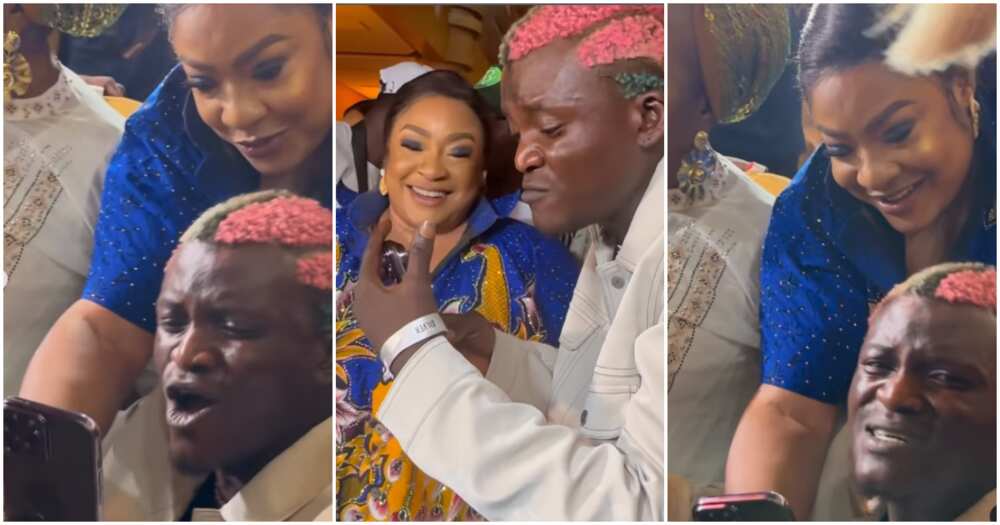 The Nollywood actress was starstruck after meeting the Zazu Zeh crooner and she proceeded to collect his phone number before telling him that he must act in her movie.
However, that was not the end of their interaction. Another video was posted showing Foluke trying to take photos with Portable while he was greeting her colleagues in the film industry.
The Zazu Zeh crooner initially indulged her request but later started to complain. According to him, Foluke is also a celebrity but she wants to kill him with pictures.
See the funny video below:
Netizens react as Portable complains about actress Foluke Daramola wanting to kill him with pictures
The video of Portable's exchange with the Nollywood actress soon went viral on social media and it seemed to amuse a number of netizens. Read some of their comments below:
bolarnlay:
"If you are having a long day and you see portable and lege's video,please open it and ease your stress because you will sure smile or laugh out loud"
i.am.differenttt:
"Awwww…they were all star razzled just after catching a glimpse of wahala musician. Awww, the zazoo babbon crooner .. OMG "
de_glamoursbeautyworld:
"Potable na serious cruise "
honeygrillnburger:
" wahala musician "
omogealagbo1:
"Wahala just too much bayi "
pweethytee:
"This boy nah werey "
divine_casuals:
"He is loved "
heaniola_:
"Wahala!!!!! In pro max"
Portable's unusual performance at Malaika's 50th birthday raises concerns
Portable has sparked reactions online after a clip of his performance at Alao Malaika's 50th birthday party went viral.
The singer, who always turns up whenever he is invited to perform at a show, did not disappoint as he stormed Malaika's show.
The highlight of Malaika's birthday party that got people talking was when Portable climbed on the trussings at the hall where the event was held. He started dancing vehemently, shaking the pillars that the lights were mounted on.
Source: Hotnewsdrop.com