The former governor of Ekiti state, Ayo Fayose, has again secured the permission of the court to seek medical treatment abroad
In a fresh ruling on Monday, May 8, Justice C.J. Aneke of the Federal High Court in Lagos granted the leave following an application by Ola Olanipekun, Fayose's counsel
Meanwhile, Fayose had earlier secured similar permissions for treatment abroad in July and in December 2019, as he is being tried by the EFCC for an alleged N2.2 billion fraud
Former Ekiti state Governor, Ayo Fayose has been granted permission to seek medical treatment outside the shores of Nigeria.
The Federal High Court in Lagos on Monday, May 8, granted leave to Fayose, who is facing money laundering charges, to travel for medical treatment, The Punch reported.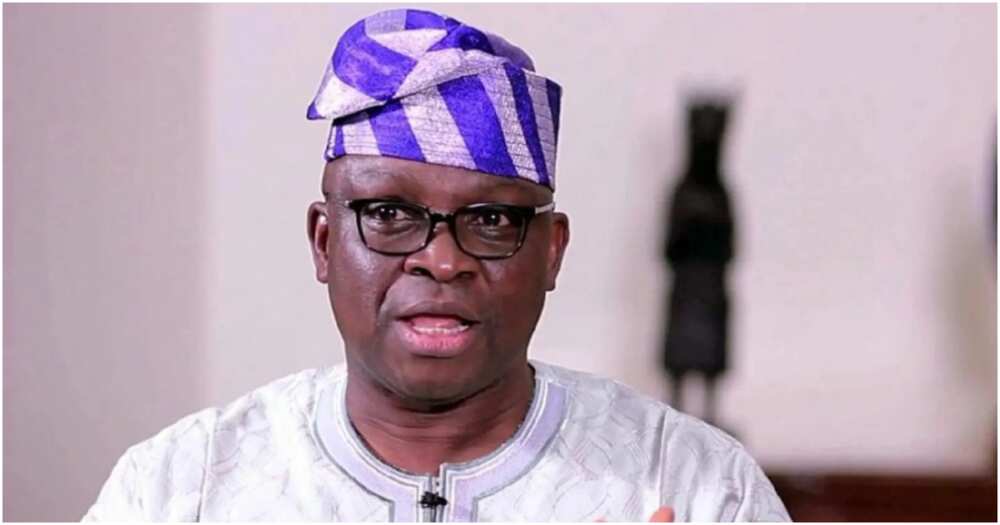 Fayose gets permission for treatment abroad
Justice C.J. Aneke granted the leave following an application to that effect by Fayose's lawyer, Ola Olanipekun (SAN), who was represented at the Monday proceedings by Mr Ahmed T.
Meanwhile, has been trying Fayose, alongside his company, Spotless Investment Limited, since 2018 shortly after he finished his second term in office as governor.
The Economic and Financial Crimes Commission (EFCC) accused him of laundering N2.2bn, which he allegedly used to prosecute his election in 2014, but Fayose and the firm pleaded not guilty.
The court's fresh sitting
The Monday proceedings in the case was stalled as Obanikoro, who had been testifying as the 12th prosecution witness, was absent from court.
The judge adjourned further proceedings till June 6.
Fayose explains why APC is having sleepless nights over Peter Obi's political ambition
In another development, Isaac Fayose, a brother to the former governor of Ekiti state, Ayodele Fayose, has said that the All Progressives Congress (APC), despite winning the 2023 presidential election, is having sleepless nights over Peter Obi's activities.
Fayose, in a post on his personal Facebook Page, said the level of reception Obi received from Nigerians during his last trip to the United Kingdom was marvelling.
The former governor's brother was reacting to a trending video of Obi being received by some Nigerians in the diaspora.
Fayose says Atiku, Obi can't unseat Tinubu
Hotnewsdrop.com earlier reported that Fayose dismissed any possibility of Atiku Abubakar and Peter Obi of PDP and Labour Party unseating Bola Tinubu in court.
The former Ekiti state governor said the election had come and gone, and those planning to upturn the president-elect's victory were only daydreaming.
According to the former governor, ex-US President Donald Trump is still protesting that he was rigged out of the country's election.
Source: Hotnewsdrop.com