Celebrities are usually known for a certain entertainment value that they give. However, recently a particular group of faves have dominated the Nigerian media spaces and are not known for any genuine entertainment value; instead, for always being in the news for controversies.
To mention a few, celebs like Bobrisky, Mandy Kiss, James Brown and many others.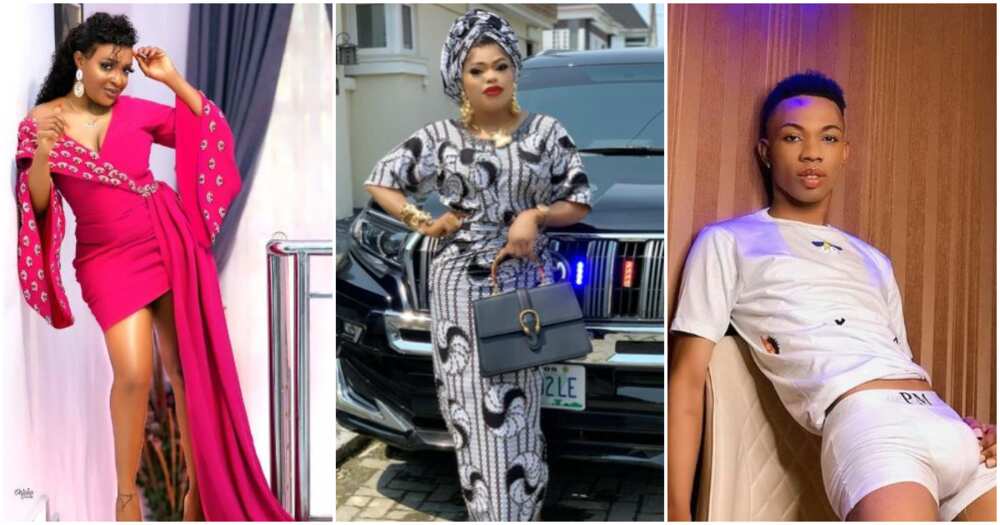 In this article, Hotnewsdrop.com has compiled a list of celebrities who have, over the years, constantly disturbed the Nigerian media space with their 'wahala', constantly in the news for all of the wrong reasons.
1. Idris Okuneye aka Bobrisky – Crossdresser:
The leader of this clan of Nigerian celebrities who have built a huge reputation online without mainly offering any major type of entertainment but controversies is Idris Okuneye, aka Bobrisky.
Some might argue that Bobrisky sells organic products or media space for advert and is an influencer. But the question to ask is, what do you go to Sabinus' page to do compared to going to Bob's page?
2. Blessing Okoro Nkiriu aka Blessing CEO:
Another huge suspect in this clan of celebrities is the relationship expert and counsellor, Blessing CEO. She started as a blogger but got caught in lies, and ever since she's been involved in one scandal.
Blessing is a self-acclaimed psychologist who owns a therapy centre for people with relationship traumas.
But the question is, why is she more popular for scandals and the wrong reasons instead for the people she helped over life-threatening traumas?
3. James 'Brown' Obialor Crossdresser:
James Brown might just be the only one among the celebrities listed in this article that seemed to be making a conscious effort to morph into mainstream media, be it as an actor or skit maker.
But he is mainly known for how he came into the industry, and he has somehow tried to maintain that controversial personality that brought him his fame.
4. Halima Abike Raheem Papaya Ex:
What is Papaya Ex known? Like seriously, someone needs to explain because the fame she has seems to outweigh what true entertainment value she provides.
Papaya isn't known particularly for being funny, acting skills, or content creation that doesn't portend certain untenable life.
She claims to be an influencer and actress, but I challenge you to ask Papaya for her movie catalogue. You would certainly come back disappointed.
5. Ayomiposi Oluwada, aka Mandy Kiss, President of Olosho nation:
One-time skit maker turns online terror Ayomiposi Oluwada, or Mandy Kiss, is one of the most famous Nigerian digital celebrities.
She was once popular for producing content that entails sexual vulgarity. However, over time, she has turned it down and rather gets in fights with other online content creators.
Well, to an extent, we can call Mandy a skit-maker. It is just her style of content that seems questionable.
Video As Blessing CEO steps out of prison, flaunts body in red stunner gown
Meanwhile, Hotnewsdrop.com recalls reporting Popular Nigerian relationship therapist Blessing CEO, under Nigeria police custody, appears to have been granted bail.
The controversial lifestyle influencer was arrested a few weeks ago, on April 1, 2023, over an alleged cyber-bullying of Folashade Samuels, the sister of late Bimbo Ogbonna, wife of auto dealer IVD.
In a recent post on her page, Blessing was seen in a red Savage dinner gown as she walked elegantly to display her pear-shaped Brazilian bum.
Source: Hotnewsdrop.com