The president-elect, Bola Tinubu, has congratulated Governor Ademola Adeleke of Osun state for his victory at the supreme court
Tinubu also commended Gboyega Oyetola for strengthening the country's democracy by fighting to the supreme court and noted that the apex court decision is final
He then urged the Osun state governor to settle down and begin to work and as well as unite the people of the state
FCT, Abuja – Bola Tinubu, the president-elect, has sent warm greetings to Ademola Adeleke, the governor of Osun state, for recording a victory at the supreme court on Tuesday, May 9.
Tinubu, in a statement sent to Hotnewsdrop.com and signed by Tunde Rahman of the president-elect's office on Tuesday, May 9, urged the governor to immediately move in uniting the state.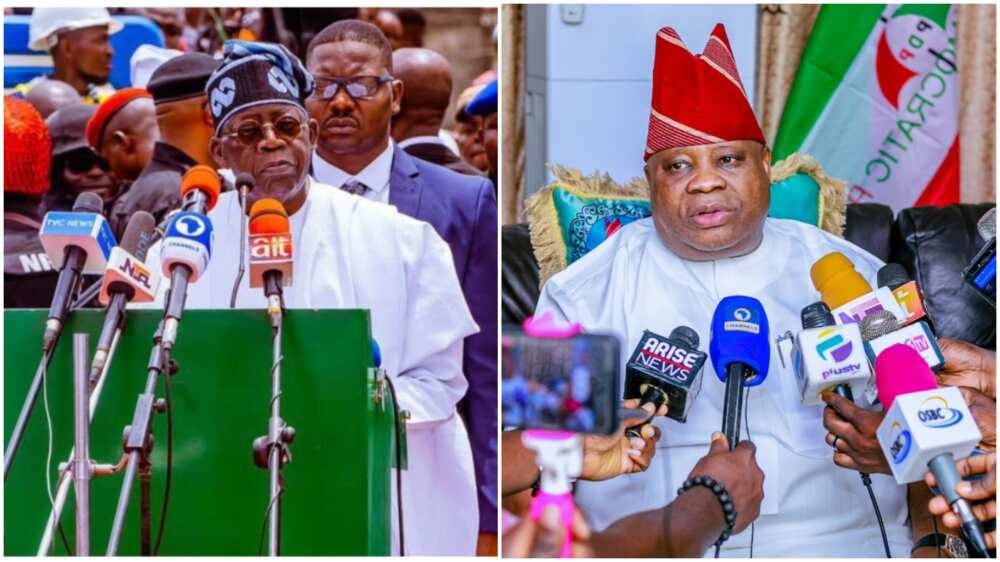 The president-elect said the apex court had put an end to the tussle that emanated from July 2022 governorship election in Osun state, adding that the decision of the supreme court must be respected by all.
Tinubu then commended the immediate past governor of the state, Gboyega Oyetola, for his credible discharge during his first term as governor of the state.
He said the former governor had deepened the country's democracy with the way he pursued his democratic rights peacefully to the end.
Adeleke had defeated Oyetola, who was reported to be the cousin to the president-elect, in the July 2022 governorship election in the state.
Oyetola had challenged the outcome of the election at the tribunal, where he was declared the winner of the poll, but the appeal and supreme courts upturned the decision of the tribunal and declared Adeleke as the authentic winner of the election.
The statement reads in part:
"Now that the matter of the July 16, 2022 Osun State Governorship Election has been brought to a close, I urge Governor Adeleke to immediately settle down to work and continue from where the former governor left it. He should now move to unite the state. I also urge all the people of Osun to work for peace and progress in the state."
Source: Hotnewsdrop.com