The head of the Benue Youth Volunteers for Asiwaju Bola Ahmed Tinubu, Comrade David Aper Nyor, "has announced his intention to travel on foot from Makurdi, the agrarian state of Benue's capital, to Abuja, the nation's capital, to witness Bola Tinubu's inauguration."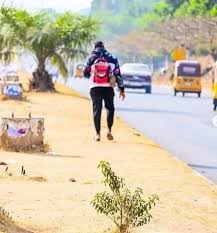 Nyor, an APC supporter from the state's Konshisha LGA, "stated in an interview that he is starting the trek to demonstrate his happiness over the election of the president-elect and his party."
In a statement, "Nyor expressed his gratitude to Sen. Barnabas Gemade for his support of and significant contributions to the Benue Youths Volunteers for Asiwaju Bola Ahmed Tinubu. Nyor also thanked Sen. Gemade for his efforts to advance peace, unity, equity, fairness, and justice, as he was obviously doing."
According to him, "He claimed that traveling by car is a sign of honor and a way to refute the foolish prediction that Tinubu would not be inaugurated made by those he called "forces of darkness."
"When we first began this path, they claimed that our president-elect would not receive the party's (APC) ticket. After the primaries, they began complaining that the Muslim-Muslim ticket would not fare well in the general election." Vanguard reported.
"They were busy making noise and plotting to rig the elections while we were out voting for the progressive renewed hope on February 25th, but God failed them."
"Nigerians as a whole decided to vote for our president-elect because we believe in his competence and ability to turn the situation around, not just one individual or group of individuals."
Vanguard reported that, "As a volunteer, I will personally support the inauguration of my president-elect. To celebrate Asiwaju's victory, I shall begin a trip on the day of the inauguration from the Tinubu/Shetima campaign office in Makurdi to Abuja," Nyor revealed.
"The genuine enemies of Nigeria, according to him, are those who mistakenly believe that Tinubu won't have an impact on the country's progress. They, he claimed, have the country's unity at heart."
Vanguard further reported, "He urged all patriots to work together and make concerted efforts to advance good governance and provide a better system of government for everyone."
Source: vanguard
AhmedSoliu111 (
)