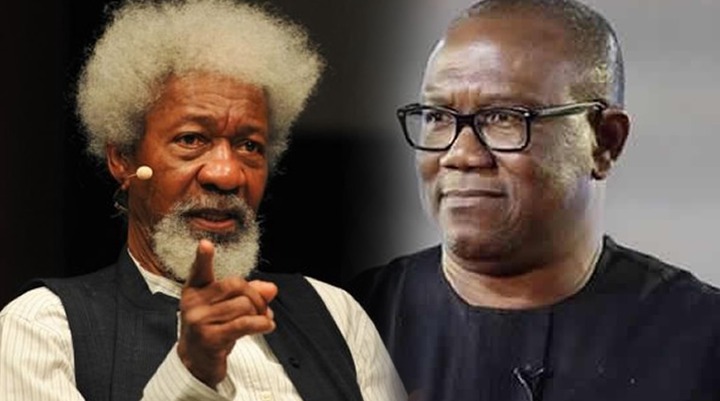 According to Punch, Nobel laureate Wole Soyinka says Peter Obi's visit was not for "reconciliation," as some have reported.
Obi, the Labor Party (LP) presidential candidate for the 2023 general election, visited the literary icon on Sunday after the former's supporters known as the Obidients recently clashed with Soyinka after he commented on the former Anambra running mate's comment on who had criticized the exercise.
After the visit, it was a conciliatory move by the LP flag-bearer.
But in a statement Monday night, Soyinka said the visit was nothing like that.
Before it picks up steam and begins a life of its own, I want to make it clear that the word "reconciliation" inserted into some accounts of Peter Obi's visit to me yesterday, Sunday 7th May is a most inappropriate and distracting incantation.
Soyinka said in a statement titled
"A Visit and the Thrill of Reconciliation." Let me get this straight: I know the entity named Peter Obi, Labor Party presidential candidate.
I can identify with him. I know and can relate to the Labor Party on whose platform he contested elections.
There are simply no issues to be reconciled between these two entities and myself.
However, I do not know and cannot relate to anything known as 'obedience' or 'obedient family.
Therefore, albeit in a different way, any notion of reconciliation, or even relationships positive, negative, or indifferent with such a ghostly emanation is simply a no-holds-barred.
During this meeting, which was attended by only two other people, the word 'reconciliation' was never used, by itself or in any other form.
It just didn't turn out.
By contrast, there have been utterances ranging from the burden of leadership, responsibility, excuse me, please, formal distancing from the untenable to the tragic rise of ethnic division, especially in such ironic, untenable circumstances. The discussions were open and creative.
The concept of reconciliation was clear and not applicable. It was never raised.
Johnwilbow (
)