On Tuesday, May 9, the supreme court affirmed the decision of the Court of Appeal that declared Governor Ademola Adeleke as the authentic winner of the July 2023 Guber election in Osun state.
The apex court dashed the hope of former Governor Gboyega Oyetola of the All Progressives Congress (APC) of returning to power following his victory against the Peoples Democratic Party (PDP)'s candidate at the Osun State Governorship Election Petition Tribunal in January earlier this year.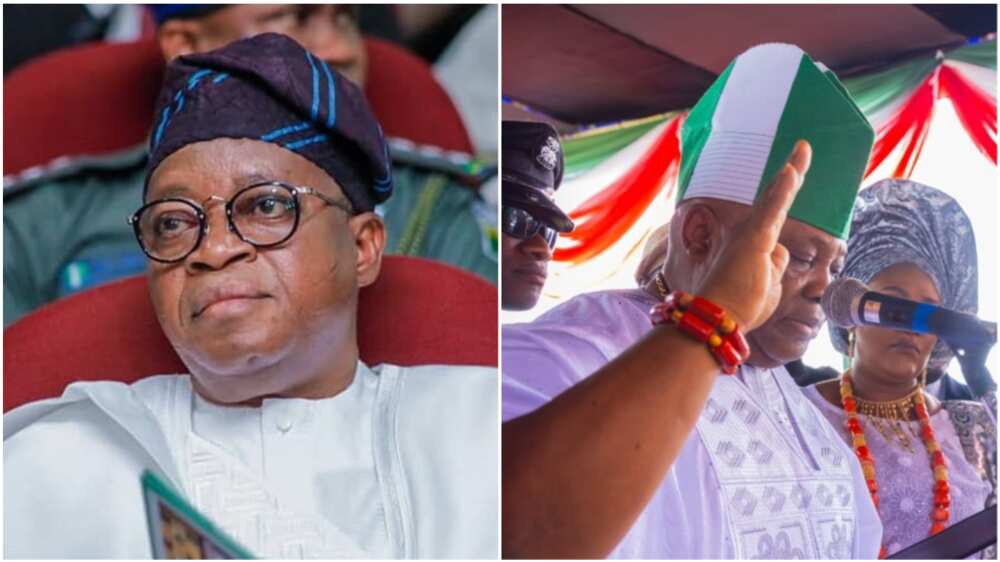 Justice Emmanuel Agim-led 5-member panel said the appeal court was right to have declared Ademola Adeleke as the winner of the July 16, 2022, governorship election in the state.
Below are some of the reasons for the appeal that the supreme court upheld:
Appeal court faults over-voting claim
The supreme court held the position of the appeal court that faulted the position of the tribunal on the conclusion that there was over-voting in some parts of the state.
The over-voting claim was the major legal issue on which Oyetola and the APC had built their petition.
APC Oyetola did not tender the voter register
Supreme Court also upheld the position of the appeal that Oyetola and his party failed to tender voter registers and the Bimodal Voters Accreditation System (BVAS machines).
The court held that the BVAS machines that captured the data of eligible voters at the Osun governorship election were the authentic evidence.
Certificate forgery
The supreme court, in its ruling on Tuesday, also dismissed the certificate forgery case against the PDP governor in Osun state.
According to Justice Emmanuel Agim's panel, the forgery case against Adeleke has been settled, and there was no establishment of a forgery case against the governor.
Oyetola's witness has no evidence
The apex court also maintained that the witness of the APC and Oyetola could not present facts but relied on hearsay.
Thus, the appellants failed to fully justify their case against the victory of Adeleke in the poll.
Tribunal breached Adeleke's right
Justice Emmanuel Agim's panel held that the tribunal abused the right of Governor Adeleke by not giving him a fair hearing.
The panel said the verdict of the tribunal and the manner in which it came to its conclusion is faulty.
Conclusion
Governor Ademola Adeleke will, therefore, continue as the governor of the state as the apex court decision is the end of the discussion.
Source: Hotnewsdrop.com