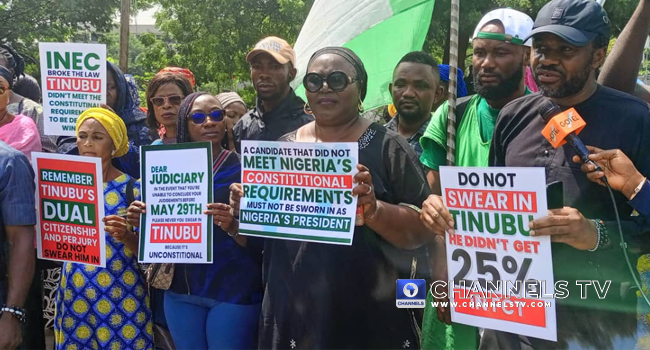 Enraged protesters rushed the Presidential Election Petition Tribunal' s Appeal Court location on Monday and demanded that Bola Tinubu' s inauguration on May 29 be postponed.
The protesters who were outside the court holding placards that read, among other things, " INEC broke the law, Tinubu didn't meet the constitutional requirements to be declared winner" and " Do not swear in Tinubu, he didn't get 25% in FCT" claimed that the president- elect did not meet the constitutional requirement to be declared the winner of the February 25 election.
While stating their demands, the demonstrators were heard yelling, " Our vote must count o" and " Freedom come by struggle. "
According to Channels TV, the presidential election petition tribunal has started hearing cases.
Recall that in his appeal, the LP candidate accused Bola Tinubu of the All Progressive Congress (APC) and the Independent National Electoral Commission (INEC) of alleged fraudulent activities and non- compliance with the requirements of the Electoral Act 2022.
Following Atiku Abubakar of the Peoples Democratic Party in second place with 6, 984, 520 votes and Peter Obi in third place with 6, 101, 533 votes, INEC had proclaimed Tinubu the election' s victor after he received 8794726 votes.
at his appeal, Obi claimed that the electoral umpire had changed the results at around 18, 000 polling places in his favor while refusing to utilize the device required by the Electoral Act to accredit voters and upload results in real- time.
Five judges of the Court of Appeal make up the panel, which is headed by Haruna Simon Tsammani.
Source:
RoyDaWritter (
)