Netizens criticised Daniel Bwala, an ally of the presidential candidate of the Peoples Democratic Party (PDP), Atiku Abubakar, for 'not respecting his fellow lawyer'
Attending the first day of the presidential election tribunal in Abuja on Monday, May 8, Bwala turned up at the court premises in a Toyota Land Cruiser
When his vehicle stopped, a fellow lawyer dressed in his white and black legal garb alighted from the front door to open the next door for Bwala
FCT, Abuja – Daniel Bwala, an ally of the presidential candidate of the Peoples Democratic Party (PDP), Atiku Abubakar, has come under severe criticism from Twitter users over a clip he posted on his known handle, which showed a colleague opening his vehicle door for him.
Hotnewsdrop.com reports that Bwala, a lawyer himself, attended the presidential election tribunal proceedings at the Court of Appeal, Abuja, on Monday, May 8.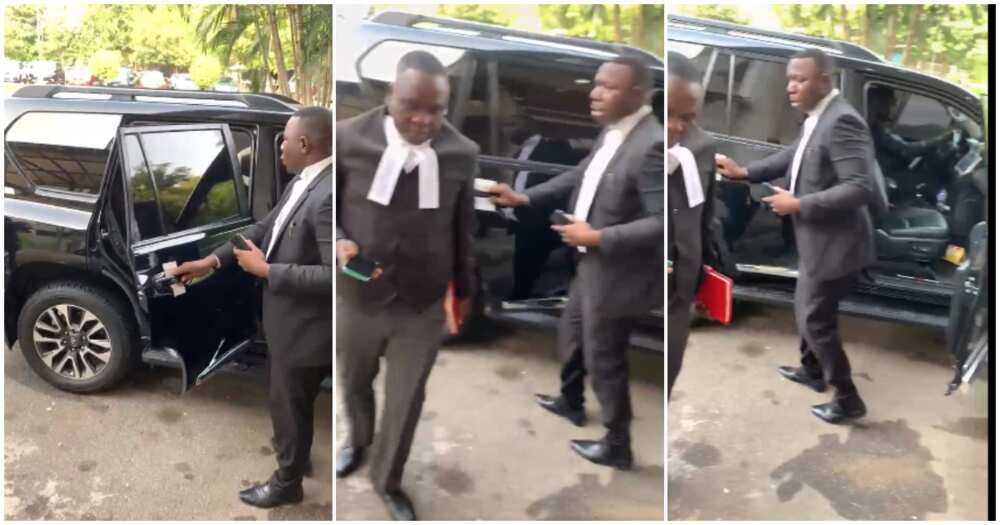 The former All Progressives Congress (APC) member posted a short video of his arrival at the court, and captioned it:
"We are here, the D day. Officially commenced today. We pray for a peaceful and professional presidential election proceedings."
The video generated unfriendly reactions from many commenters.
See some comments below:
Atiku's election petition against president-elect, Tinubu
It would be recalled that Bwala's principal, Atiku, had asked the Presidential Election Petition Court in Abuja to declare him Nigeria's president-elect.
Alternatively, Atiku urged the court to cancel the election and order a fresh election due to alleged irregularities that marred the Saturday February 25 poll in thousands of polling units.
Peter Obi of the Labour Party who came third is also challenging Bola Tinubu's victory.
The hearing commenced properly on Monday, May 8, with many Nigerians keenly following the case.
Presidential Tribunal: Atiku, PDP apply for live telecast of court proceedings
Hotnewsdrop.com earlier reported that Atiku submitted an application requesting a live telecast of proceedings at the appellate court.
The former Vice President will go head-to-head with the president-elect and All Progressive Congress (APC) candidate, Bola Ahmed Tinubu, to challenge his mandate.
Atiku's aide, others stage protest at White House over 2023 election
Hotnewsdrop.com also reported that Eta Uso, the special assistant on digital media to Atiku, and several members of the Coalition of Nigerian Organizations in the United States on Saturday, May 6, held a peaceful protest at the White House Lafayette Square over the 2023 general elections in Nigeria.
The coalition urged the international community, particularly the United States, to exert pressure on the Nigerian judiciary to ensure a fair, transparent, and unbiased resolution to the electoral dispute.
Source: Hotnewsdrop.com