Swizz Beatz's $500 000 (N230,250,000) gift to Alicia Keys has stirred up a conversation on gift-giving in relationships
Swizz admits that he doesn't think Alicia liked the car and speculates that it's because she's not the flashy type
Twitter users have shared mixed reactions, with some questioning the need for approval when gifting and others noting the car's less-than-stellar design
Swizz Beatz's $500,000 (N230,250,000) gift to his wife, Alicia Keys, has raised eyebrows and generated a lot of buzz online.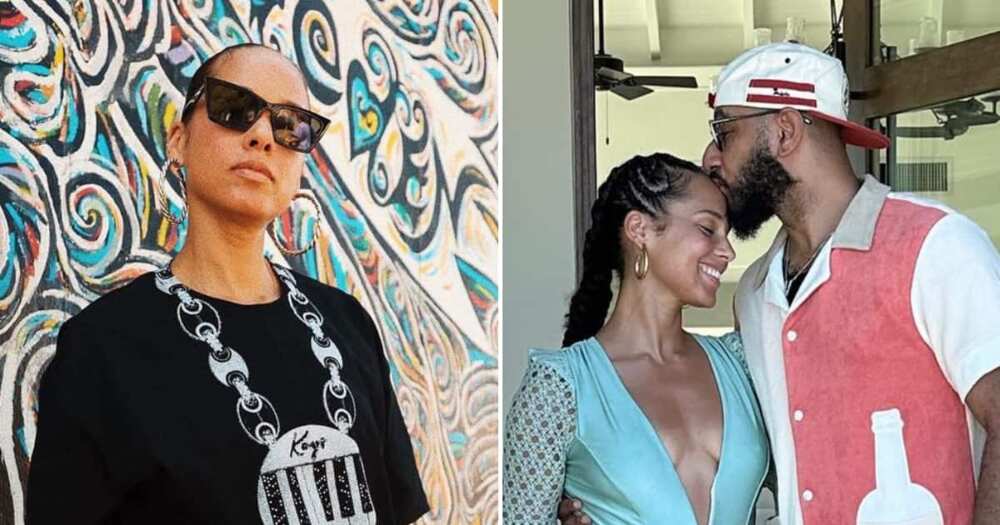 The music producer had purchased a Mercedes-Maybach S-Class S680 designed by the late Virgil Abloh, which he unveiled to his wife and the world through a video on Instagram.
Swizz Beatz's $500,000 Maybach for Alicia Keys
Complex reports that in a recent conversation with Angie Martinez, Swizz expressed doubts about his wife's reaction to the gift, saying that he did not think Alicia was too fond of the luxury vehicle.
@Blackmillions_ shared the video on Twitter, in a tweet captioned:
"Alicia Keys doesn't like the $500K Mercedes Maybach designed by Virgil. Her husband Swizz Beats bought it for her. She acted surprised but left the car at the dealership & never picked it up."
People react to Swizz Beatz's luxurious gift to Alicia Keys
Swizz acknowledged that Alicia is not the flashy type and may have been hesitant to drive the car in public due to the attention it would attract.
People across the net couldn't help but note Keys' expressions as they commented:
@Livinrentfree_ said:
"Does she have to like every gift she receives?"
@D_Princehakim said:
"This guy missed the mark on buying his wife a car that he thinks she would like but I promise you he has many relationship advice for ordinary people."
@lotyslove said:
"Don't buy me something like this without my approval, first. Cars are like shoes, they're very personal."
@KingKvmal said:
"Sounds like rich people's issues and I'm too poor to understand "
@DepartmentOfIn7
"Well yeah, the car looks ugly as hell. The only time I'd get caught in that car is when I'm taking it somewhere to sell it."
@Jayforce said:
"Everyone could see she didn't like it… Neither do I.'
@captain_is_cool said:
"He got that gift for him 'kinda like it's both ours'."
Rihanna and A$AP Rocky's son makes fashion statement in designer jacket and N280k black boots in Paris
Rihanna's son is already making fashion statements in the showbiz industry. The tiny tot who turns one next month was recently spotted looking stylish.
We know Rihanna loves fashion so we can't expect anything less from her son. The star has been blessing her fans with glimpses of her 11-month-old son and peeps love it.
According to Hollywood Life, Riri stepped out with her baby boy while they were in Paris. The stylish mother looked dope as usual, rocking a denim-on-denim outfit that exposed her baby bump and saucy legs.
Source: Briefly.co.za