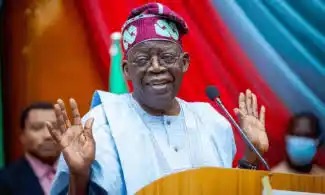 LAGOS -Asiwaju Bola Ahmed Tinubu claims that he will make corruption in the courts unpalatable, but Comrade Timi Frank, a former All Progressives Congress (APC) Deputy National Publicity Secretary, has questioned this assertion.
Frank emphasised that the former governor of Lagos State is unable to fight judicial corruption and labelled the remark a hoax.
Recall that Tinubu reportedly pledged to make corruption unpalatable while speaking at the launching of a Magistrate Court Complex constructed by the Governor Nyesom Wike government in Port Harcourt.
In a statement released on Saturday in Abuja, Frank claimed Tinubu has a poor track record when it comes to combating corruption.
Frank claims that Tinubu's sudden selection as the anti-corruption czar offends the sensibilities of the majority of Nigerians. Tinubu was purportedly connected to numerous corrupt activities, including the well-known bullion van incident.
"A man who is unable to answer questions about the Alpha Beta Company and several other properties linked to him clearly lacks the prerequisites to fight corruption," he said.
However, it is amusing that Tinubu, whose political career has been tarnished by corruption allegations, would want to position himself as a champion of anti-corruption, only to dupe the credulous.
The character of the people who are actively courting the president-elect for various favours is crucial.
"These people may all have a case or more to answer with anti-graft agencies," the statement reads. "They are busy outwitting one another in order to secure juicy government portfolios with statutory immunity."
He claimed that "these characters, who are now vying for leadership positions in all arms of government, including the Executive, Legislature, and Judiciary, will almost certainly be cleared for public service, thereby joepadising the fight against corruption from the outset."
The Bayelsa-born political activist anticipated that the incoming administration would harbour numerous politicians of questionable moral character and give them a safe haven in which to operate if it were to be confirmed by the judiciary.
The Economic and Financial Crimes Commission (EFCC) and other sister anti-corruption authorities may be investigating or prosecuting high net worth persons who have previously been convicted of crimes or who are now under investigation.
"One of the leading contenders' struggle for the position of Senate President is clear evidence of this fact." It is also important to determine if Tinubu's projected administration will be hampered by these obvious associations.
Because the facts show the opposite, as plainly proved by the current circumstances, the assertion attributed to the former governor of Lagos State at Port Harcourt is absurd.
"It is noteworthy that Tinubu, whose ruling party ran on an anti-corruption platform, will suddenly lead an anti-corruption campaign when even the incumbent President, who has no known history of corruption, is unable to tackle the menace, instead the corruption index has increased exponentially under this administration," reads the statement.
TravisDav (
)