Only the court can stop Tinubu inauguration -APC chieftain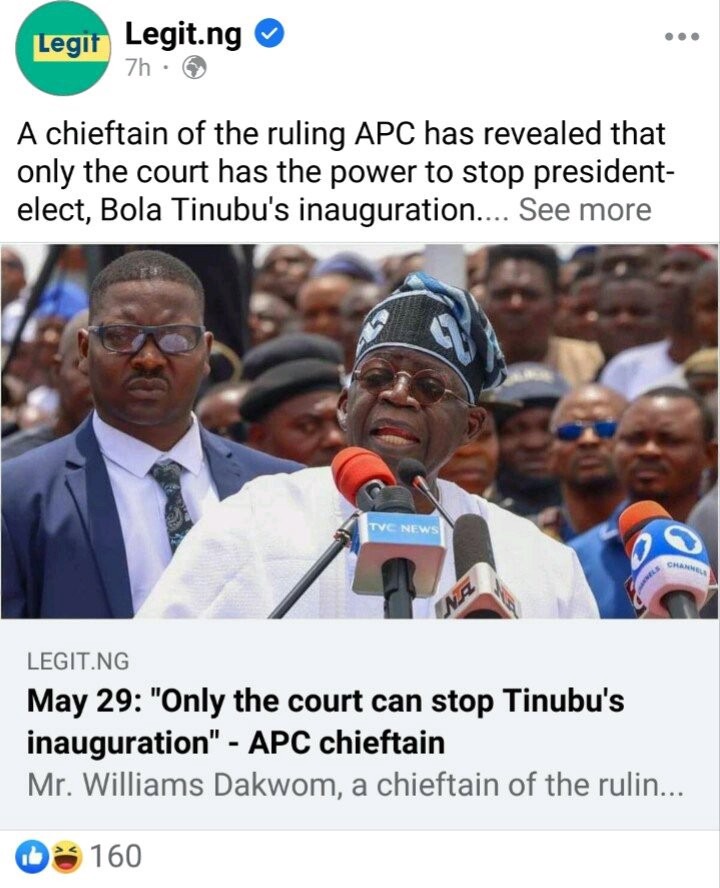 Photo credit Legit.ng
A chieftain of the ruling All Progressives Congress has disagreed with the remark of the Archbishop Emeritus of the Catholic Dioceses of Abuja, Cardinal John Onaiyekan that it made no sense to inaugurate politicians whose elections were being challenged at the tribunal. In a chat with Legit.ng on Monday, May 8, Mr. Williams Dakwom, a member of the APC presidential campaign council (PCC) in Plateau state, described the comment made by Onaiyekan as inappropriate.
He noted that said such comments should be channeled to the appropriate authority, adding that only the court has the power to stop Tinubu's inauguration if nothing else does on Monday, May 29, 2023.
Kumuyi holds crusade in Abuja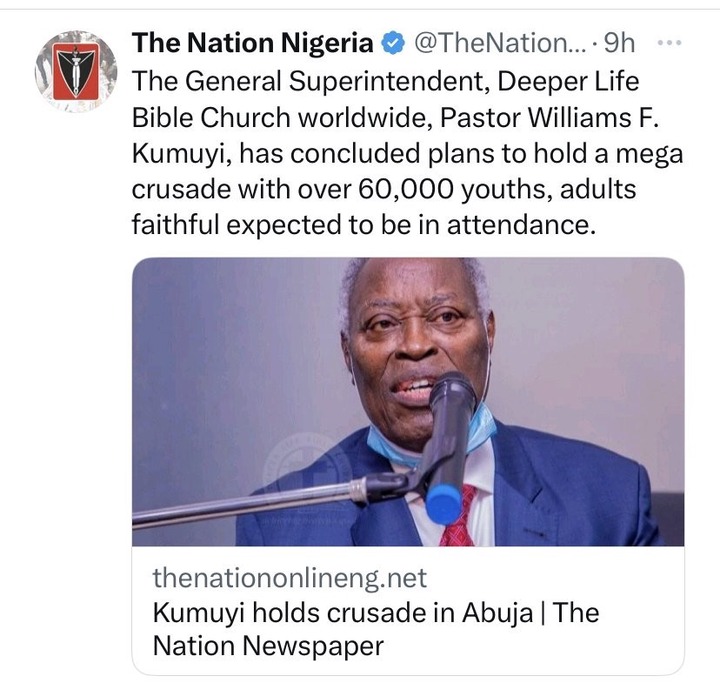 Photo credit: The Nation papers
The General Superintendent, Deeper Life Bible Church worldwide, Pastor Williams F. Kumuyi, has concluded plans to hold a mega crusade with over 60,000 youths, adults faithful expected to be in attendance.
Addressing reporters in Abuja, the State Overseer for Federal Capital Territory (FCT), Pastor Elijah Adebiyi, said the crusade would hold in Abuja at the main bowl of the Moshood Abiola National stadium.
Adebiyi said the program is non- denominational, adding that it's a movement of the entire Christian community in Nigeria and beyond.
He said the Youth Wing of the Christian Association (YOWICAN), Fellowship of Christian Students, Children Evangelism Fellowship (CEF), Children Evangelism ministry (CEM) are main stakeholders.
He said: "The main bowl capacity is 60,000 and we are expecting 60,000 participants."
APC Reps reject Tinubu's zoning, plot upset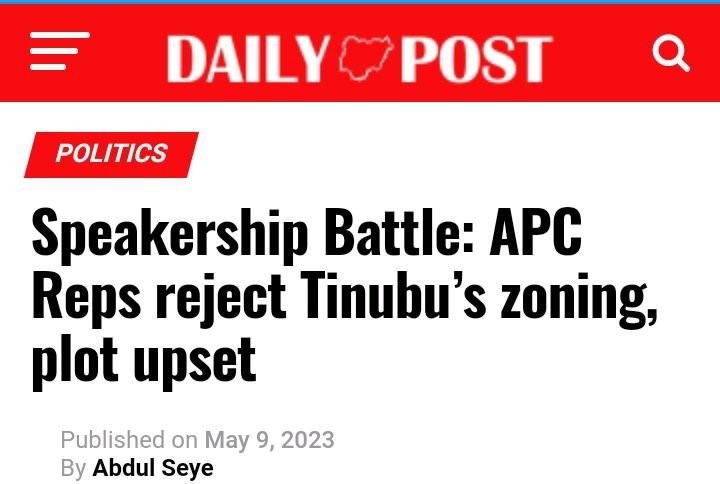 Photo credit: Daily Post
The ruling All Progressives Congress (APC) is walking on a tightrope in the House of Representatives as lawmakers plot to truncate the zoning arrangement proposed by President-elect Bola Tinubu and adopted by the party's leadership.
In a shock move, the National Working Committee on Monday adopted Tajudeen Abbas, a member of the House from Kaduna State, as a consensus candidate, while Ben Kalu, a lawmaker from Abia State was picked as deputy speaker.
Later in the evening, in a surprise move, all the major aspirants— Deputy Speaker Idris Wase, Ado Doguwa, Yusuf Gagdi, Sada Soli, Ahmed Jaji and Miriam Onuoha appeared at the declaration of Muktar Betara and openly rejected Abbas as the consensus candidate.
"We will defeat those forces that think Nigeria is in their pocket," Deputy Speaker Wase said while addressing the crowd. He also disclosed that five of the aspirants already joined forces against the establishment.
Obi Will Reclaim His Presidential Mandate – Charly Boy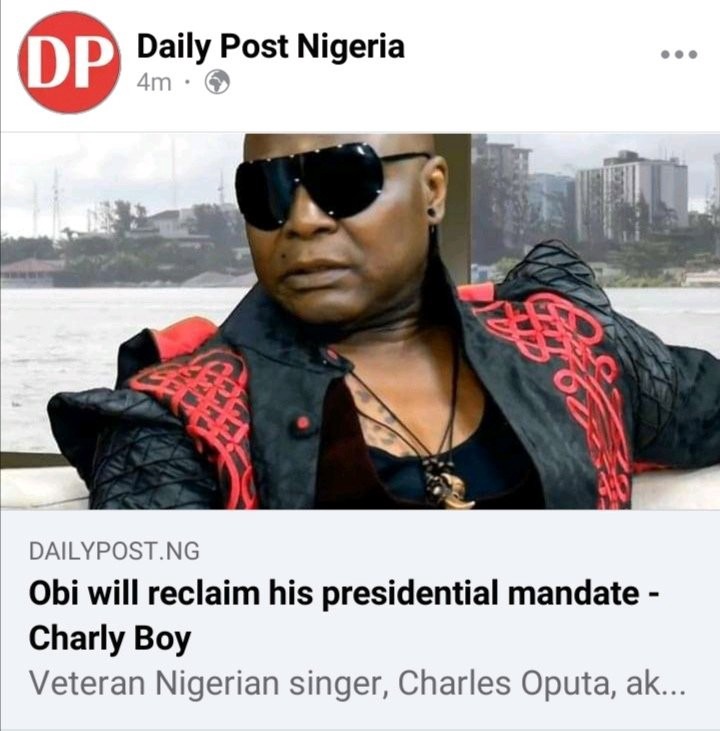 Photo credit: Daily Post
Veteran Nigerian singer, Charles Oputa, aka Charly Boy, has said the presidential candidate of the Labour Party, Peter Obi, will reclaim his "stolen presidential mandate" just as he did his "stolen gubernatorial mandate" in Anambra. The 'Nwata Miss' crooner stated this in a tweet on Tuesday. He described Obi as a man of destiny.
Charly Boy wrote, "The first Man in Nigeria's history to have his stolen Gubernatorial mandate returned to him not ONCE but Thrice. The first Man to change the Gubernatorial electoral schedule in Nigeria. The first man that candidates of the opposition parties used his pictures and his "Obidient" slogan to aid their campaign. The first Man to contest for Presidency under an unknown party and win against an evil corrupt twin establishment PDAPC without the backing of any serving Politician. And now, Soon to be the first man to have his stolen Presidential mandate returned to him present to you the man of Destiny. His Excellency Peter Gregory Obi."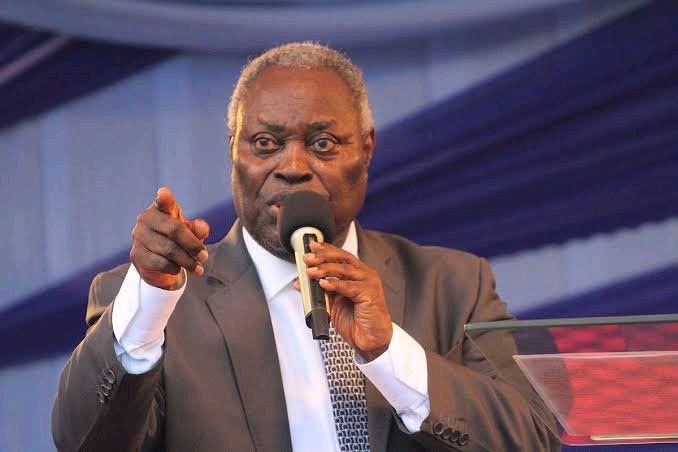 Photo credit || Google
avage (
)