Uche Maduagwu has taken to social media to share a video in which he sent a message to veteran Nollywood star, Pete Edochie
In the video and caption, the social media commentator pleaded with the veteran to talk to his son, Yul, about his ongoing marital drama
This comes after Yul reposted a video of his second wife Judy's childbirth testimonies, while still in mourning over the death of his first son
Nollywood actor and social media commentator, Uche Maduagwu, has, again, reacted to Yul Edochie's ongoing marital brouhaha.
This is in respect to Yul sharing a video of his second wife, Judy's childbirth testimonies, while still in mourning with first wife, May over the death of their first son, Kambi.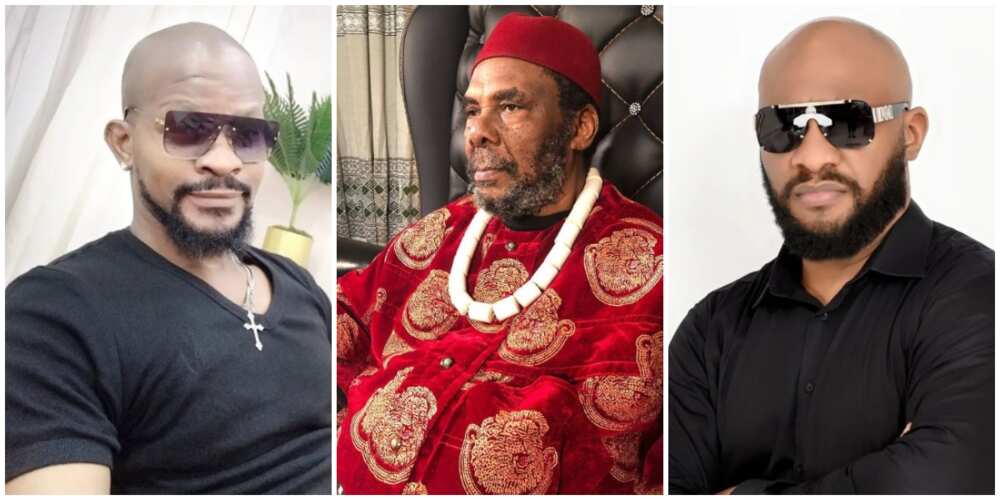 In his recent video, Maduagwu, addressed his pleas to Yul's father and veteran Nollywood actor, Pete Edochie, urging him to speak to his son about his behaviour.
According to Maduagwu, Pete's silence on the matter is worrisome and gives the perception that he supports his son's behaviour.
He captioned:
"Dear Sir PETE, your continuous SILENCE on this matter is unbelievably Worrisome, talk to your Pikin. Never in the History of African Culture, especially in the IGBO Tradition has something like this happened that 1st IYAWO go Dey Mourn her Pikin, and Husband go post video of 2nd IYAWO Jubilating and Thanking God for safe Delivery of her Pikin, is this a JOKE or what?"
Watch the video below:
Social media users react to Uche Maduagwu's video
Many netizens have slammed Maduagwu for expecting Pete to come online and reprimand his son publicly.
Check out some comments below:
evelyn____xx:
"Uche rest. Yul is an adult, what do you want his father to do? Come and chase clout on social media? Any talks should be done in private, it's their family issue. And sir Pete cannot control yul actions, he's a grown man."
ayaadockii:
"A name Sir Pete Edochie built with so much honour and respect is now been dragged up and down by just everyone. Yul you do this one oo."
ili_lohi:
"Are you in their family meeting? Must he come to Instagram to Inform you Sir Uche?"
queenofdsun:
"So he is supposed to set camera like u daft and start explaining. This one just carry another person matter 4 his empty head."
veevogee:
"What do you expect Daddy Pete to do? Yul look like a stubborn child."
chiamaka_sabina:
"So you think he belongs to this generation that will scold his son online? Does he even need to let you know his stand on this? I mean na person private life be this oooo. With your ear like low budget Merlin."
"Pete Edochie must be wondering where he went wrong": Shade Ladipo slams Yul for endorsing Judy Austin's viral video
Media personality, Shade Ladipo, has slammed Nollywood star Yul Edochie for the insensitive video of his second wife, Judy Austin, which he shared online.
Hotnewsdrop.com reported that social media went crazy when a video of Judy thanking God for several safe childbirths went viral.
Reacting to it, Ladipo criticised Yul for sharing the video during this sensitive moment when he and his first wife, May, just lost their first son.
Source: Hotnewsdrop.com