Kanaga Jnr, the talented and charismatic BBTitans star, is gradually becoming known not only for his charm but also for his impeccable sense of style.
Whether in formal or casual streetwear, Kanaga Jnr has consistently demonstrated a keen eye for fashion and a willingness to experiment with bold and daring looks.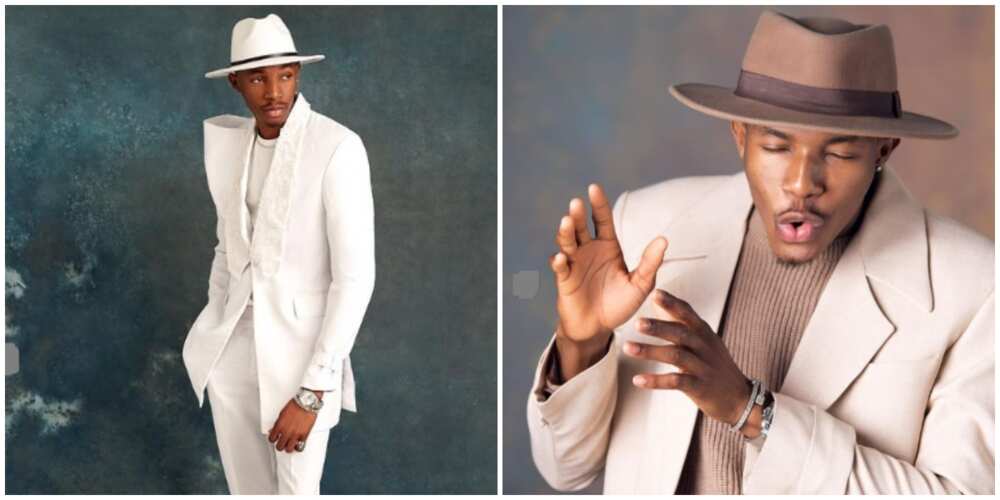 In this article, Hotnewsdrop.com takes a closer look at six times Kanaga Jnr has impressed fans and fashion critics alike with his stylish ensembles.
Whether you're a diehard BBTitans fan or simply a fashion enthusiast, these looks are sure to inspire and delight.
Look 1: Kanaga Jnr in blue and white
The BBTitans finalist was a dashing vision in this stylish ensemble.
The look featured a longline print blazer with fringe detailing which he paired with some statement pants that had openings at the front. The look was designed by @visibleproof_fh.
Look 2: Kanaga Jnr sports monochrome look
In these photos, Kanaga Jnr is seen rocking a longline blazer over well-tailored pants, a white shirt underneath, a pair of white shoes and accessorised with a fedora hat.
The look was also put together by stylist @visibleproof_fh.
Look 3: Kanaga Jnr rocks statement
If there is one thing easy to tell about Kanaga's style, it's definitely the fact that he is not afraid to experiment.
Here, he dons an all-black ensemble with mesh pants and dark sunnies.
Look 4: Kanaga Jnr rocks casual look
Here, he sports a pair of whit pants, a white vest and rocked a colourful print shirt.
He swagged the look up with a yellow bandana and some mustard kicks.
Look 5: Kanaga Jnr charms in fedora style
Kanaga Jnr looks good in fedora and this is something he knows all too well.
The wide-brimmed hat complements his facial structure all perfectly. Here he rocks a two-tone beige pantsuit.
Look 6: Kanaga Jnr rocks jogger set
Kanaga knows how to pull off casual and swaggy looks effortlessly.
Here, he sports a black and red print jogger set with a white head warmer and a matching messenger bag.
Phyna the winner: 7 times BBNaija star showed off legs in stylish mini dress ensembles
In recent months, the mini dress trend has taken the fashion world by storm, with celebrities and influencers embracing the stylish and glamorous look.
One such celebrity who has been making waves with her mini dress outfits is former Big Brother Naija star, Phyna.
With her bold fashion choices and confident attitude, the 2022 winner has become a fashionista for many, offering inspiration and tips for how to rock the trend like a pro.
Source: Hotnewsdrop.com