Popular Nigerian social media influencer Ashmusy, has now shared her grass to grace story in a new video
The socialite spoke on how she used to live in a 'face me I face you' house for 20 years but she now owns houses at the age of 27
According to Ashmusy, she got everything she owns by herself and did not collect a dime from anybody
Popular Nigerian skit maker and influencer, Amarachi Amusi aka Ashmusy has now spoken on her life and upbringing in a recent interview.
The socialite revealed in the interview that she owns multiple successful businesses and has even had top Nigerian celebrities such as Regina Daniels influence for her.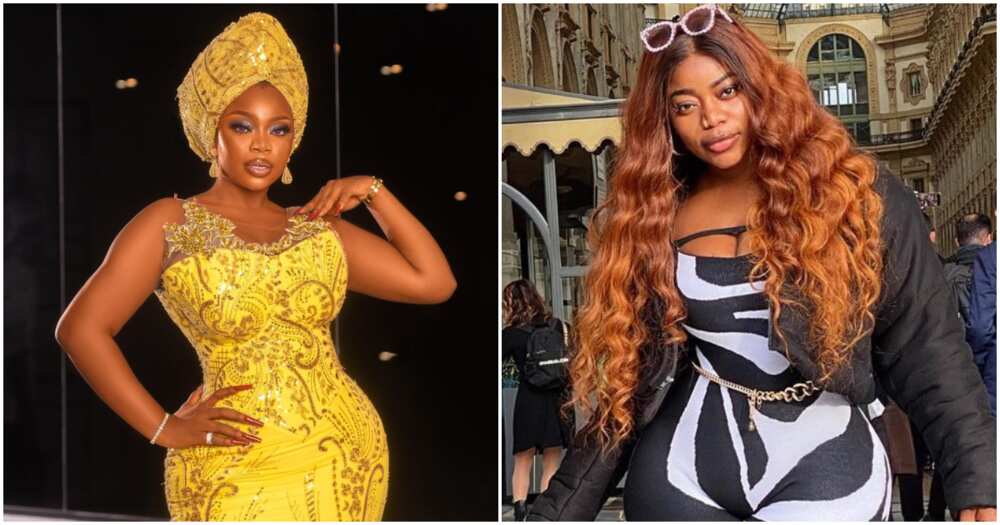 She said:
"Instagram is where I started right after school. I graduated school in 2016, I did my NYSC 2017, I started content creating and skit making influencing right then, I didn't even have direction, I didn't even know what I was doing, I also started my first business, Ashmusy hair."
Not stopping there, Ashmusy also opened up on how she did not have a rosy upbringing even though her mother tried her best not to make them feel poor.
She noted that they practically lived in debt because her mother had borrowed money from all the banks and people around who always came knocking.
However, despite living in a face-me-i-face-you house with 10 people for 20 years, she is now an owner of different houses.
In her words:
"We didn't grow up rich but my mum did her possible best to make us not feel poor. She did everything, she borrowed money from all the banks, all the LAPO, all the microfinance banks used to come and knock on our door everyday. She hawked, begged, she was owing everybody around her literally. So we grew up in this face me I face you house, one room and parlour, we were like 10 living there and then we used to queue up to use one public bathroom. So we lived there for 20 years, I left the house when I was 20 years old. It's just a great thing how seven years later, at 27, I have my own houses."
Not stopping there, Ashmusy bragged about getting everything she owns by herself and without a man's help.
"I got everything I have from beginning to end by myself, nobody added a dime, no single man", she said.
The socialite also added that one thing she can never do for money is sleep with a man or sell her body.
See the video below:
Netizens react as Ashmusy brags about owning houses after living with 10 people in a 'face me' house for 20 years
favourakanne:
"But i thought u went to Madonna university in elele, which is a private sch, so how come with the poverty background cos u know well Madonna is like one of the biggest private sch in Nigeria owned by father ede, or I'm I wrong?? Plz enlighten me ashmusy "
jc_edo_pikin:
"I love the fact that the interviewer just went straight to the points and ur replies are funny "
idiaketessy001:
"They will never question your poverty..once God blesses you,dey begin to question your source….no body dey notice my hustle now oo,World people."
bhaddiebalqis:
"Weldone, you have really being consistent, from skit making to influencing to being a CEO … you have done well for yourself Ashmusy,if e easy make Dem run am "
Adenims_stitches:
"This is not funny !!! This actually brought tears to my eyes ! Those last words are directly for me ❤️ welldone bae."
annie_homes_:
"Make them sit don for house dey type dey talk say na man . which man will buy house for I have not heard or seen. Even if you have seen check that contributed or the document are not on the ladies name."
akpajosephine:
"Wow ..ur Hustle really pay fast ooo ..well i believe na grace..more grace to you."
ellacurzy:
"Ama!!! Personal I don't know you and I haven't seen you before,but am very proud of YOU!!!!! I watched you grow!! I started following you since 2018 when I got admission into IMT Enugu, that was when I started following you!! When you started your skit from the trenches!! Influencing!! to being CEO!! You have done well Ama!!! A consistent queen I stan!!!!! Am stuck with you for life ❤️❤️❤️ Weldon!!! ❤️"
Ashmusy denies Dino Melaye dating rumours
Nigerian comedian and actress, Ashmusy, recently made the news after rumours trended that she was involved with a top politician, Dino Melaye.
A popular anonymous blog, Gist Lover, had reacted to media personality, Nedu's revelation on how some female celebs hook up with rich men for money and promised to reveal some of them.
Taking to her Instagram account, the comedian quickly debunked the claims or any suggestions of having a relationship with the politician.
Source: Hotnewsdrop.com