Ahead of Monday, May 29 inauguration, Nigeria's First Lady, Aisha Buhari has taken her successor and wife of the president-elect, Remi Tinubu on tour of Aso presidential villa
Aisha Buhari, who received Remi Tinubu, explained that the Glass House in the villa is a transitional home of the first family
Asiwaju Bola Ahmed Tinubu and Senator Remi Tinubu will reside in the Aso presidential villa for the next four years
FCT, Abuja – The First Lady of Nigeria, Aisha Buhari, has taken Remi, the wife of the president-elect, Bola Tinubu, on a strategic tour of the Aso Rock presidential Villa.
Aisha and Remi visited some strategic areas of the official residence of the Presidential family in the Aso Rock Villa during the tour on Tuesday, May 9, including the Glass House, which she described as a transitional home of the first family, Daily Trust reported.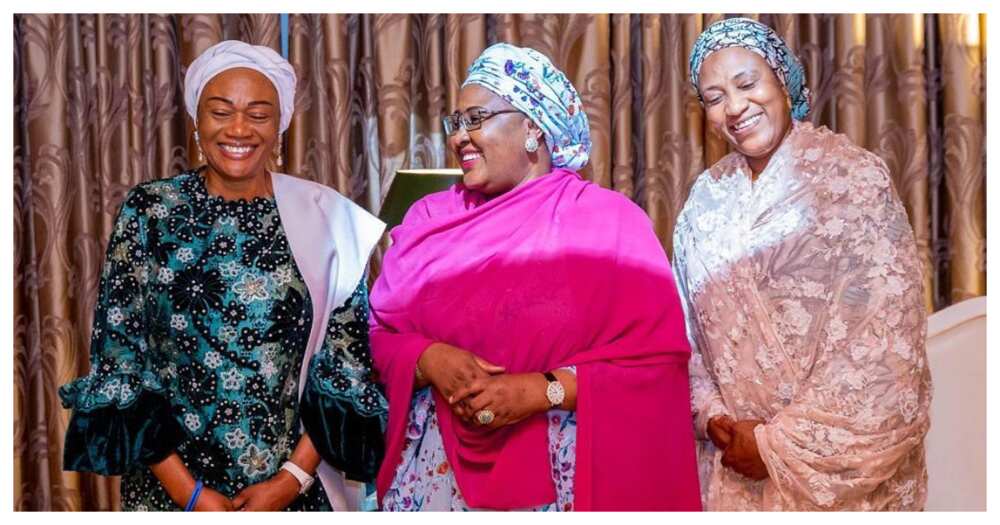 The tour of the outgoing and incoming First Lady was intended to familiarise the incoming first family with the Aso Rock presidential villa, PM News also reported.
Aisha said:
"The highly secure residential area of the President of the Federal Republic of Nigeria is strictly to serve as an accommodation for the President and members of the family."
After the tour, 'Remi expressed appreciation to the first lady for the warm reception.
Transition of power from Buhari to Tinubu
President Muhammadu Buhari's administration had expressed its commitment to ensuring a smooth transition process and peaceful handover of power on Monday, May 29, to Tinubu.
A Presidential Transition Council was set up to this effect, with the Secretary to Government of the Federation (SGF), Boss Mustapha, the Chairman.
Buhari spent his constitutionally-expected two-term of eight years in office and could retire to his hometown of Daura in Katsina in May.
The emergence of Buhari as Nigeria's leader was largely due to the contributions of Tinubu, widely seen as Nigeria's kingmaker.
El-Rufai speaks on return as FCT minister under Tinubu
Meanwhile, Hotnewsdrop.com reported that the governor of Kaduna state, Nasir El-Rufai, played down talks of returning as the minister of the Federal Capital Territory (FCT) under the administration of the incoming government of Tinubu.
The 63-year-old El-Rufai once served as FCT minister from 17th July 2003 to 27th July 2007 under the administration of former President Olusegun Obasanjo.
Source: Hotnewsdrop.com