Labour Party flagbearer, Peter Obi has sent a strong message to his supporters, and those claiming to be 'Obidients'
Obi has slammed those using the name of his support group "Obidients" to abuse and insult Nigeria's eminent personalities
Obi, who spoke on the background of the abuses insults targeted on the General Overseer of the RCCG, Pastor Enoch Adeboye, over his recent comment on the "president-elect" Bola Tinubu
Peter Obi, the presidential candidate of the Labour Party (LP), has cautioned those masquerading as his supporters to insult Pastor Enoch Adeboye, the general overseer of the Redeemed Christian Church of God (RCCG).
Obi in a post on his official Twitter handle on Wednesday, May 10, said abuse or insult of eminent personalities is "most unacceptable".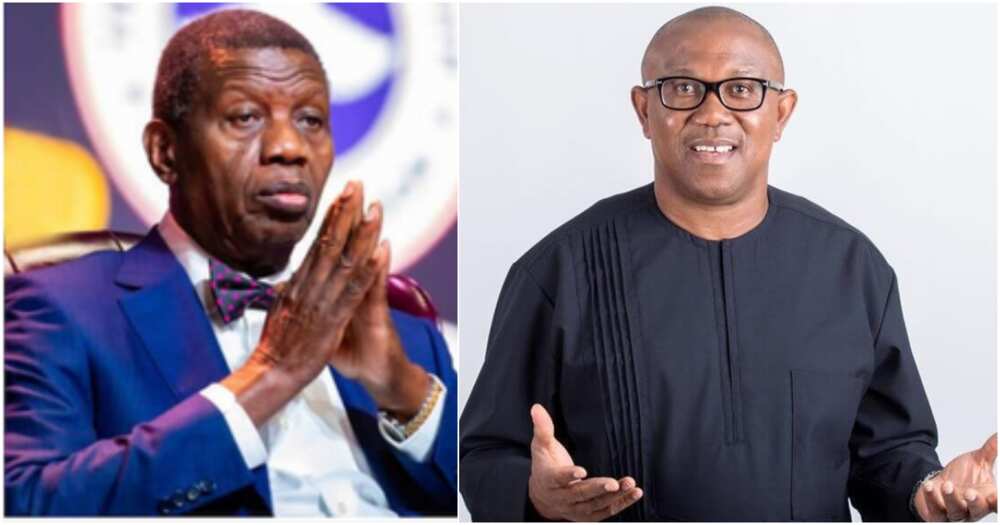 Obi sends message to his supporters, warns those attacking prominent Nigerians
He called on his supporters to refrain from name-calling and abusing people.
The tweet sighted by Hotnewsdrop.com reads thus:
"The use of subterfuge by people masquerading as Obidients to abuse and insult eminent personalities like Most Reverend Pastor Enoch Adeboye or anyone else is most unacceptable. Obidients are by and large, law-abiding citizens.
"While differences of opinion are normal, calculated efforts to create ethnic or religious chasm all in the name of politics should not in any way be tolerated. As a person, I eschew name-calling, insults, and abuses, likewise most of my supporters.
"The suggestion that some in the fringes engage in such conduct casually overlooks the fact that the political opposition deploys such methods to gain undue advantage and create confusion and bad blood." – PO
Tribunal: More pressure on Tinubu as Obi sides Atiku's request for live telecast of proceedings
Peter Obi and the Labour Party (LP) have filed an application requesting the live telecast of proceedings at the ongoing presidential election petition tribunal at the Federal Court of Appeal in Abuja.
Obi's request is in line with the request of the presidential candidate of the Peoples Democratic Party (PDP), Atiku Abubakar, who had initially proposed the same request in a separate application.
Through his legal counsel Chris Uche, Obi appealed to the tribunal to grant permission to his request to allow Nigerians and electorates who participated in the 2023 general election to have access to the proceedings from the comfort of their homes and offices.
May 29: What president-elect Tinubu must do immediately after swearing-in, Adeboye reveals
The general overseer of the Redeemed Christians Church of God (RCCG), Pastor Enoch Adejare Adeboye, has sent a strong message to the president-elect, Asiwaju Bola Ahmed Tinubu.
Adeboye urged the president-elect to fulfil Nigerians' dream of a brand new nation, which they would be proud of.
He said the incoming administration, in addition to fulfilling the promises made during its campaign, should also fix all the problems hindering the peace and progress of the country.
Source: Hotnewsdrop.com