Donald Trump Sexually Abused Carroll – New York Jury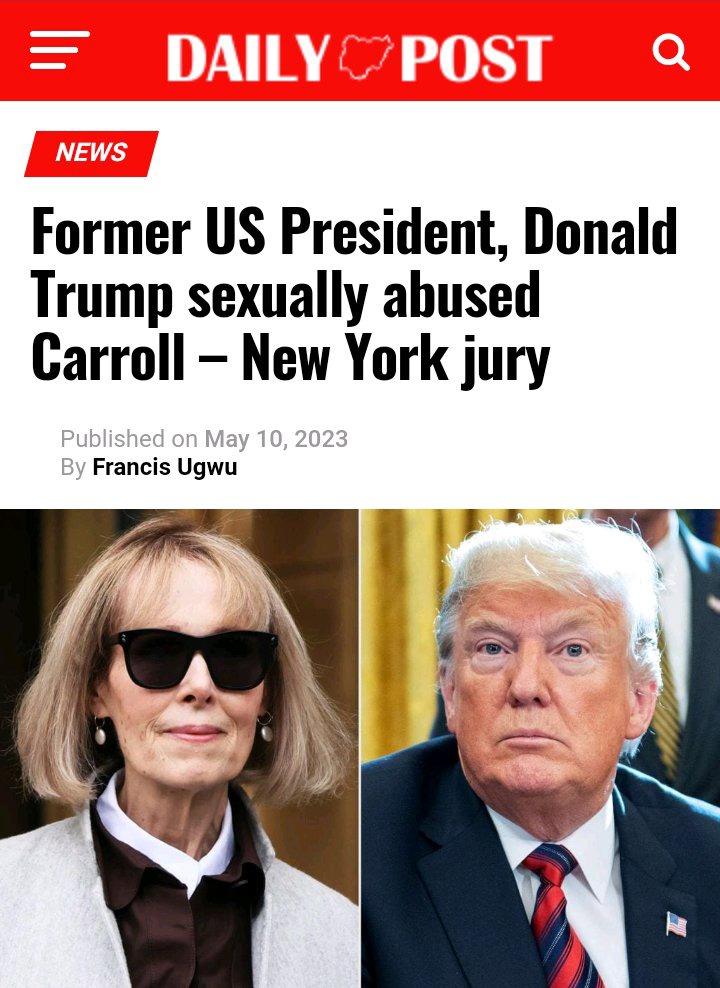 Photo Credit: Daily Post
A federal jury in New York, USA, has found former President Donald Trump liable for sexually abusing Jean Carroll, an advice columnist.
Carroll had alleged that Trump raped her at in Manhattan in 1996.
The jury, which reached a decision on Tuesday in a civil trial, said Trump was not guilty of rape, but was liable for sexual abuse and defamation.
The jury, comprising six men and three women, awarded Carroll a sum of at least $2 million.
Trump did not testify during the trial, but he was deposed on camera in October.
However, Joe Tacopina, Trump's lawyer, told the jury in closing arguments Monday that Carroll's story is too far-fetched to be believed.
He claimed that she made it up to fuel sales of her 2019 memoir, and that she wanted to disparage Trump for political reasons.
Three feared killed in Ondo rival cults clash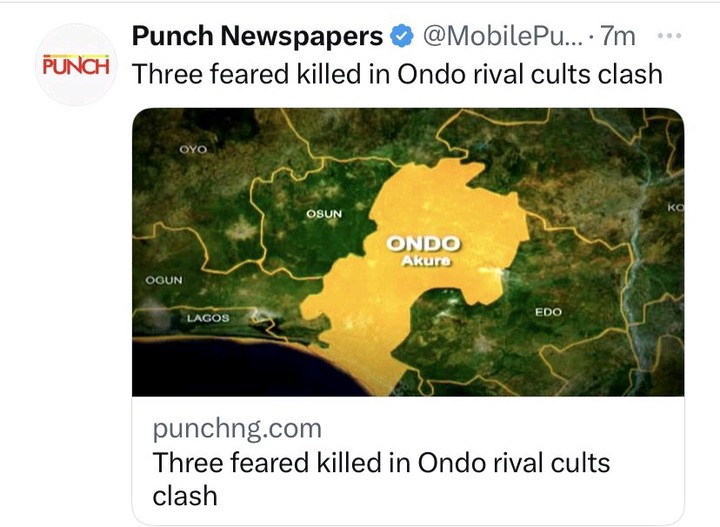 Photo Credit: Punch papers
No fewer than three persons were feared killed in a clash that occurred between two rival cult groups in Owo, the headquarters of the Owo Local Government Area of Ondo State on Tuesday evening.
It was gathered that the clash occurred around 9 pm on Tuesday while the cause of the clash was still unknown as of the time of filing this report.
The state Commander of the Amotekun Corps, Akogun Adetunji Adeleye, who confirmed the clash on Wednesday, said his men were on the ground to bring the situation under control.
136 More Nigerians Fleeing Sudan Arrive Abuja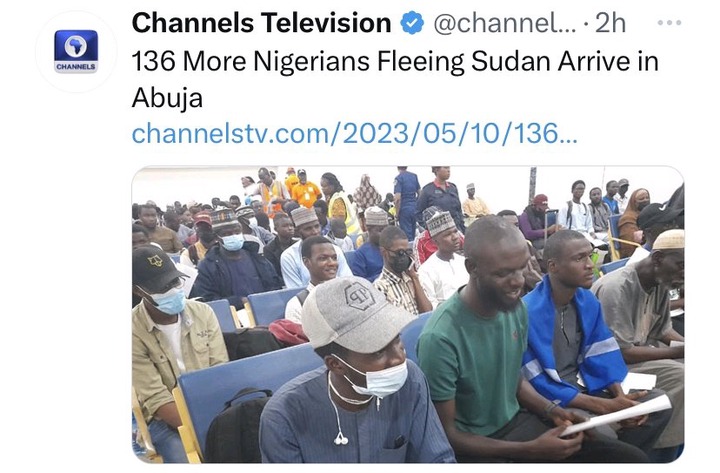 Photo Credit: Channels Television
Another batch of Nigerians stranded in war-torn Sudan have arrived at the Nnamdi Azikiwe International Airport, Abuja.
The evacuees, 136 in number, arrived in a Tarco Ation aircraft Port Sudan at 9:30am.
While noting that this is the 11th aircraft that has evacuated Nigerians from Sudan, the National Emergency Management Agency (NEMA) says a total of 2,002 Nigerians comprising men, women, children and pregnant women have so far been evacuated since the war broke out in the North African country.
Tarco Ation has so far made seven trips, with Nigerian carriers, Air Peace, Max Air and Azman Air, as well as the Air Force Charlie 130 completing the rest of the evacuation process.
This is coming few hours after 126 nationals that departed Port Sudan International Airport landed at Nnamdi Azikiwe International Airport on Tuesday night Tarco Air.
El-Rufai:Buhari Frustrated Fuel Subsidy Removal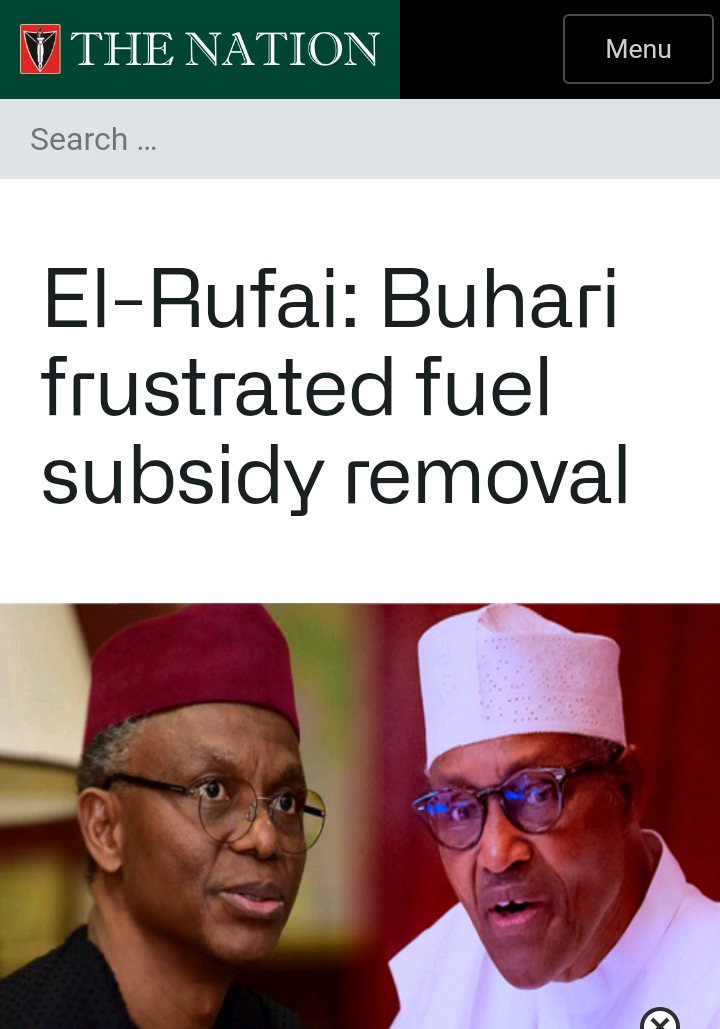 Photo Credit: Nation paper
Kaduna Governor Nasir El-Rufai has accused President Muhammadu Buhari of frustrating plans to remove fuel subsidy.
Former Central Bank of Nigeria (CBN) Governor Mallam Sanusi Lamido Sanusi also said the retention of fuel subsidy as "stupid" and capable of bankrupting the country.
El-Rufai and Sanusi spoke during a policy conversation and book presentation by Carnegie Endowment for International Peace and Agora Policy in Abuja.
The Governor alleged Buhari had agreed that fuel subsidy spending by the government made no sense but refused to halt it.
Responding to a question about fuel subsidy, El-Rufai said: "Between September and November 2021, the National Economic Council gave us an assignment to work out what to do if we withdraw subsidy, how much will be raised, etc. We worked with experts and the World Bank.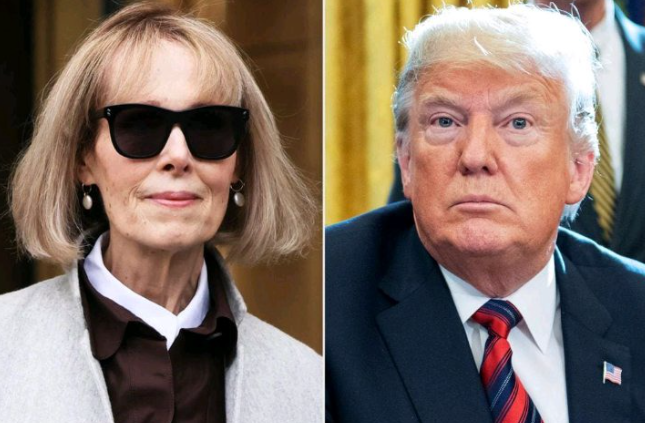 Photo Credit|| Google
Macrrio (
)