Tinubu Departs Nigeria To Europe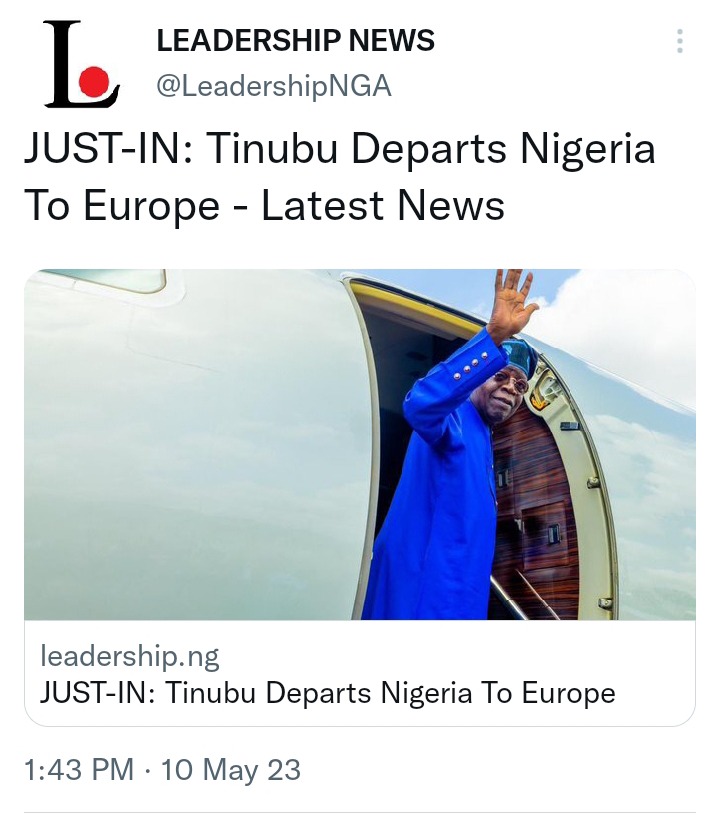 President-elect, Bola Ahmed Tinubu, has jetted out of Nigeria on Wednesday afternoon to Europe. In a statement signed by his spokesman, Tunde Rahman, he disclosed that the president-elect travelled on a working visit and is scheduled to engage with investors and other key allies to finetune the transition plans with some of his key aides.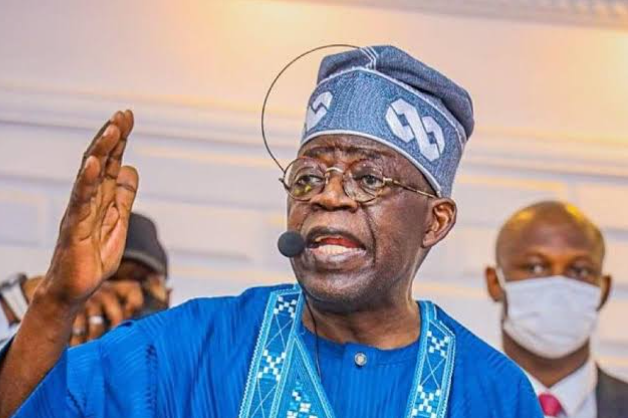 Oyetola Congratulates Adeleke On S'Court Verdict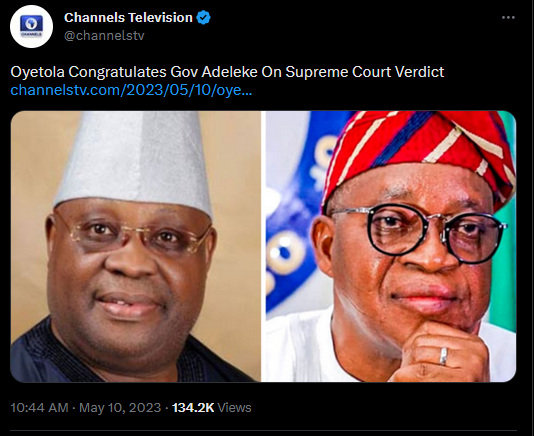 Former Osun Governor Adegboyega Oyetola has accepted Tuesday's ruling of the Supreme Court which upheld the election of Senator Ademola Adeleke as governor of the state.
"To the Osun Governor, Senator Ademola Nurudeen Jackson Adeleke, I take this opportunity to congratulate you on your victory at the Supreme Court," Oyetola said in a personally signed statement.
"While I pray for your tenure to be prosperous for our people and the State, I urge you to focus on the delivery of good governance."
Putting politics aside, the former governor stated that the time had come to let his successor know that the interest of the masses must be most paramount without any restriction or discrimination whether based on political persuasion, creed or religion.
"Whatever personal differences we have must give way to the advancement of our great State. The security of the Osun people must be guaranteed regardless of their religious and political affiliations. I pray for peace and progress in your tenure," he added.
Jonathan praises Buhari for prioritising economic self-reliance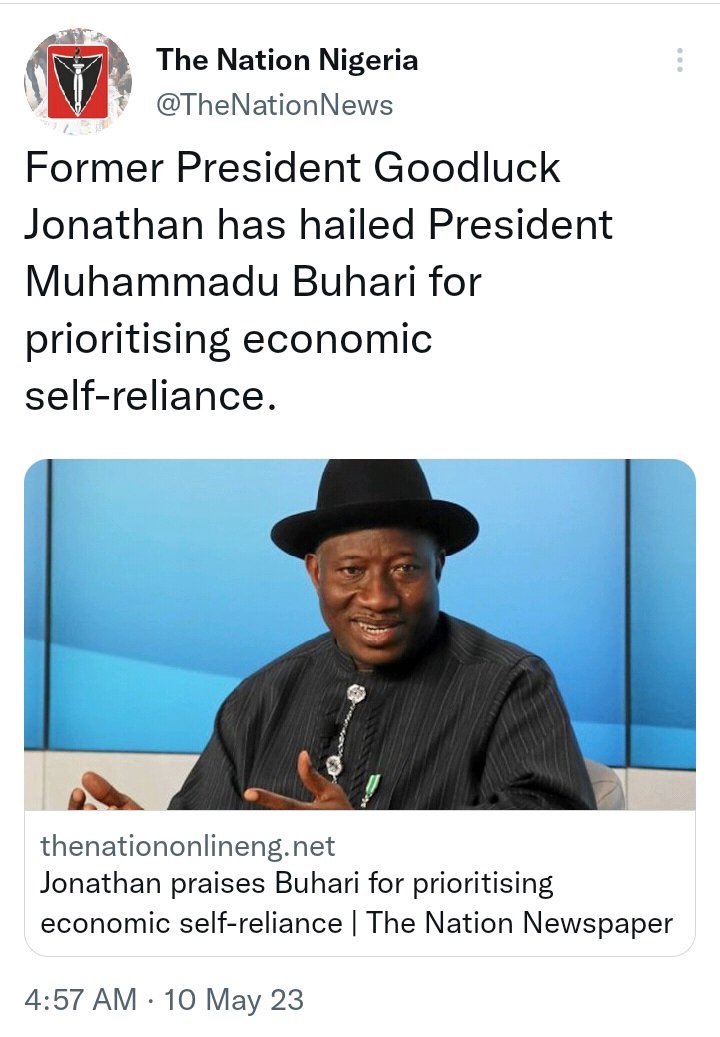 Former President Goodluck Jonathan has hailed President Muhammadu Buhari for prioritising economic self-reliance. Jonathan thanked the president for directing the National Agency for Science and Engineering Infrastructure (NASENI) to train 100 Bayelsa youths, noting that the absence of science and technology culture was the bane of the country's underdevelopment.
The former president Jonathan spoke yesterday the opening of the NASENI Skill Acquisition Training and Youth Empowerment Programme on modern methods of electrical installation and maintenance held in his hometown, Otuoke, Bayelsa State.
A statement by NASENI Deputy Director (Information and Protocol), Olusegun Ayeoyenikan, the former president said Buhari's focus on infusing engineering techniques and training to empower the youths was a right step in the right direction.
Tribunal: Agitation To Stop Tinubu's Inauguration Misplaced – Ubani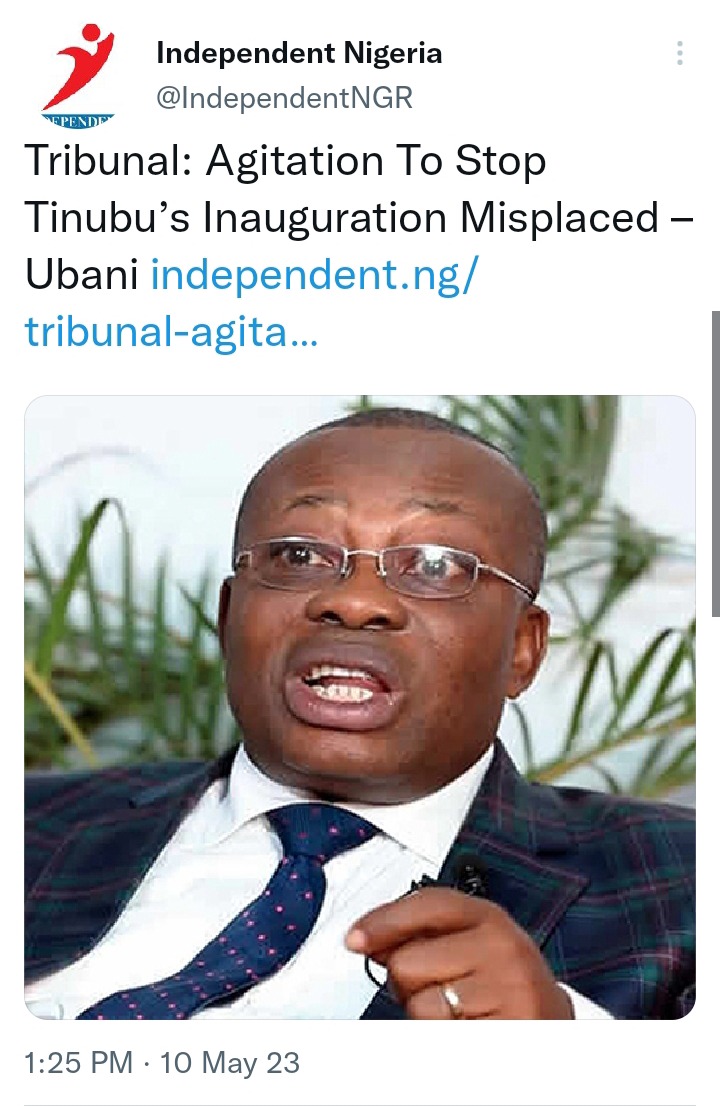 Monday Ubani, a human rights lawyer and former chairman of the Ikeja Branch of the Nigerian Bar Association (NBA) has said that the calls in some quarters to stop the inauguration of President-elect, Bola Ahmed Tinubu, are misplaced, noting that there is no legal framework to back such calls.
Ubani, while in a chat with our correspondent in his office on Monday, said it was wrong to call for a halt in the inauguration of the president-elect since such calls are not backed by any legal framework.
Ubani said: "I have heard people say why are they planning to swear in the president-elect and by extension the governors-elect when there are issues before the court and I am wondering have they looked at the laws?
"There is no legal framework. Does our legal framework say that in any election in Nigeria, a declared winner will not be sworn in until issues are settled in court? We are not starting this constitution today.
"We have been operating this constitution since 1999 and from 1999 till date, people who allegedly won were sworn in despite court cases. President Buhari went to court three times and in each case, the declared winner was sworn in.
chelseaupdatez (
)