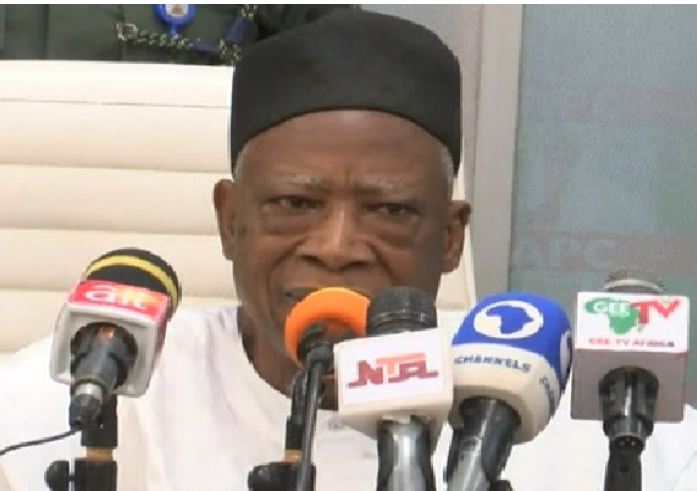 Seven aspirants for the Speaker of the 10th House of Representatives stormed the All Progressives Congress (APC) National Secretariat in Abuja on Wednesday to express grievances over the zoning formula.
The aggrieved aspirants are Yusuf Gagdi; Mukhtar Aliyu Betara; Deputy Speaker of the House of Representatives, Ahmed Idris Wase; House of Representatives Majority Leader, Rt. Hon. Alhassan Doguwa; Hon. Sada Soli; Hon. Mariam Onuoha and Hon. Aminu Sani Jaji.
The G7 MPs committed to resist any efforts by outside forces to impose a leadership on the 10th House of Representatives at the conference.
They called the zoning plan unfair, inequitable, and unjust, and they said that it was unacceptable. According to Daily trust.
Sen. Abdullahi Adamu, the chairman of the APC, was addressed by Gagdi, who emphasised that the suggested arrangement by the NWC was incorrect since the National Assembly is an independent entity and cannot be compared to the Presidency's Federal Executive Council (FEC), where members are chosen at random.
He declared, "When we choose our leaders, none of you will be present; only we, our consciences, and the covenant of the Nigerian people will be present in the holy chamber. Therefore, it is preferable to make amends now while it is still possible. Our party shouldn't assume that our loyalty would be guaranteed at the expense of justice, peace, and fairness unless this is done, sir.
"We shall adhere to the principles of justice, harmony, and equity in the chamber, but only if your directives are in keeping with those of this party. Do not think, sir, that we have come here to follow any instructions or directives that have been provided to us.
"Justice, Peace, and Unity is the motto of our party. Because of your capable leadership, you folded your arms and sat down to let candidates run for office under the authority of Nigerians, who chose the party's flagbearer from among the delegates.
The Vice President ran for office; he is the closest person to the President, but the APC permitted delegates to elect anybody they desired to be the party's flagbearer because of democracy and justice. Where has that principle been tossed, sir? Where is it now? Have we forgotten what our party's motto is? Have we just forgotten the leadership that Mr. President, the National Chairman, and all of you provided during the APC primaries?
"Do we want unity to say that the Speaker and Deputy Senate President should be sent to the North-West when in the true sense of the word, sir, in the presidential election, North-Central known to have a majority number of Christians, let me say this with the utmost apologies, and the religious and tribal affiliations attributed to the 2023 elections, yet North Central resisted the temptation, delivered 4 states to the President-elect, Asiwaju Ahmed Tinubu; delivered 11 senators.
"Do we want unity, to say that the Speaker and Deputy Senate President should go to the North-West when in the true sense of the word, sir, in the presidential election, North-Central known to have a majority number of Christians, let me say this with the utmost apologies, and the religious and tribal affiliations attributed to 2023 elections, yet North Central resisted the temptation, delivered 4 states to the President-elect, Asiwaju Ahmed Tinubu,"
Umaroo1 (
)