A young woman has taken social media by storm with her amazing makeup transformation that turned her into the spitting image of actress Angelina Jolie
The woman's attention to detail and skilful use of makeup has earned her a significant following and widespread acclaim online
Netizens were impressed by her skills and praised her for looking exactly like the famous Hollywood star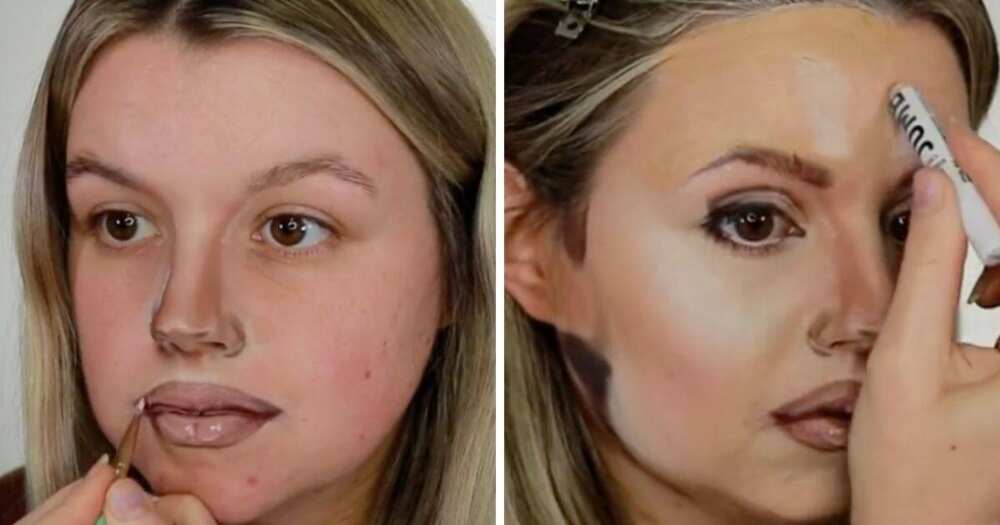 A woman from Australia showcases her incredible talent in recreating celebrities' looks through photos and videos posted on her social media accounts.
Makeup artist flexes mad skills with Angelina Jolie transformation
TikTok user @makeupbyevelin is trending on social media after she uploaded a video that captured Angelina Jolie's striking features, complete with her signature bold lips, high cheekbones, and flawless skin.
In a world where beauty trends and influencers dominate social media, this young woman has carved a unique and unforgettable niche for herself.
Watch the video below:
Woman's incredible Angelina Jolie makeup transformation takes the internet by storm
Peeps were inspired by her talent, hard work, and creativity in achieving success in the digital age. Fans of the actress and beauty enthusiasts alike have been amazed by the young woman's remarkable ability to transform herself into one of Hollywood's most beloved stars and said:
@M I N A said:
"Looks nothing like her *reveals final look* oh, never mind."
@Helena commented:
"Oh my, this is literally shape-shifting, or what."
@357python said:
"Angelina Jolie with a bit of Lana del Rey."
@JasmineGoodey commented:
"The talent you have is incredible."
@Sophia said:
"I am always shocked by how talented you are."
@KatherineMcKenzie commented:
"This is absolutely insane. You have improved a crazy amount in the last couple of years."
@LisaVanKerkwijk said:
"Wow, that's so good! You are an artist with a very good eye for detail!"
@NinaTakesh commented:
"Wow, you are very talented."
Nick Cannon wants baby with Taylor Swift
On Tuesday, April 11, Hotnewsdrop.com reported that Nick Cannon expressed he is still eager to have more children, but with Taylor Swift, who recently broke up with actor Joe Alwyn.
Cannon made these sentiments during an interview on The Howard Stern Show on Monday, April 10.
Howard Stern started the conversation by asking if The Masked Singer host would be interested in fathering a 13th child with Taylor Swift. The father of 12 said he is all in because the Bad Blood singer, Taylor, is a great songwriter.
Source: Briefly.co.za