Judy Austin, the second wife of Nollywood actor Yul Edochie, issued a warning to those hurling insults and abuse at her online
in a video posted on Yul's official account on social media, Judy first expressed appreciation to supporters before hunting her critics  
Judy's latest video once sent the internet into a buzz, as netizens couldn't withhold their speculations
The dramatic episode set up by Yul Eodchie and his second wife, Judy Austin, appears not to be ending soon, as they continue to address netizens with the tragedy that has befallen them.
In a Facebook video released by Yul Edochie, Judy was seen thanking her critics and enemies for their insults and curses so far.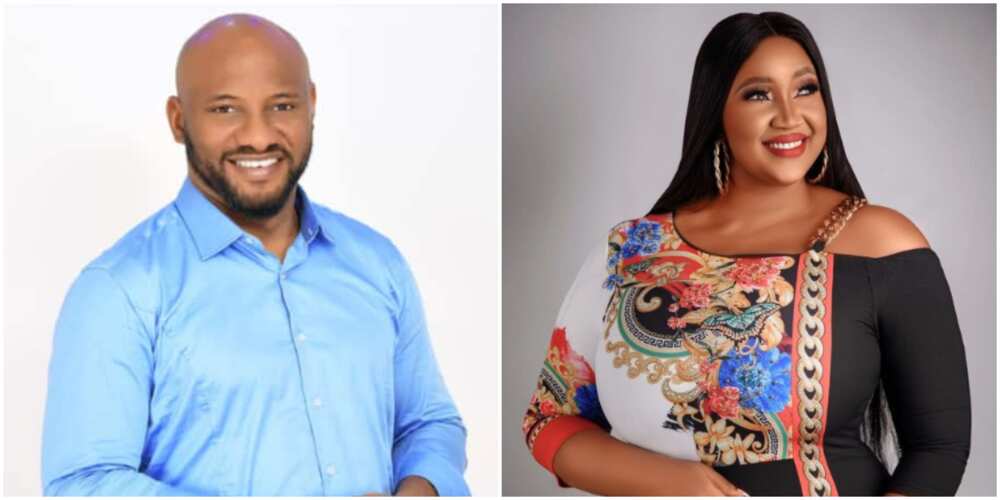 According to the actress, God is blessing her because of their insults and curses because they don't know her true self.
She added that she would not have gotten this far in life without their curses, therefore, she is making it a point to thank them for trolling her every day.
Unlike them, she has no ill will towards them and adores them totally.
Judy also expressed appreciation to her supporters and friends for sticking by her and backing her despite not knowing her personally.
"To the people who hate me, curse me, or attack me without knowing anything about me, I want to say thank you. I want to say a very big thank you, without your curses, God wouldn't be blessing me as much as he is blessing me now. Without your curses, I wouldn't have come this far in life. So I am making it a duty to thank you for trolling me every day and, by so doing, giving God the reason to bless me every day without me working for it, without me lifting a finger. So I thank you.
I don't hate you all, instead, I love you. God said we should love one another, even those that are attacking us, fighting us, or persecuting us, we should love them," she said in parts.
 Watch her video below
Internet users react
Ste Phanie:
"Mr Yul, U lost a 16 year old boy just last month….and all you could do is randomly posting your fellow adulterer just to pain your wife ???….I'm just happy cos Karma is real and no matter how long it takes ,it would surely do its work soon!!!! And for u Judy …u will surely reap what u sow in a million fold except if God is dead."
adeoluolatomide:
"This woman is moving mad already, because what sort of insensitivity and callousness is this!"
kelvin_umeh:
"People should learn to leave this woman alone. Drag the man who crowned her a Queen. I see her full strength comes from his support."
babajideedges1:
"Sigh.. I lost count of how many times she mentioned "God". That's a troubled person who's using the name of God as a coping mechanism. This matter go long pass Jumong."
_jayneisbae_:
"I have never seen a side chick as restless as judy, Na you tiff preeq na you still no want rest!! someone should tell this onitsha queen camilla to rest!"
Judy Austin says God loves her, gives testimony on how she gave birth safely
Nollywood actress and second wife to actor Yul Edochie, Judy Austin, trended on social media over a viral video.
On May 7, 2023, a video made the rounds of the controversial movie star giving thanks to God while sharing her testimony.
The video started with Judy singing different songs of praise before she went ahead to explain how God loves her so much. According to her, she gave birth safely when people thought she would not.
Source: Hotnewsdrop.com