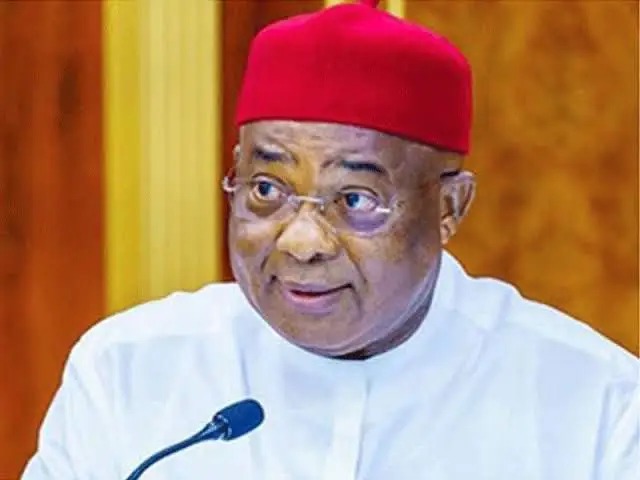 Imo State Governor, Hope Uzodimma, has said that the All Progressives Congress (APC) has internal mechanisms to resolve high political positions within the party.
According to Daily Post, Uzodinma was reacting to the exclusion of the South-East region from the leadership race for the 10th Senate Congress and insisted that there was nothing unusual.
While responding to a question on Channels Television's "Politics Today" show yesterday, he said: "APC is the largest political party in Nigeria, it is a rules-driven party and what is practiced in Nigeria is party-led democracy. To win an election, one must be sponsored by a political party and loyalty to a political party is sacrosanct.
In the struggle for power and politics, people sometimes have to come together to disagree and agree, and the APC has internal mechanisms to resolve differences between highly political positions." So nothing unusual happened. People are free to say what they want to say. I am sure that if the party takes a particular position, all its members will follow it.
Asked about the views of the Ondo State Governor, Rotimi Akeredolu, on zoning, he replied: "I don't want to blame the governor, but we cannot go out to dance in the market square. What is important is that we are a very big family and we have diverse opinions and views.
We all come together to agree, and when we agree, we can move forward." At the right time, the leadership will bring all views together to make a decision, and whenever that decision is made, we will all follow it.
"The position of who gets what is the decision of the party leadership, we have a process and we arrive at that decision. The current president is the president-elect, and on May 29th power will change".
On the governorship election in Imo State, he said: "The presidential election cannot be used as an indicator for the governorship election in Nigeria, because the presidential election is not a good indicator for the governorship election in Nigeria. In presidential elections, votes are counted based on the number of votes cast in Nigeria. And APC won based on the number of votes it got. And in the governorship election, it was determined by the number of votes received in Imo State. So, if you look at those indicators, APC is the party that can win in Imo State, because APC has done so well that other parties are coming into APC."
Politics1 (
)