Controversial Nigerian Twitter personality, Daniel Regha, has once again made headlines over his criticisms of others
The socialite recently granted an interview where he spoke on YBNL's Asake, Portable and others
According to Regha, Asake is like other regular musicians but he has Olamide's backing, he also said Portable is only popular and not an artiste
Controversial Twitter personality, Daniel Regha, is back in the news over his commentary about some Nigerian celebrities.
In a recent interview, the popular Twitter commentator was asked questions about some music stars such as Asake, Portable, Davido and more.
Regha noted that YBNL star, Asake is just like most regular musicians. He added that he only has the push he has because of Olamide's influence.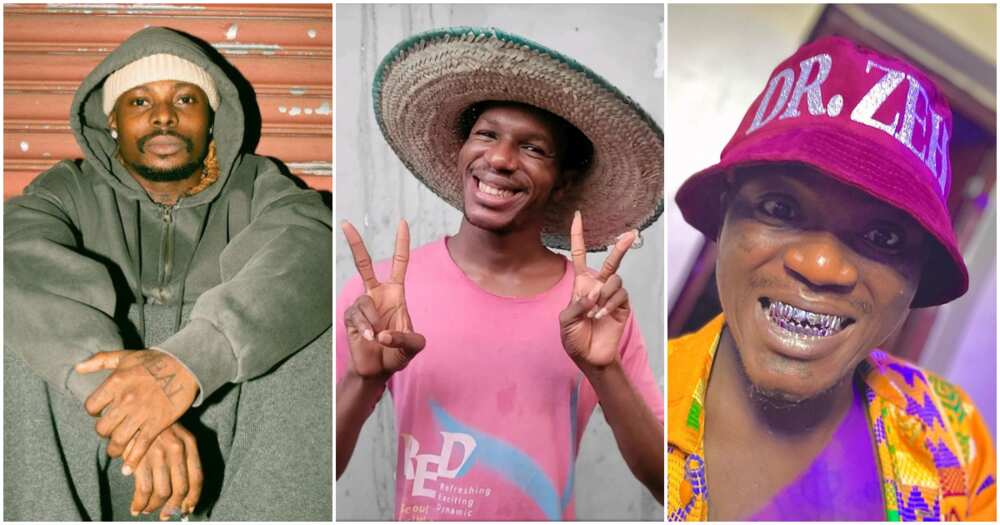 In his words:
"Asake's music is basically the same thing, sorry to say. I think Asake is like most regular artistes, he only has the push because of Olamide's influence behind him.Most of these artistes are jack, there's nothing to write home about them. I'm not saying they're not talented, they are talented but if you listen to Afrobeats of the times of MI, PSquare…"
During the interview, the show host asked Regha if he would be able to repeat his statements if Asake happened to walk into the studio.
To that Regha said:
"If Asake had walked in, I believe he's going to act professional because he's on camera but if he comes and starts doing 'werey' we have glass cups here, I will defend myself. I will try to run first of all but I will retaliate. I'm still going to tell him. I am not saying that Asake is not talented, but he is not pushing it. People are tired of hearing the same repeated songs. There's a reason why people like 2face, MI, Brymo, although he is a bigot now, and other musicians, there's a reason why they're still in the limelight."
Daniel Regha also shared his thoughts on Zazu Zeh crooner, Portable. According to him, Portable is not a music artiste, he is only popular.
He said:
"That one is not an artiste, Portable is not an artiste, he is just someone that is just popular."
See the video below:
Netizens react as Daniel Regha criticises Portable, Asake
Many social media users were not pleased with Daniel Regha and he was called out for always criticizing others. Read some of their comments below:
major_girl1:
"I don't understand?? What is with the interviews this people have been granting this guy??? This is the problem with Nigerians, y'all always find a way to rub and shove people in our faces!!!"
doyin_gold_clothings:
"Ewwwww. Always criticizing people who are doing better with their lives. Nigeria is hard enough, don't make it harder. Get something to do with your miserable self"
priscamaths24:
"What does he do for a living?"
pascaline_official__:
"Y'all made this guy a celebrity for just talking anyhow . I don't get it."
tianareginald:
"Wo Daniel this one na long talk. Say it to their faces we just want to see something first."
kitanb:
"Very soon you people will understand him and see where he is coming from . Just a little patience he has built a community of 700k followers on twitter by simply not minding his business the most difficult platform to get followers and you still don't believe he is relevant."
pam_ay:
"I no blame am,na the upcoming TV hosts wey dey invite am for the sake of clout i blame.Awon werey meji."
______kauthar:
"Who are the people giving him chance to talk sef"
Daniel Regha tells Davido to pay N20m debt
Nigerian Twitter critic Daniel Regha called out singer Davido to settle his N20 million debt before he released his Timeless album.
Recall that sometime last year, the DMW boss said he was going to alleviate the suffering of people as he made a vow to give out N20 million to 20 fans.
The initiative, he said, was to help some of his fans, who were business owners, boom in what hey were doing. According to him, the country was rough, and he wanted to improve the lives of some business-minded fellows.
Source: Hotnewsdrop.com