Hollywood actress Lupita Nyong'o has recently shared new photos of herself after shaving her head
Nyong'o has been open about her hair journey, discussing the challenges of being a Black woman in Hollywood and embracing her natural beauty.
Fans have praised Nyong'o's courage and confidence in going bald, as she continues to inspire people to love themselves and their natural beauty
Lupita Nyong'o recently left social media users buzzing with reactions after she posted a photo of her new look.
The Kenyan Hollywood star revealed she had chopped off her hair, and debuted a bald look in a striking selfie on Instagram.
The photo saw the Wakanda movie star rocking a bald look with minimal makeup on.
Sharing the photo, she captioned:
"Happy without hair!"
Check out the photo below: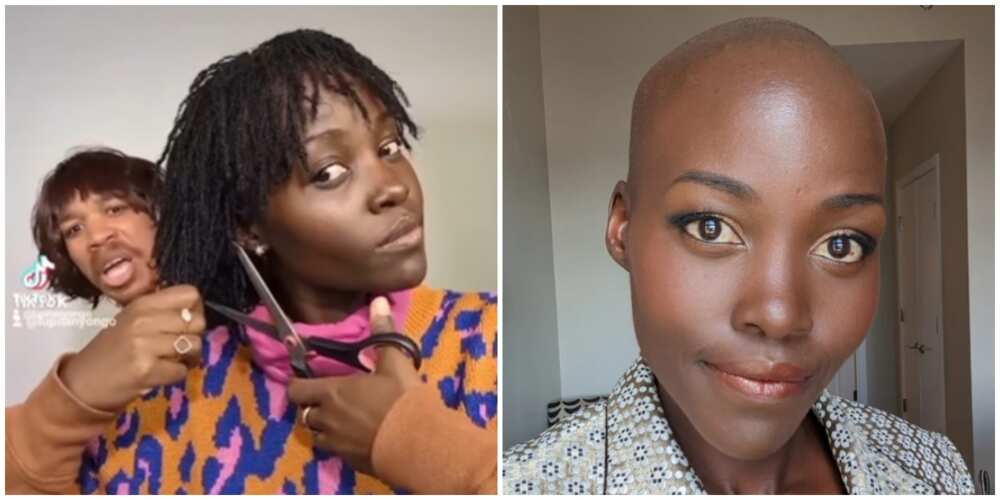 A few weeks prior to the bald look debut, Nyong'o shared a reel in which she revealed she had cut off her Sisterslocs. The video saw her sporting a lowcut at the end.
However, it appears the actress has decided to take off everything to start afresh
Social media users react as Lupita Nyong'o goes bald
misshaneefa:
"A woman who cuts her hair is about to change her life."
fiersdetregeek:
"Wakanda forever."
themamamiax:
" You just gave me more confidence to accept and embrace my current situation."
iamjinial:
"More like freedom."
jaimahogany:
"Stunning! Face Card never declines!!"
officialmakeda:
"So Gorgeous!!!"
lili.canada':
"Stunning no matter what."
Black Panther: Lupita Nyong'o arrives Nigeria with co-stars for sequel's premiere
In 2022 and ahead of the premiere of Black Panther: Wakanda Forever, the cast of the Marvel Comics film have arrived in Nigeria.
Lupita Nyong'o who plays the character, Nakia, took to her Instagram page to announce that she was in the country.
Responding to a fan's question about when she intended to visit Nigeria, she made a video of herself in the country and shared moments from an event about the film. Nyong'o sported a lovely adire dress signed by Funke Adepoju.
Little fashionista takes on the Met Gala: Video of girl's spot-on Rihanna cosplay goes viral
The Met Gala is one of the most anticipated fashion events of the year, where celebrities showcase their most extravagant outfits on the red carpet.
Following the success of the prestigious fashion event, a little girl identified as @lil_raspberrry seems to be trending over her impressive cosplay of Rihanna's iconic white outfit.
The Met Gala 2023 paid respect to the late fashion designer Karl Lagerfeld by making his designs the event's theme, and Riri interpreted it in her own unique way.
Source: Hotnewsdrop.com