The Supreme Court on Thursday, May 11, adjourned the hearing in the suit filed for the release of Nnamdi Kanu, to September 14
The IPOB had on November 3, 2022, filed a suit at the apex court against the verdict of the Appellate Court which stopped the release of Kanu
Speaking on the adjournment, Kanu's counsel said the court adjourned the case because AGF, Abubakar Malami, asked for the "filing of additional processes in response to Kanu's latest filing"
Nnamdi Kanu's special counsel, Aloy Ejimakor has revealed the real reason why the Supreme Court adjourned the case for his freedom on Thursday, May 11 in its fresh ruling, to September 14, 2023.
Ejimakor said the reason for the adjournment on Thursday, was because it granted the application of the Attorney-General of the Federation to file additional processes.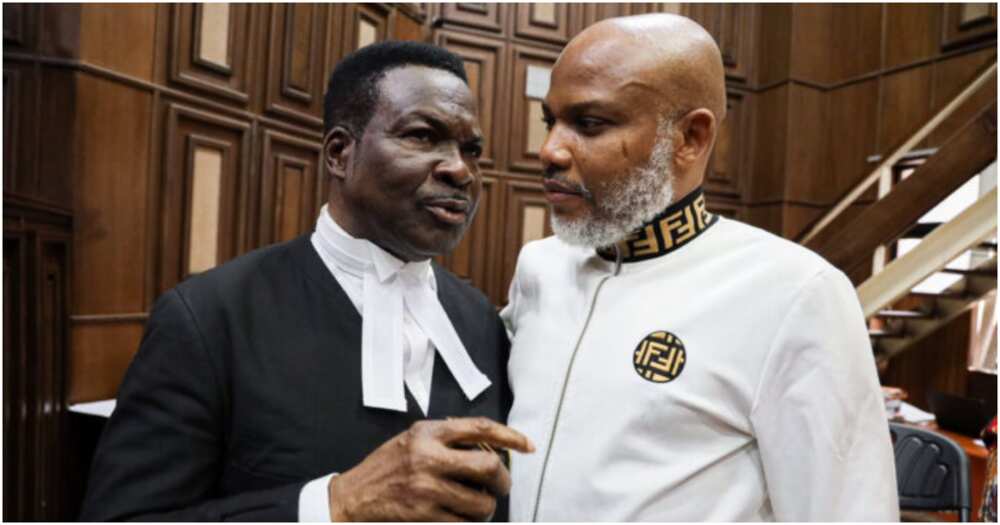 Kanu's lawyer reacts as Supreme Court adjourns Kanu's case to September 14
He said the application was granted because of Kanu's latest filing which was done on Tuesday, May 9.
Ejimakor revealed this to Vanguard after the apex court's hearing on Thursday, adding that the adjournment was "legally injurious."
"The reason for the adjournment is that the Court granted the application of the AGF to file additional processes in response to Nnamdi Kanu's latest filing which was done on Tuesday this week.
"The Court also said that even if it hears the appeal today, it does not have space within its busy calendar to write and deliver the judgment within 90 days deadline set by the Constitution," Ejimakor said.
Meanwhile, the IPOB leader has been in the custody of the Department of State Services (DSS) since he was renditioned to the country in June 2021.
Court gives verdict on Eze Ndigbo that threatens to bring IPOB to Lagos
Fredrick Nwajagu, aged 67, the leader of the Igbo community, the Igbo of Ajao Estate in Lagos, has been granted bail by a chief magistrate court sitting in the Sabo area of Yaba in the state.
The Igbo leader was arraigned before the court over his alleged threat that he would invite the proscribed Indigenous People of Biafra (IPOB).
The defendant was granted bail by Peter Nwaka, the chief magistrate, with the sum of N1 million with 4 sureties. The court added that all the sureties must be Lagos residents.
Igbo group excited by Atiku, Northern elders' promise to release Kanu, investigate 'Python Dance
In a previous development, Kenneth Uzumaki Austin has the south-east to accept the olive branch offered to the region by Atiku Abubakar, candidate of the Peoples Democratic Party (PDP).
The leader of the South East Grand Cohesion Alliance for Atiku also revealed that some notably reliable Northern leaders have also made the promise.
According to him, he was privy to a meeting held in the residence of a Rtd military general and onetime minister of defence in Abuja, at which part of the deal was concluded and ratified.
Source: Hotnewsdrop.com