A lady identified on TikTok as @ayomi_iibk, has taken to social media to share her experience with a hiarstylist
In the video, she shared a photo of the cornrows hairstyle she wanted versus what she got
The disappointing replication left social media users buzzing with mixed reactions over who to blame
While some braiders will having you leaving the salon with renewed confidence, it was not the same for a TikToker.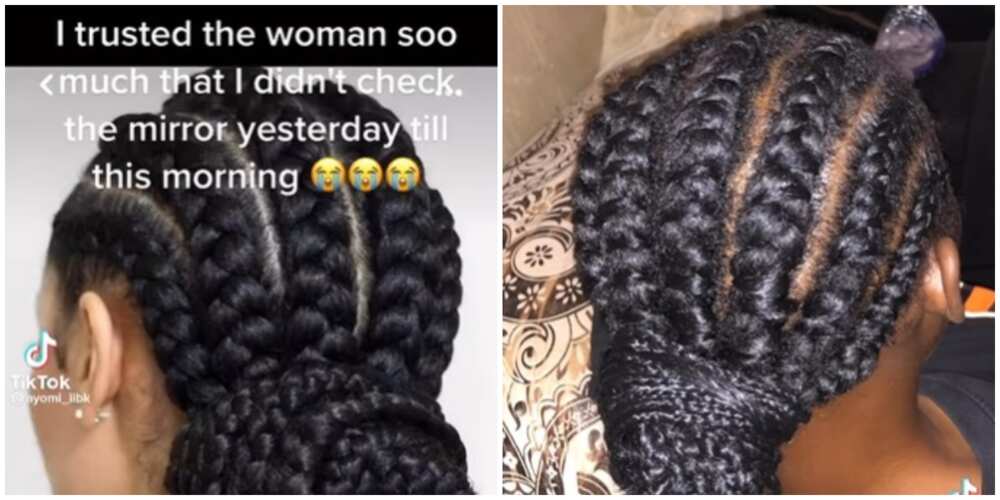 Identified as @ayomi_iibk on the platform, she posted a video of the braided hairstyle she wanted – a cornrows hairstyle with its strands wrapped in a bun.
However, Ayomi reveals she didn't check the back of the hairstyle until the following them when she looked in the mirror.
What was meant to be a neat and stylish look appeared haggard with a rough-looking bun.
Check out the video below:
Social media users share thoughts on lady's braided haistyle
adanna_._._:
"Me wey no be hair dresser, the hair I make on my head myself looks 100% better than what that stylist did for her.. no excuse here the hairdresser need to go back to relearn her work abeg."
jumjane_:
"Nah old attachment she use jor."
maree_ad:
"She has a short natural hair & it looks like she used old attachment. Do what works with your hair type."
nwamboben:
"Hair textures are not just the same. A relaxer prior to weaving would have given a more decent look."
ellahbloom_:
"Quick to call out people, but when they give you bill you go shout, most times what you get is what you were able to afford, the money you paid."
ammyrossy24:
"Looks the same u no retouch ur hair."
chidinmaaaah__:
"I'm seeing comments like she no retouch her hair, it's not the hair , it's either the stylist no sabi work or the girl didn't pay the said amount the stylist told her to pay."
mhizflexy:
"Your hair isn't relaxed you dey use hair wey no relax make hair how will it be fine?"
"We need to take a stand": UK-based lady cries out after paying N92k for scanty braids
Content creator, @mamaariella, was left outraged after she discovered how a stylist cheated her out of a good braided hairstyle.
The UK-based lady took to TikTok to share a video in which she ranted about braiders abroad before going on to narrate her experience with one of them.
According to her rant, she had paid the sum of £150 for the service plus another £10 as a tip, bringing the total to £160 (N92,844).
Source: Hotnewsdrop.com