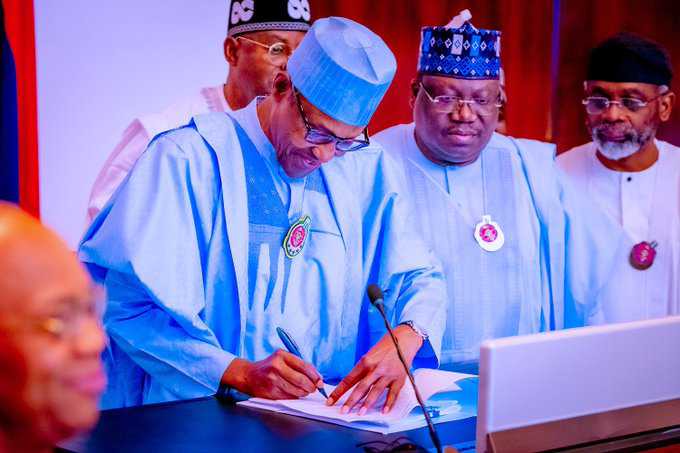 Bashir Ahmed, the Personal Assistant to President Muhammadu Buhari on New Media, recently took to his Twitter handle to share the list of legislative reforms that have been signed into law by the President. According to him, Nigeria has seen its most ambitious legislative programme under the current administration, with landmark bills passed or amended in the last seven years.
One of the major accomplishments of the Buhari administration is the signing of 16 Constitution Amendment Bills in March 2023. These bills are expected to address some of the pressing issues affecting Nigeria's political and socio-economic landscap.
In addition to the Constitution Amendment Bills, the President has signed several other important bills into law. These include the Business Facilitation (Miscellaneous Provisions) Act, 2022, which is aimed at improving the ease of doing business in Nigeria. The Electoral Act (Amendment) Act, 2022, is another crucial bill that seeks to reform the country's electoral process, and ensure free and fair election.
Other notable bills signed into law by President Buhari include the Nigerian Copyright Act, 2022, Nigerian Tourism Development Authority Act, 2022, National Health Insurance Authority (NHIA) Act, 2022, and the Nigerian Safety Investigation Bureau (NSIB) Act, 2022. These bills are expected to promote growth and development in their respective sectors, and enhance the overall well-being of Nigerian.
The Federal University of Transportation, Daura, Katsina State, Est. Bill, 2022, is another significant bill signed into law by the President. The bill seeks to establish a specialized university that will focus on research, innovation and training in the transportation sector. This is expected to boost the country's transportation infrastructure and improve its connectivity.
Finally, the Money Laundering (Prevention and Prohibition) Act, 2022, is a comprehensive legal and institutional framework for the prevention and prohibition of money laundering in Nigeria. The bill repeals the Money Laundering (Prohibition) Act, 2011 as amended, and confers on the Economic and Financial Crimes Commission the legal status of the Special Control Unit Against Money Laundering. This is expected to strengthen the country's fight against corruption and financial crime.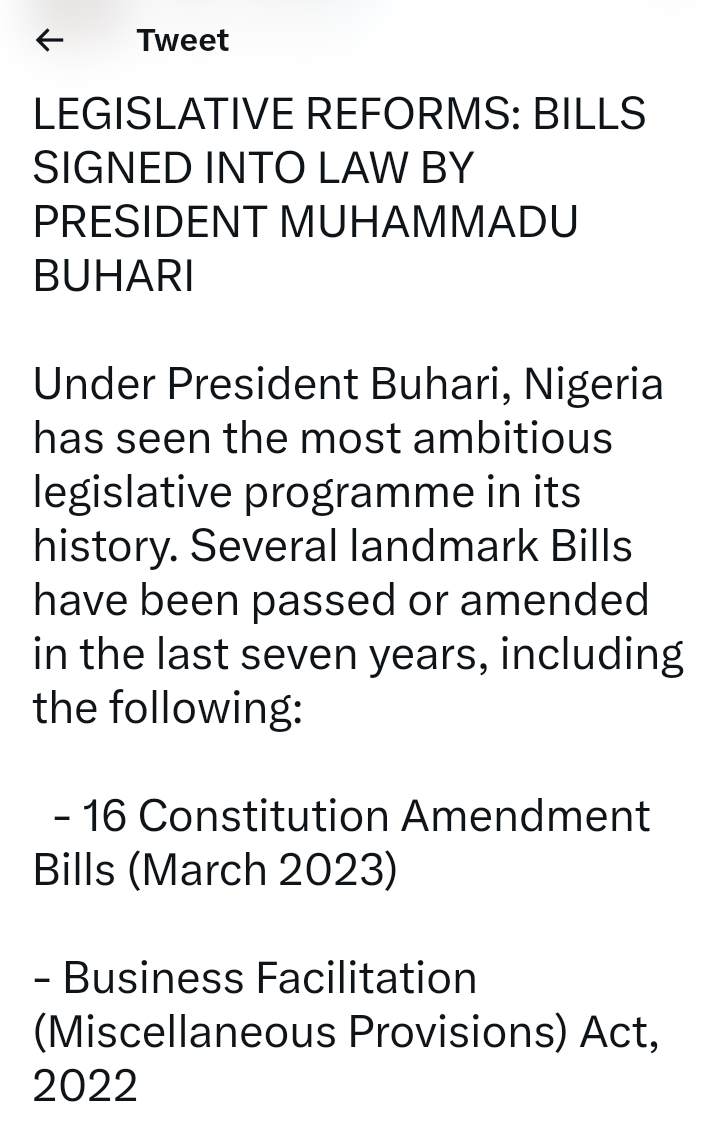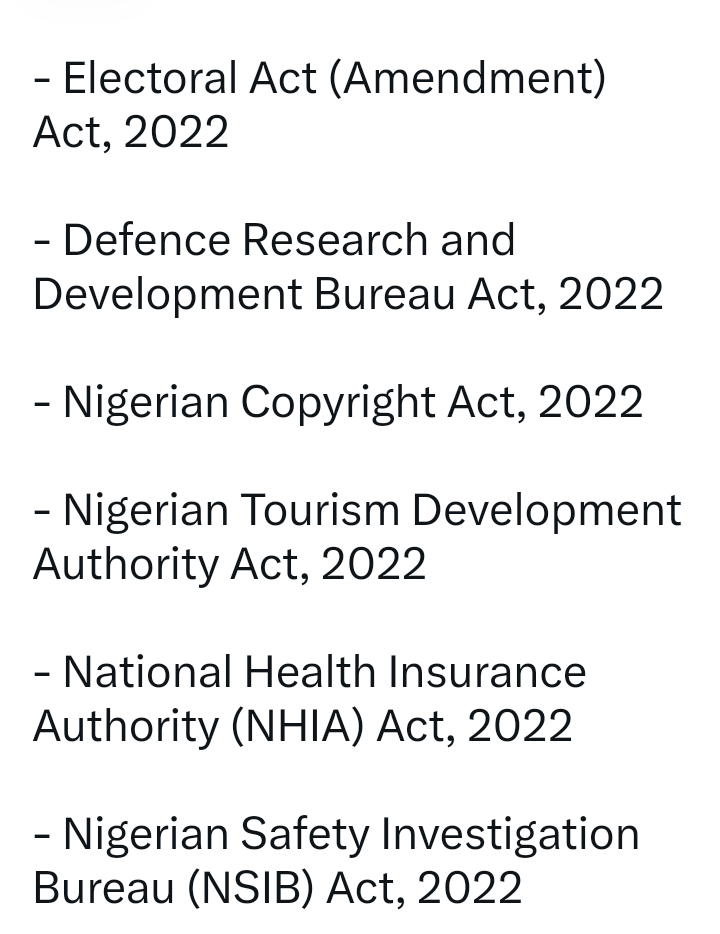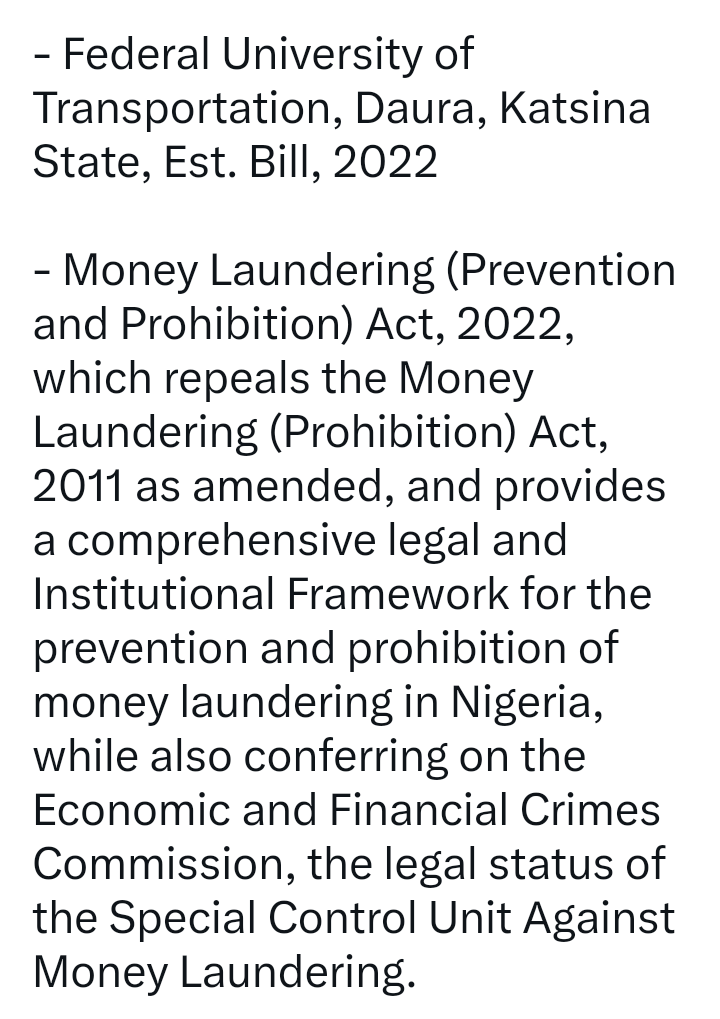 StepDee (
)