The speculation that Bola Tinubu, the president-elect, may not continue with some of President Muhammadu Buhari's projects has been dismissed
Mu'azu Sambo, the minister of transportation, who addressed the issue, noted that governance is a continuum and Tinubu is expected to continue where Buhari stopped
Sambo added that Buhari's administration is still operating the 2022 projects and that the processes of awarding contracts could not be completed in a day
FCT, Abuja – President Muhammadu Buhari has explained why the federal executive council was awarding the multi-billion naira contracts less than 20 days for him to leave office.
Mu'azu Sambo, the minister of transportation and his counterpart in the water resources, Sulaiman Adamu, gave the explanation at the end of the cabinet meeting on Wednesday, May 10, Daily Trust reported.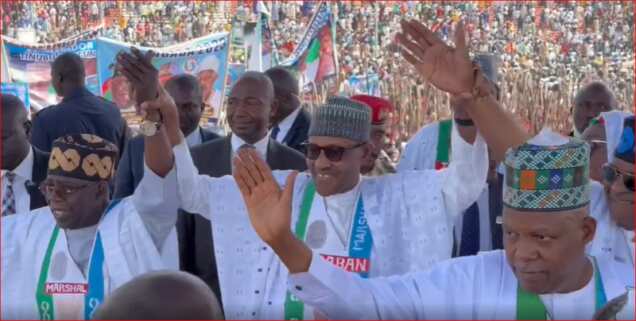 Buhari minister reveals where Tinubu will continue working from
Speaking on the rationale behind the contracts which the outgoing ministers would not execute as their tenure was due to expire on May 29, Sambo expressed confidence that the outgoing administration would never stop performing till May 29.
He added that the administration of President Buhari would not stop one month to the end of its tenure or the next appointments.
The minister said:
"This government must work. We expect the next government to also work until the very last day of their tenure."
The minister noted that to processes of awarding contracts are time-consuming, adding that the incoming Bola Tinubu administration would continue from where Buhari stopped because governance is a continuum.
Latest about President Muhammadu Buhari, Bola Tinubu, APC, May 29
He revealed that the government was still operating the 2022 budget with its agencies, and the processes could not be done in just one day.
Bola Tinubu, the president-elect, is expected to take over from President Buhari after his inauguration, which was scheduled for May 29.
Tinubu was the winner of the February 25 presidential election as declared by the chairman of the Independent National Electoral Commission (INEC).
Source: Hotnewsdrop.com