Popular Nigerian singer, Teni, has now taken to social media to appreciate her friends since day one
In an emotional post, the billionaire crooner shared photos and recounted how all of them contributed to her success
Teni's heartfelt post raised a series of touching reactions from netizens who shared their thoughts
Top Nigerian singer, Teni, has now taken time out to appreciate her friends who have been there for her before her fame.
Taking to her official Instagram page, the music star shared a series of photos of some of her friends.
In the caption of the post, she mentioned each of them by name and recounted how they all contributed to her success.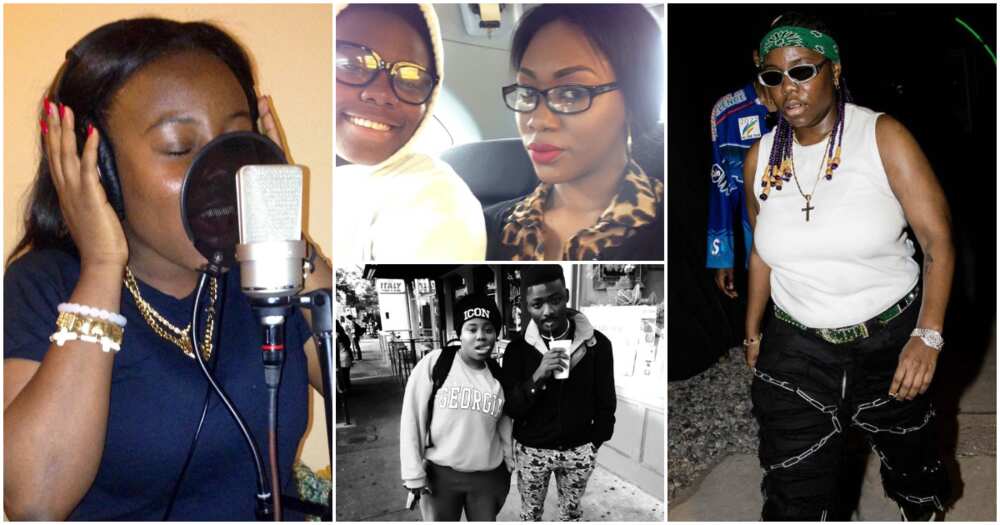 Teni noted how one of them drove a far distance to take her to her first studio session. She said another of her friends also told her she would amount to something as he drove her to recording sessions.
The billionaire crooner did not fail to mention one of her friends, Brenda, who always made sure she was fed as well as another friend who made sure she graduated from the university.
She wrote:
"STORY TIME!!!!!!!!!!!!!!!!!
BUNMI TOOK ME TO MY FIRST STUDIO SESSION,DROVE ME FROM CASCADE TO NORCROSS, ROOTING FOR ME SINCE DAY 1. TOBI MY NIiGGA FROM UNI, WE USED TO DRIVE FROM ATHENS TO ATLANTA JUST TO RECORD, ALWAYS TOLD ME I WOULD AMOUNT TO SOMETHING.
S/O TO BRENDA FOR ALWAYS COMING THROUGH WITH THE CHOW, AND MADE SURE I GRADUATED UNI. WALE LELO, I WOULD NEVER FORGET THOSE NIGHTS IN D.C, WALE WILL LEAVE HIS ROOM FOR ME AND HE'LL SLEEP ON THE COUCH. 1USED TO DAY DREAM ABOUT DAYS LIKE THIS, WORKED SO HARD TO GET HERE! SO FAR FROM WHERE I'M COMING FROM, YET SO CLOSE TO MY DREAMS!! LOVE AND LIGHT TO ANYONE WORKING ON THEMSELVES, KEEP SHOOTING, ONE DAY, NET GO TEAR. NO DAYS OFF!"
See Teni's post below:
Netizens react as Teni appreciates her friends who contributed to her success
Teni's emotional post got a number of netizens in their feelings. Read some of their comments below:
leemart_gold:
"MAKANAKI® Hard work & consistency pays after all."
nyce73:
"Cascade to Norcross no be small drive."
officiallelo:
"Now don't let a grown man shed tears! You don try abeg! And you just dey start."
thevictornja:
"Tuff times don't last, Only Tuff people do."
leemart_gold:
"Shout out to all the real Homies may God bless all our Homies who genuinely cares about us & our growth"
i_am_ladz:
"It's slide 8 for me, it's awesome to see how supportive @aadeleke_01 is, Babá said make sure you finish school."
Tolanialli:
"The 2nd to last slide Woah!! If only knew that he wasn't only prophesying your future but also his!! Thank God for documentation!! What!! Everything got me so emotional. Uyo Meyo and Faaji hit differently now!! #RadicalFaith"
saeedah30th:
"8th slide is so powerful. Even the Uncle Demola is a governor now. Dreams are valid."
Teni shakes waist energetically in dance video
Hotnewsdrop.com earlier reported that Teni was living her best life following her weight loss transformation and it was beautiful to see.
The talented musician was recently captured on camera shaking her waist to one of her songs. In the video as seen on her Instagram page, the singer can be heard saying:
"Na waist I wan dey whine 2023."
Source: Hotnewsdrop.com