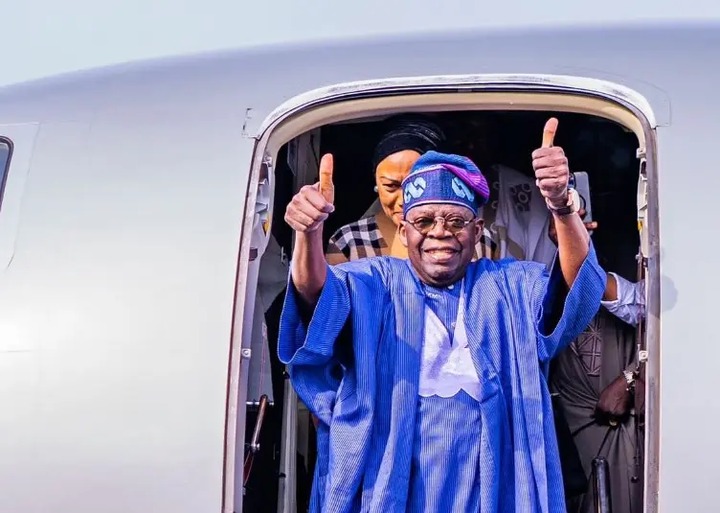 President- elect Bola Ahmed Tinubu has departed Nigeria for Europe, Channels TV reports.
Nevertheless, a statement from Tunde Rahman at the Office of the President- elect, which affirmed this on Wednesday afternoon, stated that Tinubu embarked on a business trip to Europe.
As per the statement released on Wednesday, Tinubu will " utilize the opportunity of the trip to refine the transition plans and initiatives, as well as discuss his policy alternatives with some of his key aides, free from unnecessary pressures and distractions. "
The President- elect plans to engage with investors and key allies during the visit. His aim is to market investment opportunities in the country and assure a business- friendly climate through policies and regulations.
Meetings with multi- sectoral actors in Europe' s business community have been arranged in advance, including those in manufacturing, agriculture, tech, and energy.
Asiwaju Tinubu intends to use the meetings to persuade them that Nigeria is prepared to do business under his leadership. This will be achieved through mutually- beneficial partnerships based on jobs creation and skills acquisition.
Tinubu' s Renewed Hope agenda prioritizes the revitalization of Nigeria' s economy. The meeting is part of his efforts to restore Nigeria' s significance in the global economic chain and provide empowering opportunities for the country' s vast youth population.
The President- elect has vowed to hit the ground running, and this visit reflects his commitment to that promise. He has already initiated discussions with global actors in the economy and security' s crucial areas.
The statement also mentioned that prior to his departure from the nation, Tinubu had a meeting with the candidates for Speaker and Deputy Speaker of the House of Representatives, who were endorsed by his political party, the All Progressives Congress. These candidates, Hon. Tajudeen Abbas and Hon. Benjamin Kalu, were introduced to him by the Joint Task Team of the House.
The specific date of Tinubu' s return was not provided by his office, which stated that Tinubu is expected to come back soon in order to make preparations for his official inauguration as the country' s 16th President on May 29, 2023.
Source: Channels TV

RoyDaWritter (
)