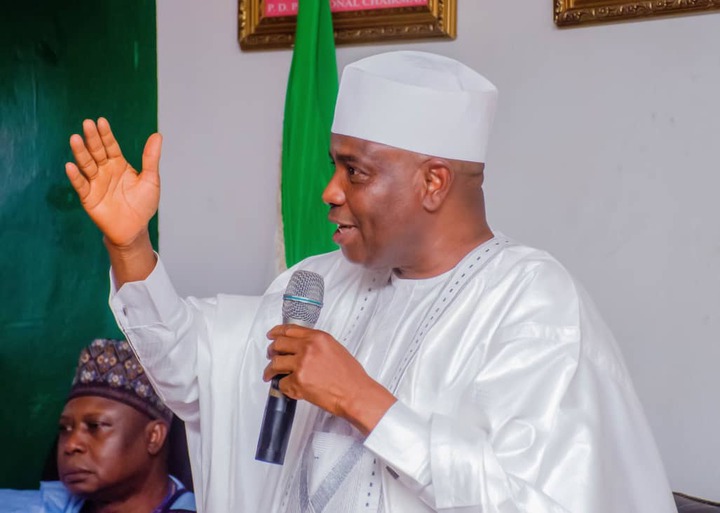 Governor Aminu Tambuwal of Sokoto state has predicted the outcome of the presidential election petition tribunal.
According to ARISE TV report, Governor Tambuwal said he is confident that the tribunal would restore the mandate of PDP presidential candidate and former vice president, Atiku Abubakar, as president of Nigeria
Tambuwal, who is chairman of the PDP Governors Forum, spoke at a reception and send- forth organised by the forum for its incoming governors and outgoing state chief executives, respectively.
According to Tambuwal, " We have the confidence that at the end of the day, the presidential candidate of the PDP, Atiku Abubakar, will be restored as the constitutionally elected president. From what is on ground, we are confident that the mandate will be restored. We see him as the incoming president. "
The PDP flagbearer, Atiku Abubakar also assured the gathering that PDP would recover its mandate, because the party did not lose the February 25 presidential election.
Speaking at a reception organized by the PDP Governors Forum (PDPGF) on Thursday in Abuja, Atiku said the PDP must stay together and focus on how to regain what he described as its stolen mandate.
The PDP presidential candidate also advised members to examine how the PDP receded from being the oldest and dominant political party in 1999 to its present status, The Nigerian Tribune reported.
The former vice president of Nigeria said: " We all know that the PDP did not lose the last election. So, we should be determined and focused on retrieving our mandate That has been stolen. "
Atiku, therefore, called on leaders and stakeholders of the party to reflect on prevailing challenges and come up with strategies that will enable the PDP to take its dominant place once again.
On his part, the acting national chairman of PDP, Damagum stated that the judiciary remained the last hope of the common man.
He said, " The actions of the judiciary will determine the growth of democracy in this country. The only solution by the judiciary is to ensure that Nigerians have a just adjudication in all issues before them. "
On the crisis in the party, Damagun said, " We in the NWC pledge to solve our internal crisis. There would be no cause for alarm. "
He commended the outgoing PDP governors for their support to the party, while calling on the incoming governors to emulate their predecessors in both their moral and financial support to the party.
Source:
AuthorTwins (
)