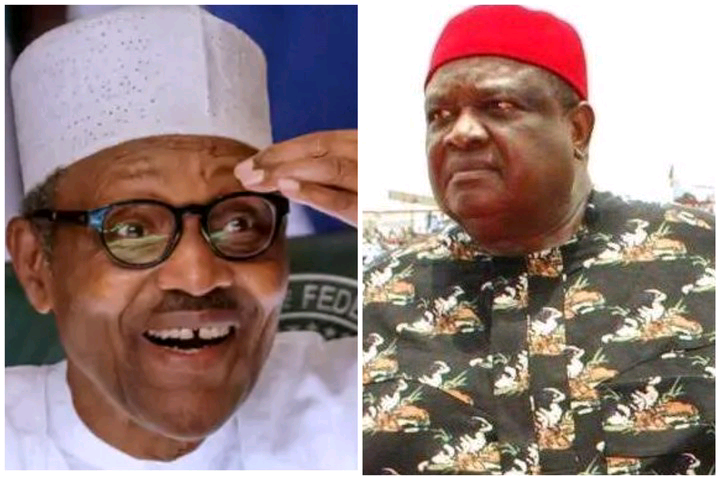 According to Emmanuel Iwuanyanwu, the president-general of Ohanaeze Ndigbo, President Muhammadu Buhari is an Igbo guy and a member of the leading Igbo socio-cultural organisation, according to the Daily Post newspaper. 
The eminent entrepreneur made this statement on Thursday during the flag-off ceremony for the dredging of the Oguta Lake-Orashi River in Imo State, where he also praised the President for his efforts on behalf of the Southeast geopolitical zone in light of the projects that have been completed in the region.
The seasoned businessman commented on Buhari's performance at the event and in the zone as follows:
We weren't happy when he took office, but things have changed as we approach the departure point. The Niger Bridge at Onitsha is finished, as far as I can tell. I can see that most states have made significant progress. The teaching hospital and the airport have been taken over by the federal government, just like in Ebonyi. Here in Imo State, a lot has been done for us; in Enugu, it is the same."
"Because of this, I would like you to let Buhari know how appreciative we are of him and that he is an Igbo man and our son, and that states like Ebonyi and Imo have honoured him. In Igboland, the position of chief is highly valued. Please assist us in informing Buhari that he is an Igbo son and an honorary Ndigbo member of Ohanaeze.
The President was then urged by Inwuanyanwu to do everything in his power to ensure the success of the Oguta Lake-Orashi River dredging project before he leaves office on May 29. Inwuanyanwu claimed that the project is crucial for the entire Igbo people.
PrinceAI (
)