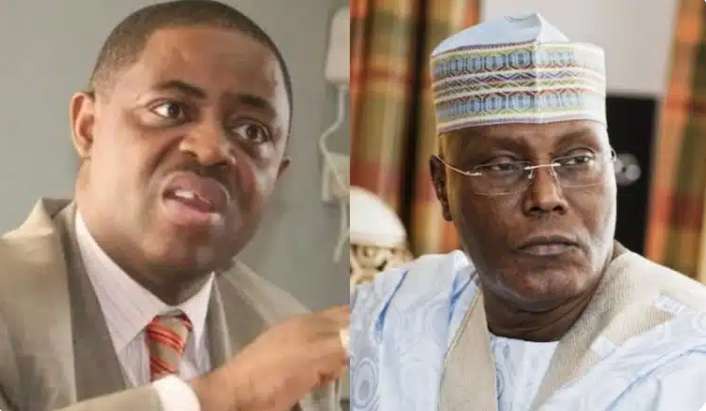 On Friday, a senior member of the All Progressives Congress (APC) and a former minister of ation named Femi Fani- Kayode made allegations that Atiku Abubakar " murdered and buried" the Peoples Democratic Party (PDP).
He stated that Abubakar deserves thanks from Nigeria for his role in the destruction of the party. On Twitter, Fani- Kayode disseminated his comments and emphasized that Abubakar had accomplished something that no one else had since 1999.
The former minister is of the opinion that Abubakar insured that the PDP will never again ascend to power.
He wrote, " One thing we can' t take away from @atiku, the Waziri Adamawa, is the fact that he single- handedly did what no- one else managed to do since 1999: he murdered and buried the PDP and ensured that it can NEVER be resurrected or rise again. " This is something that we cannot take away from him. On account of this fact alone, Nigeria is indebted to him.
Prior to the general election in 2023, the main opposition was experiencing an internal crisis due to the fact that power was being rotated to the South, Recall that It has been rumoured that five PDP governors who were displeased with the party' s decision to zone the presidential ticket of the party to the South ran against Atiku during the election for president.
He also stated that the five governors who have come to be known as the G- 5 have demanded the resignation of Iyorchia Ayu as the National Chairman of the party.
Fani Kayode stated that after the PDP presidential flag bearer Atiku Abubakar, who is also from the North, emerged as the party' s presidential candidate, the governors felt compelled to make the request. This prompted the governors to ask for a southerner to serve as the party' s national chairman.
Source: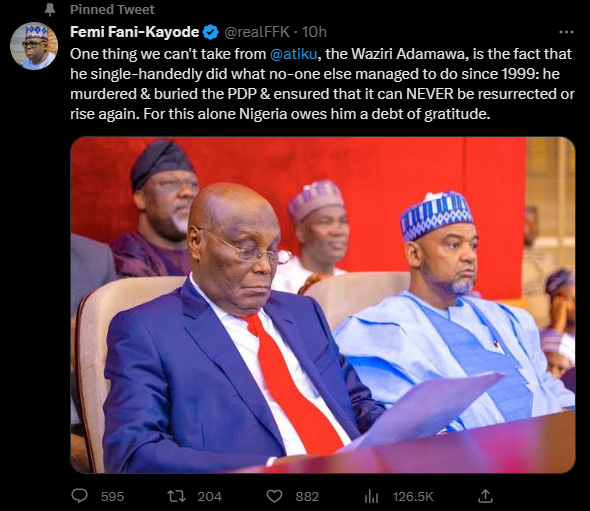 RoyDaWritter (
)