Top Nigerian singer, Davido, appears to have replied his first baby mama, Sophia Momodu, after her social media rant
Recall that Sophia made headlines after she went on a lengthy rant about men financially abuse women they are no longer in a relationship with
In reaction to that, Davido posted his popular 'unavailable' photo and said he has no time for 'wahala'
Much loved Nigerian singer, Davido, has now caused an online buzz over his reaction to his first baby mama, Sophia Momodu.
Hotnewsdrop.com had earlier reported on how Sophia took to Twitter to blow hot in a lengthy message about how men financially abuse a woman to stay with them even when children are involved.
Sophia had also asked why a man should force a woman to handle his fatherly responsibilities simply because the woman decided to move on with her life and not look back.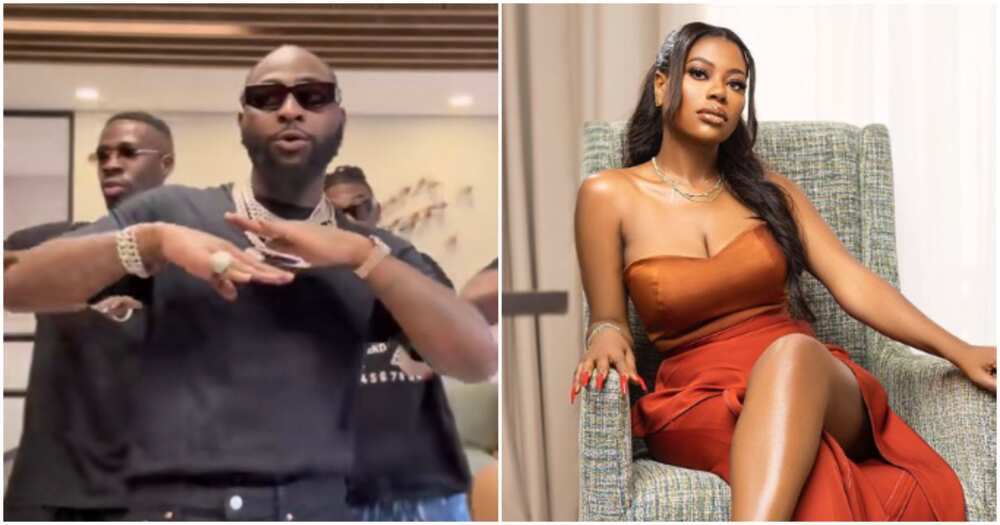 Davido reacts to Sophia Momodu's rant
Shortly after Sophia went on an online rant, Davido also took to his Twitter page to share a simple message that is now making headlines.
The Timeless crooner posted a simple message saying he did not want wahala.
He wrote:
"I no get time for wahala I Dey IBIZA !!!"
See tweet below:
In another post he shared a popular photo of himself doing the 'Unavailable' trend and tweeted:
"No vex."
See below:
Netizens speak on Davido's reaction to Sophia Momodu's rant
Davido's reaction to Sophia's post got netizens talking for many reasons. Some of them wondered if he was the father the baby mama was referring to in her rant among other things. Read some of their comments below:
muginqa:
"It's disgusting how you guys are defending your favs. Even if she had a job, it's not enough to raise that baby on her own. Kids have needs and especially kids born to rich men. Just by the last name, everybody wants to hurt her or hold her for ransom. Anyway, she needs to come to Canada or the USA and put that man on child support. If he doesn't pay, that might be the end of his U.S. or Canada tours."
umelo_01:
"If you impregnate any woman, you should take care of the child and the mom…… full stop."
the__estherr:
"If IDAN impregnate you, na You go take care of IDAN and him pikin"
teiyimalenare:
"So this is coming few days to Imade's birthday….The earlier she understands that Dave might no longer be publicly posting/celebrating the children publicly the better she stop with all this dysfunctional irrelevant posts!! …Davido didn't post his son Davidson birthday publicly, he didn't post Hailey publicly…he might have his reasons and chose to call them privately or buy them gift. Sophie bringing this up two days to imade both shows she' isn't comfortable with it."
ariyike_ifeoluwa:
"A lot of people can't read to comprehend, she meant Davido(that's if he's the one she's talking about) doesn't want her to move on and if she tries to move on he's going to withdraw all financial support to his child. Financial bull¥ing (according to her write up)."
real_jhumie:
"Wow. Make marriage no change davido. Part of the reason I like him. In anything be responsible for your children."
akanke_fikayomi:
" that he is not taking care of imade! Na lie!!!"
iamprincessch:
"Go take care of ur daughter David @davido some of us actually liked u coz of how u care for ur children but now u have become a woman rapper just coz u marry. Don't forget blood is thicker than water… Okay ooo"
thefoodnetworknig2:
"In all… Imade should be protected plix!"
mystizinny:
"Davido for the sake of I made..pls take care of ur responsibility.. That ur married doesn't mean u will neglect ur children.. And u Sophia try find work..if papa no bring money u bring ur own..stop creating drama fr the sake of ur child"
Sophia Momodu shares cryptic post about life
Meanwhile, Hotnewsdrop.com reported that Sophia Momodu on Tuesday, November 29, 2022, returned to Instagram to share a cryptic post about life.
Like many of Davido's close relatives and associates, Sophia had taken a break from social media after the DMW singer lost his son Ifeanyi.
Sophia shared a quote that read:
"Life keeps happening, you keep growing."
Source: Hotnewsdrop.com