The APC and members of President-elect Bola Tinubu arranged a 14-man transition committee. However, the exclusion of South Easterners from the list has caused displeasure among those who feel the South East has not been included in the President-elect's plans. Governor of Imo State, Senator Hope Uzodinma, responded to the exclusion, stating that the decision made by the President-elect and the party is not unusual.
He saw nothing wrong with the exclusion and argued that the party made its selection based on its calculations. He added that many people have misconstrued the situation to create a false narrative that the Igbos will be excluded from the incoming government's affairs. He maintained that loyal party members have a duty to follow any decision taken by the party. While Governor Hope saw nothing wrong with the transition committee's makeup, Governor of Ebonyi State, Dave Umahi, took an opposing stance. He argued that the APC leadership should have selected at least one Igbo person for the sake of equity and fairness.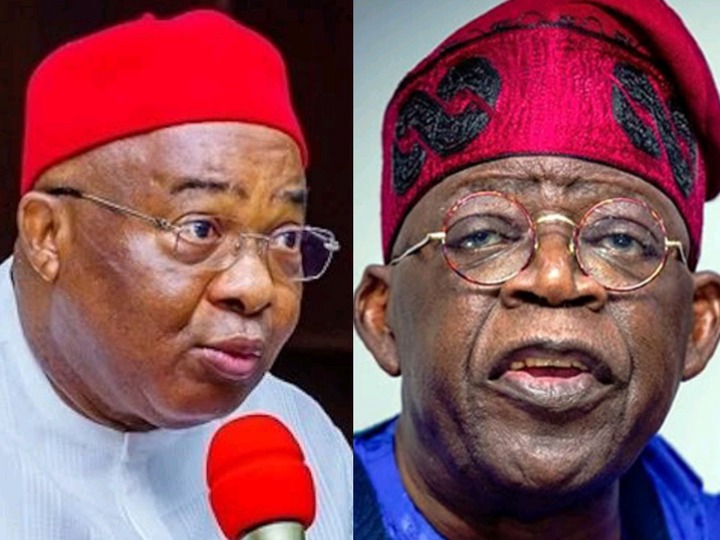 Source: TVC
Quoting the exact statements released by Senator Hope Uzodinma, he said, "Nothing is worng with the exclusion of South-East from Tinubu's 14-man Transition committee." "APC is the largest political party today in Nigeria, and it is a rule-driven party. People must agree to disagree sometimes. APC has an internal mechanism for resolving differences in our vast political position. Nothing unusual has happened in the choice of the transition committee, and people are being economical with the truth. Once the party takes a position, every loyal member of the party is expected to follow."
WATCH THE FULL VIDEO HERE
Over to my esteemed readers, I know you will have a to say about Senator Hope Uzodinma's statements? Please make an effort to share with your friends and write down your thoughts in the comment section below.
Victormiles2005 (
)