A photo showing some artefacts in a Lagos restaurant has left social media users buzzing with mixed reactions
The nature of the design has some people tagging the artefacts as voodoo popularly known as juju in Nigeria
While some people think it is purely for aesthetic purposes, others have expressed unwillingness to eat at such a restaurant
Twitter user, @feyiisetan, left social media users talking after he shared a photo of some artefacts spotted at a restaurant.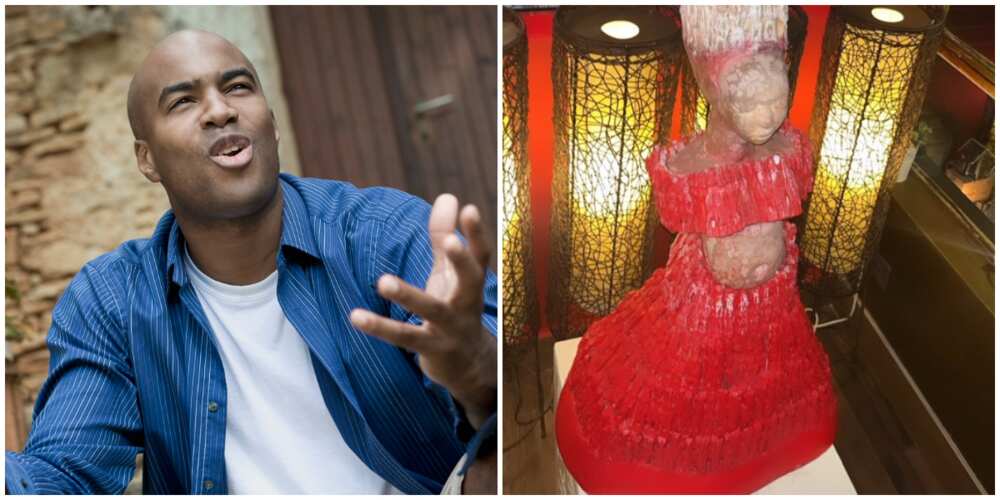 In the photo, a figurine which appears to be that of a female in a dress is seen covered in red paint with the head sporting long strands of white-painted locs pointing upwards.
Behind the artefact is another one designed in a similar form but devoid of the colour red. Instead, it is coated in white paint.
Check out the post below:
Social media users react to photo of artifacts
@feyiisetan:
"Lagos people kill me man."
@CFC_Fyllipe:
"I am not mad. I can't eat in a place like this!!"
@Sincerely_AO:
"What restaurant? Let me make sure to avoid abeg "
@yuteoflondon:
"You'll think it's aesthetic but fetish people are getting really bold."
@iamRichyPerry:
"Dem no dey put gods for shrine again now na for restaurant wahala for who go chop food here sha."
@IamTheIroko:
"You de see juju you de call am esthetics."
@Amaraofabuja:
"No be juju be that?"
Video of person rocking can costume leaves netizens amused: "See creativity"
In an era where conversations around eco-friendly fashion remain a top priority, seeing videos of recycled creativity is often times refreshing, albeit amusing.
One video that has left some Nigerians amused is a clip showing two individuals walking on the street in thick costumes made of numerous empty cans.
They were both seen moving in simple dance steps that left passersby smiling.
Amazing fashion DIY: Lady makes gorgeous cocktail dress from over 2,000 coins
More than just saving those coins in a piggybank or simply for keepsake, there is a lot more one can do with these legal tenders, and Shay Rose has shown us one incredible way.
Better known as Crescent Shay on Instagram, Shay has grown quite popular (with a following of over 1 million) on social media for her impressive imaginative fashion projects.
In December 2021, she embarked on a project to create a dress out of coins and although it took longer than expected, she finally completed the project in January 2022.
Source: Hotnewsdrop.com