Street Pop singer Portable Zazu has witnessed massive growth in his career since his rise to fame
Portable, who made it to the spotlight thanks to a feature from YBNL label boss Olamide in 2021, has managed to remain on top of his game
Recently, the Zazu crooner stunned netizens on social media after he acquired G-Wagon worth millions
Controversial singer and Zeh Nation Label boss, Portable Zazu, has proven to be different from many of his colleagues in the music industry as he has chosen to remain in the trenches despite his fame.
Despite calls for him to change his location, Portable has remained at his residence in Ogun state, where he also owns a bar and restaurant.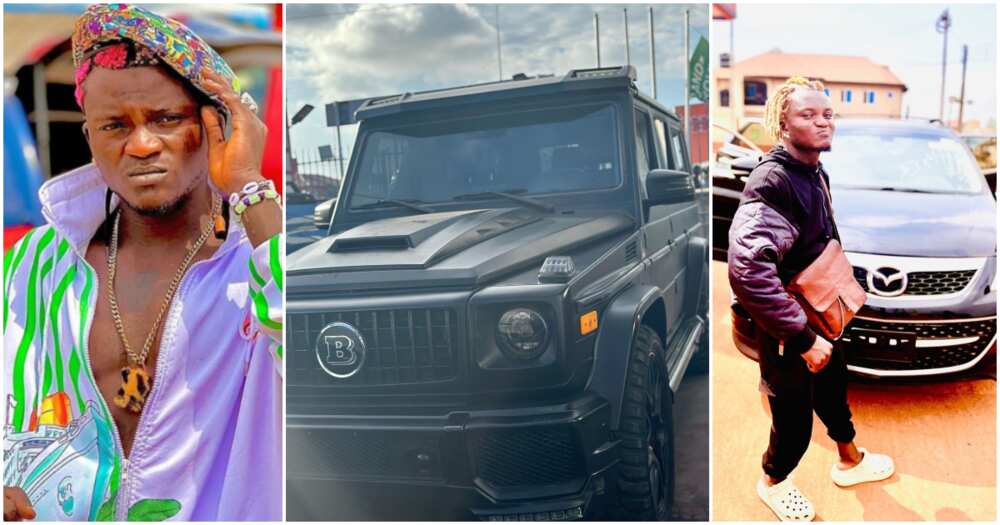 The singer, who made it to fame towards the end of 2021 after YBNL boss Olamide featured on his song Zazu has managed to remain relevant in the industry.
Within two years, Portable has been able to acquire different cars worth millions. In this article, Hotnewsdrop.com lists the cars the singer owns.
1. Portable joins the big boys league after acquiring a G-Wagon
In May 2023, the Zazu singer acquired a new ride, a G-Wagon Brabus 2022, which is said to cost N150m-N280m.
The excited singer took to his Instagram page to flaunt his acquisition as many congratulated him.
2. Portable acquired a Mazda CX-9 in 2022
Towards the end of 2022, Portable made headlines after he acquired a car, a Mazda CX-9.
Flaunting the new ride online, Portable expressed his heartfelt appreciation to God.
3. Portable buys a Lexus ES 330 in 2022
In May 2022, Portable added a Lexus ES 330 sedan to his car collection.
This was after fans who tried to get money from him destroyed his car beyond recognition.
4. Portable shows off his new Range Rover
Before acquiring his G-Wagon, Portable had in February 2022 shown off his new Range Rover.
Portable, who was excited about his latest acquisition, took to his Instagram page to share a video of him bursting the balloons as he stepped into his new whip.
Portable shows off the interior of his G-Wagon
Portable in a video he shared on his Instagram page finally gave his fans a view into the ride's interior.
The Zazu singer was seen vibing to one of his songs while parked in front of his restaurant and bar in Ogun state.
Reacting, someone said:
"Why them go upgrade exterior and not upgrade the interior? They con add brabus join!! Chai!!"
Source: Hotnewsdrop.com