Bola Tinubu, the president-elect, has been faced with another lawsuit to stop the CJN from participating in his swearing-in on May 29
About 5 residents of Abuja are asking the federal high court at the FCT to stop the CJN until it determines the controversial 25% of votes in the country's capital before anyone can be considered the winner of the presidential election
The appellants are also asking the court to stop any other judge from taking the position of the CJN from swearing in Tinubu on May 29
FCT, Abuja – The inauguration of Bola Tinubu, the president-elect, had continued to face serious threats as a fresh suit before the Federal High Court in Abuja wanted the Chief Justice of Nigeria to be stopped from participating in the swearing-in.
The suit also prayed the court to stop any other judge from taking part in the swearing-in of any candidate who emerged from the February 25 presidential election as president and vice president until it determined the controversial 25% of votes in Abuja, The Nation reported.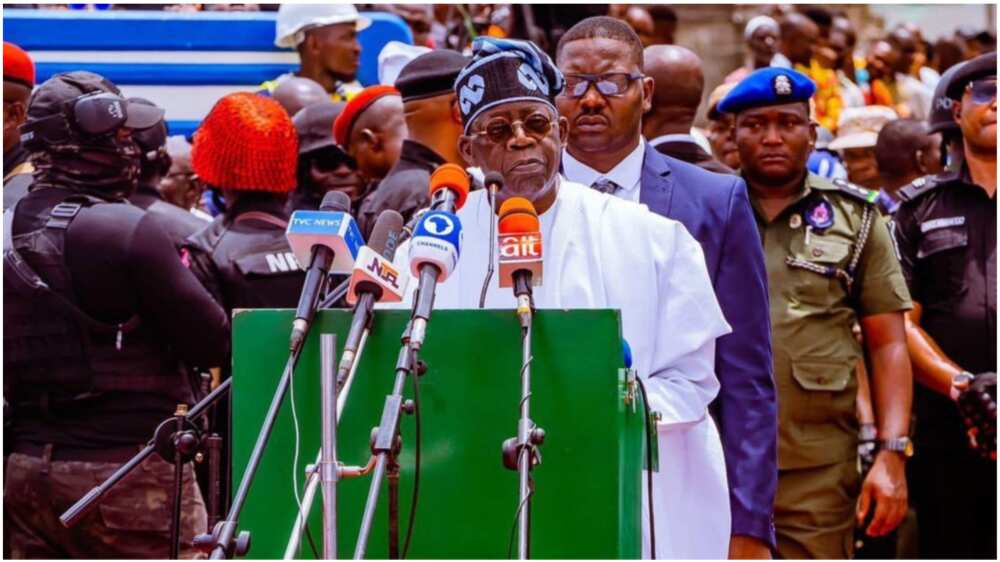 According to the new suit filed by some 5 individuals in Abuja, they are praying the court to stop the judges until it determines in finality or in line with the provision of the constitution that the candidate to be sworn in has fulfilled the requirement of Section 134(2) (b) of the Constitution.
Tinubu's Inauguration Faces Serious Threat As Fresh Suit To Stop CJN's Participation Unveils
The complainants have claimed to be residents and registered voters at the federal capital territory (FCT).
Chuks Nwachuku, counsel to the applicants, raised 4 questions in the suit marked FHC/ABJ/CS/578/2023 for the court to determine in the originating summon filed on April 28.
The names of the plaintiffs are Osang Paul, Anyaegbunam Okoye, Chibuike Nwachukwu, Jeffery Ucheh, and David Adzer.
The defendants included the attorney general of the federation and minister of justice, Abubakar Malami and the CJN, Justice Olukayode Arowoola.
Source: Hotnewsdrop.com